Coloring is a task that we always see associated with children but adults also do many drawing activities, currently, there are drawing books for adults to color and create works of art, the benefits that can be obtained with their employment are numerous.
What are the benefits of using drawing books for adults?
Currently, there is a new trend for coloring and they are books that have been designed and are aimed at adults with some figures a little more complex than the one usually designed for children.
The health benefits they can provide are multiple, among these can be mentioned:
1. Reduction of stress and anxiety.
According to experts, coloring requires our brain to be able to generate creativity and the logic of understanding the figures and to be able to mix and match the colors.
The concentration in the activity of coloring leaves to aside the worries for a few minutes which reduces the stress.
2. It helps manage and reduce insomnia problems.
Color therapy collaborates in the management of this problem, colors have a particular way of stimulating; for example, white and blue colors provide a relaxing effect on the nervous system.
Color therapy consists of coloring a few minutes before going to bed to eliminate anxiety and remove the stress that is generated before going to sleep, which is what causes insomnia.
What happens is that the use of colors generates a required concentration that is what forces the brain to enjoy and live the moment while forgetting the rest.
3. It offers special advantages to the elderly.
Sensory and cognitive stimulation is degenerative; that is to say, with the passing of the years it is losing and deteriorating. With the execution of drawing activities, this stimulation is promoted, dementia is delayed and the formation of new ideas emerges.
Read more: Health Benefits of Coloring for Adults [beaumont.org]
BEST DRAWING BOOKS FOR ADULTS
1. Adult coloring books with 30 artistic activities
Book of activities that provide different shapes and patterns for modeling and coloring. Its use represents a meditative and relaxing activity to encourage and promote self-expression through a creative journey. The images offered by the adult coloring book are made to have fun, stress and inspire the inner artist.
Additional product information:
The book has 30 different artistic activities with incredible prints, colors, and shadows.
Brings a basic guide with artistic techniques that include theories about color, patterns, blends and shading techniques.
Guarantees no bleeding thanks to the high quality of the extra-thick paper with which it is made.
Paper quality supports the use of markers.
It contains examples to encourage creativity with beautiful colors and finish.
The pages are perforated to be able to extract or better visualize the creations according to your convenience.
Each drawing comes on only one side of the page.
2. Coloring books for fans of serial killers
This book has been created under the inspiration of murderous characters, for whom death is not only a crime but an art. This option is perfect for those adults who love action and crime scenes, something different but interesting and impressive.
Additional product information:
The book provides 38 of the most prominent and famous serial killers.
The images that come in the coloring book are high resolution which allows you to easily complete all the details to achieve optimal and realistic results.
Each image comes on a single page, this to prevent colors, markers, ink from leaking from the back and damaging another image.
Each image of each murderer is very symbolic, which provides the appropriate context for each scene and story embodied.
3. Drawing book for adults the psalms in color
Special for Christian people looking for a coloring book that gives them peace. Each page provides a unique, charming, emotional pattern with a brilliant impression of the scriptures of Psalms. The book is bound with high quality and resistant paper with text design, embossing and spectacular applications of silver and varnish paper.
Additional product information:
The pages of the book are robust with a very good impression.
Pages are perforated on one side.
Its design is based on providing serenity, fun, calm, tranquility and inspiration.
The book contains 56 drawings printed in ink on a full page, each drawing is inspired by the scriptures of the Bible book The Psalms.
As a gift, 7 pages with labels are included.
4. Adult coloring book Life of the wild
The Life of the Wild coloring book is inspired by amazing designs so that adults can free their interior and freely express their creativity. All his drawings are inspired by animals, nature, and gardens. The pages are printed on one side only and accept pens, crayons, colored pencils and markers to apply color on them.
Additional product information:
The book has 37 detailed and unique coloring images.
Animal illustrations shown in the book include cats, rabbits, foxes, birds, and wolves.
Images of natural inspirations with corals, feathers, gems, and crystals are included.
The garden designs included in the book are based on cactus, flowers, succulents, butterflies, and fungi.
Benefit offered by the product:
All the patterns and motifs that come in the book serve to relieve stress and generate tranquility.
5. Adult coloring book with 100 animals
This option for adult coloring represents a wonderful option to externalize interest and love for animals. Perfect to make stress fade while relaxing coloring the wonderful impressions. The patterns printed in the book are simple so the application of color will be a simple and pleasant task to perform.
Additional product information:
The book includes 100 unique and beautiful images to elaborate masterpieces and express creativity with total freedom.
Coloring pages are relaxing as each page will disconnect you from the responsibilities and allow you to find calm and serenity.
All pages are one-sided; that is, each image is placed on a page with the back in black and prevents bleeding that is usually found in other options for coloring books.
Benefit offered by the product:
Applies for employment by any person with any skill level; that is, they can be used by both beginners and experts.
6. Adult book with multiple designs to color and relieve stress
Wonderful coloring book with 64 unique designs that provide hours of entertainment, fun, stress relief, and tranquility. Through the application of color in all available patterns that come in the book, you can express your creativity and free the artist inside. Some of the inspirations included are large and small creatures, deserts, oceans, and forests.
All illustrations have been designed to help you get inspired and relax. It is a perfect gift along with the set of colors or complement tools needed to apply color. Perfect for people who are starting in the drawing and also for experts.
Additional product information:
Multiple patterns with different levels of complexity are included so you can stay entertained and excited.
The book comes with different designs, from animals, gardens, paisley patterns and mandalas.
The illustrations are made with a clear and very high-resolution print.
Each page includes illustration; that is, the impression is one-sided so bleeding will not be inconvenient.
7. Animal designs for coloring and de-stressing
This book for adults with more than 50 patterns inspired by animals will provide you with many hours of tranquility while the stress disappears since with each stroke of color, your level of concentration and inspiration will increase until you fully enjoy the activity and forget about situations Unpleasant or problems you have.
Additional product information:
All the images are printed with a high resolution so that all the lines are clear and a high-quality visualization and a smooth coloration can be made.
An image has been contemplated for each page to avoid bleeding and that the other images are stained so that a wide variety of options can be used to apply color.
The designs and illustrations are beautiful and will allow you to create your artworks that you can frame if you wish.
Some benefits offered by the product:
Represents a perfect tool to relieve stress and provide calm and tranquility.
Each drawing can be framed once finished thanks to the fact that they are arranged on a single page.
Everyone can use the book regardless of skill level.
Serves as a perfect gift for those adults who love to color and express their talent.
8. Adults coloring book with mandala prints
One of the most popular and favorite coloring book motifs for adults are those that have mandala prints so this option will be one of the favorites. All patterns of sacred circles will help you free your creativity while enjoying and clearing your mind. Both men and women will love to draw the 50 mandala designs.
Additional product information:
Book covers are made with high-quality cards so the book will be protected.
All pages are perforated so you can easily peel off a drawing that has been damaged or that you want to remove as a gift or frame.
The high quality of the paper guarantees a drawing for years.
The pages are bright and soft so the color that is applied will be highlighted.
It has a spiral binding with double cable so you can turn and fold each page comfortably.
Some benefits offered by the product:
The designs embodied in the book can be drawn by both adults and children.
There are different types of complexity in the designs so both beginners and experts can draw them.
9. Coloring book for adults with 64 different patterns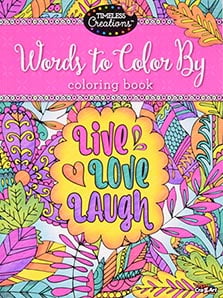 Designed especially for mature artists or beginner adults who love to color and wish to express their creativity. The book has 64 pages printed on one side on high-quality paper. All drawings can be colored with crayons, colored pencils, markers, gel pens and any color tool you prefer.
Additional product information:
The motifs are designed to be colored by adults.
All pages can be easily removed since the sheets are perforated.
Pages are intricately designed and elaborated.
10. Dragon patterns for coloring

An adult book where you can color images of impressive and high-quality dragons. Perfect to relax and forget everything else to concentrate and create wonders on paper. Your presentation is great for offering wide images that are easy to add color.
Additional product information:
The book comes with 40 different designs.
The cover is matt and thick enough for adequate protection.
Pens, colored pencils and any type of colored marker can be applied.
The paper is a high-quality premium of 130 grams to ensure that the final work is resistant.
Frequent questions:
1. Why are adult coloring books so useful?
Mainly because of the ability they have in getting people to stop stress, reach a level of tranquility, calm and peace at a general level. Currently, many experts and therapists recommend its use to obtain all these benefits as well as an optimal stimulation at the cognitive level, the generation of new ideas and the collaboration with the delay of dementia.
2. Are there any recommendations to take into account to maximize the benefits of the adults coloring books?
So that the coloring activity is not only a pleasant and fun time but also relaxation and anti-stress therapy, it is convenient to consider the following recommendations:
Find the motifs and patterns that best suit your tastes.
Select the color tool that you like, be it colored pencils, markers or any other.
Any place serves to color but locating the place that is most pleasant and pleasant will make the moment more special and the level of relaxation will be better.
You have to forget the clock and leave the hurry during that time, it is best to surrender to the activity and enjoy it completely.
Forgetting to seek perfection, it is best to let go and give free rein to the imagination regardless of the details.
What makes a great adult coloring book?
To relax and color
As mentioned at the beginning of the article, many benefits can be obtained when using adult coloring books, it is important to consider a daily time to devote to this activity and get carried away by inspiration.
A moment of relaxation and calm thanks to the drawing, is the best mental therapy that adults can implement in their day to day and take advantage of this simple and economic activity.