With the different activities that we normally do every day, it is usually a challenge to organize optimally when handling many documents and information, to solve this problem a bit it is very important to consider file folder and file holder for desk so that our Work is better organized and able to perform it in the best possible way.
There is a wide variety of file cabinets of different sizes, with amounts of compartments in vertical or horizontal type trays, which adapt to different storage needs, according to the amount of documentation you handle and the area or office space or trade where you work.
What are the benefits of using desktop organizers?
It will always be beneficial to be able to order our desks or where we do our work, whether in our home or offices.
Here are some advantages of using desktop organizers or filing cabinets:
It allows you to have everything in a fixed place, making it difficult to lose documents or office supplies.
Keeps the essential objects to execute the work in a place close to the job, so less time is spent on locating them.
Increase the space available on the desk for the placement of other tools.
There is less distraction when you have everything sorted in one place, which increases work performance.
It allows you to keep the work area or table cleaner.

BEST FILE HOLDERS FOR DESK
1. Portable file cabinet for letter-size sheets
It represents a perfect element to organize and move your documents into folders. This new filing cabinet made of black PVC is designed as a drawer-like structure that serves as a frame to place 5 letter-type pendant folders inside.
It is of the portable type and easy to use, it is ideal to take the necessary office documents from your desk to the place where you move to work if you go to a conference room or outdoor meeting.
Additional characteristics:
It contains 5 letter-type pendant folders with transparent plastic tabs or identifiers to insert inside the folder.
File type drawers have the following measures: 9.5 inches high x 12.18 inches long x 6 inches wide.
Product benefits:
The drawer is made of sturdy black PVC with a closed bottom which keeps the papers safe.
Its frame is made with side handles, which allows the transfer of documents stored in hanging folders more easily.
2. Document folder with anti-fall system
This versatile accordion file organizer is very useful for storing and organizing stationery, folders with documents, personal files among other documents.
Highly recommended for use in your home, office, and school, it can contain up to 200 sheets.
Additional characteristics:
It comes in black and gray colors.
Made of polypropylene.
File cabinet measures 12.75 x 9.33 x 0.7 inches.
The package includes 2 folders with files that expand.
Product benefits:
The organizer contains a folder with 5 pockets that can be expanded.
The manufacturing material guarantees high durability in the product.
3. Document folder with 8 compartments
This file folder of the accordion-type has multiple uses since it has a capacity of 8 pockets that allows you to organize and sort all the files in a simpler way, if you go to school, at work, excellent to tidy up your documents, as well as other things in your home.
Made of polypropylene materials of very good quality (which is not toxic), this being a plastic that does not deform or break easily, and can be used many times.
Additional characteristics:
It contains 8 pockets of A4 or letter paper size.
Measures approximately 12.6 inches wide x 9.4 inches long x 0.8 inches high.
Product benefits:
Designed with a lid closure and buttons that protect the contents, preventing all your files from going to the floor when placed in your bag or if you walk quickly to your work or home.
Each pocket has good expandability.
It is manufactured with waterproof plastic.
4. File holder for desk organizer for letter-size sheets
If your desk is messy, this versatile desktop file cabinet is that perfect instrument to organize it. It is made of black steel metal mesh with 4 trays with an inclined angle, facilitating the entry of documents.
It contains a striking design and a flat tray at the bottom that allows you to store accessories that are out of place on your office desk or in your home.
Additional characteristics:
Its measurements are 13 x 9.2 x 13.5 inches.
The compartment size is designed for letter-size sheets.
The trays are separated by 2.4 inches.
Product Benefit:
Made of sturdy metallic material, designed with 4 levels
5. Plastic school folder letter size paper holder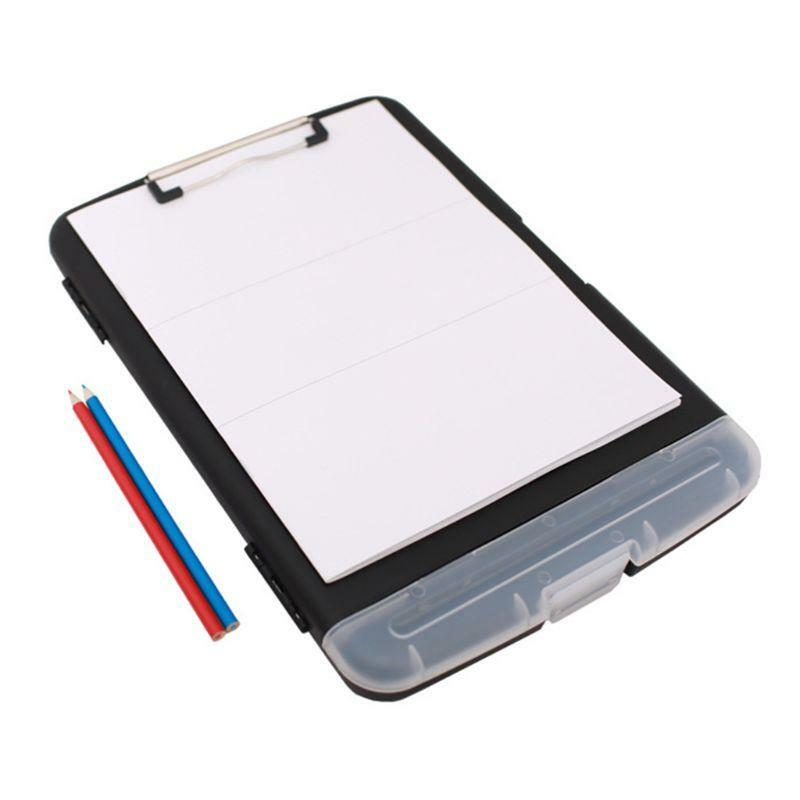 Resistant folder made of plastic with an opening and closing system at the top. It is very useful as a paper carrier for work by collecting information, as a support surface for writing documents, for tasks on individual sheets, notebooks and others.
It works as an excellent organizer for loose sheets, folders, thanks to the design of its hook that is made with good quality material. The hook allows securely hold the pages, notebooks, pens, among others.
Widely recommended for professionals working in the industrial sector, transportation, for doctors, public officials, and many more.
Additional characteristics:
It is black.
Its approximate size is 14.37 x 9.65 inches.
Product benefits:
Made of sturdy plastic.
Ideal to move inside your briefcases, school bags and handbags.
Its surface is large that allows the writing of your documents and placing notepads, pens, among others.
6. File folder holder for storage of folders and books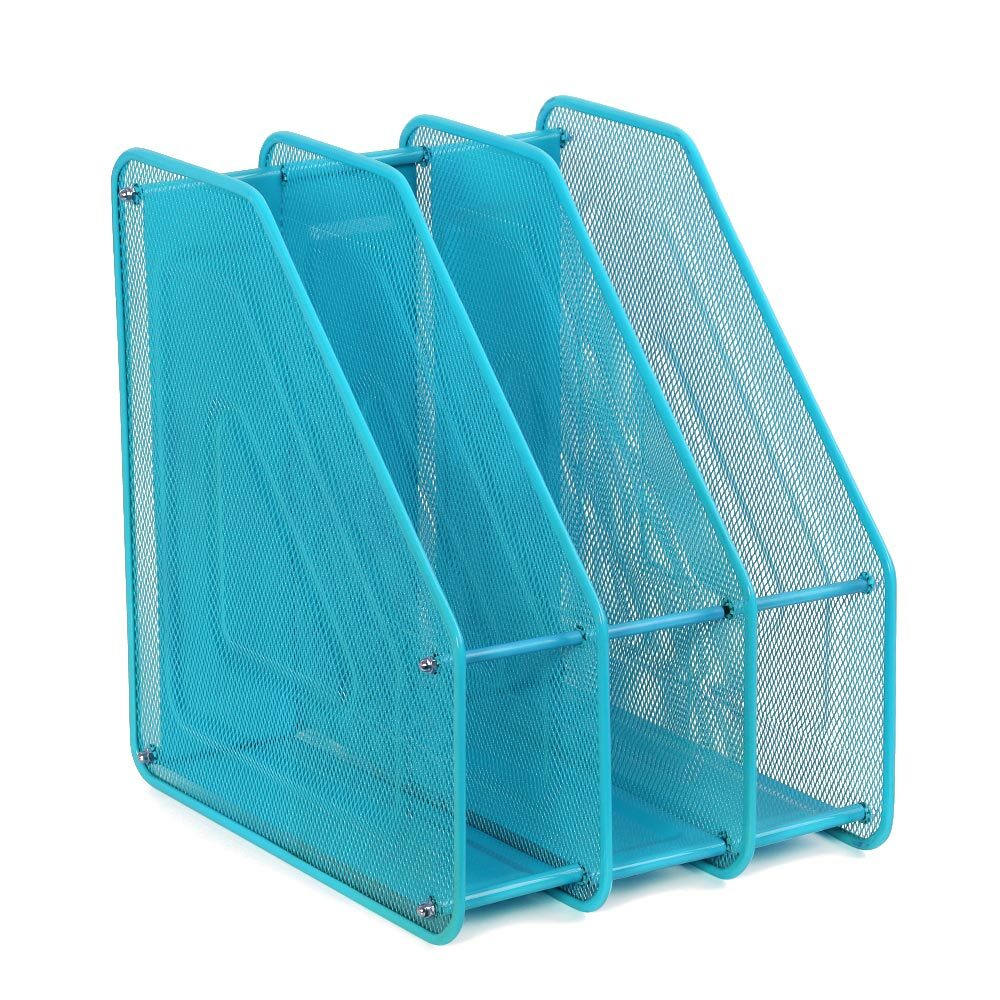 This beautiful filing cabinet of bright and striking colors becomes that perfect tool to organize your books and documents on the desk, it is very useful and decorative.
Made of metal, with vertical screens incorporating fine mesh, which makes it very attractive and allows you to store all your books and folders that you need to always have at hand to execute your work.
Additional characteristics:
It can be manufactured in different colors: green, blue, black, silver and pink.
Its approximate measurements are 12.32 x 11.53 x 9.45 inches.
It has 3 storage spaces vertically.
Product Benefit:
It allows you to combine it with your furniture.
7. Metal file cabinet with 5 spaces for offices and schools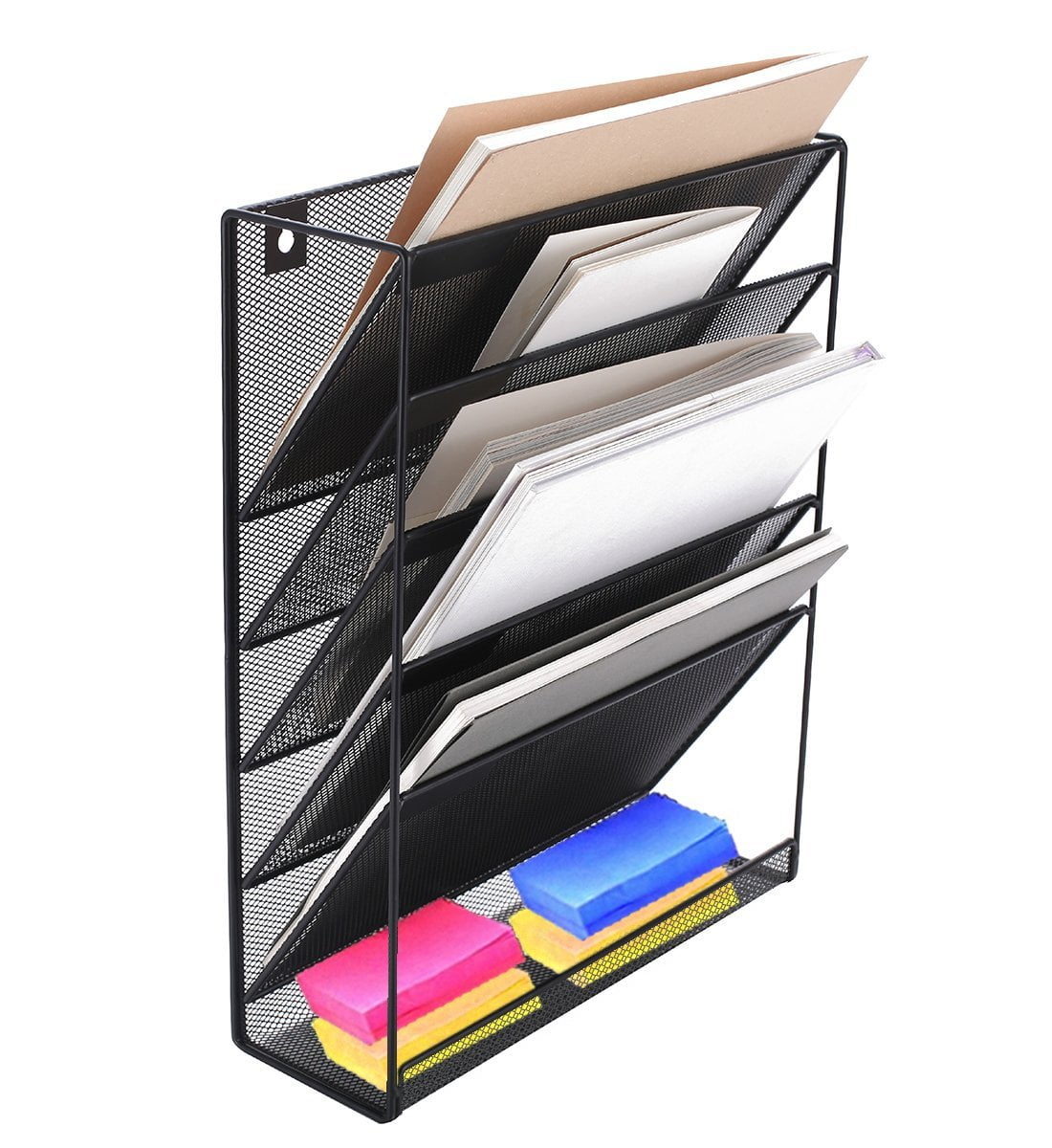 This colorful and modern vertical type organizer made of metal mesh is composed of 2 levels of spaces for document storage, which makes it an excellent organizer for your office and home for its ideal size and capacity.
It is designed on the first level with 5 sections or spaces with the inclined magazine rack design to give you the ease of placing your papers or documents and at the bottom a horizontal tray with compartments. It is perfect for storing your notebooks, scissors, calculator, pens, among others.
Because of its vertical shape, it is ideal to place it on your desk, but you also have the option of placing it fixed on the walls of your office or business.
Additional characteristics:
Made of metal.
Its approximate dimensions are 12.5 inches long x 4 inches wide x 16 inches high.
The measures of the inclined screen mesh compartments are 12.5 x 6.3 inches.
The size of the lower tray is 12.5 x 4 inches.
8. File folder holder for light folders
This modern 8-compartment file organizer is made of wire with superior strength. It is designed to distribute and sort your folders in an orderly manner, improving the arrangement of your office or where you work.
It allows quick access to documents and folders thanks to the design with open spaces.
Additional characteristics:
Designed with measures of 8.5 x 10.38 x 12.6 inches.
Product benefits:
It has 8 compartments with inclination to classify documents in an orderly manner.
Its structure is made of resistant wire and enameled black.
Its measurements offer a good storage capacity.
9. Hanging office folders
These folders of the hanging type are that indispensable tool in your office to store frequently used documents and records that need to be stored by the time they are needed.
They are used inside desk drawers or in large capacity rolling archives, it is the traditional option most used to organize and archive documents in large companies, small offices and even at home.
Additional characteristics:
Made of green in letter and official size, with transparent plastic-type identifiers that can be replaced.
They come in packages that contain 25 folders.
Product benefits:
In the tips of the folders, it has some enameled rods type hanger, which allows sliding inside the filing cabinets.
Manufactured with a content of 10% recycled material.
10. Accordion type briefcase for magazine file holder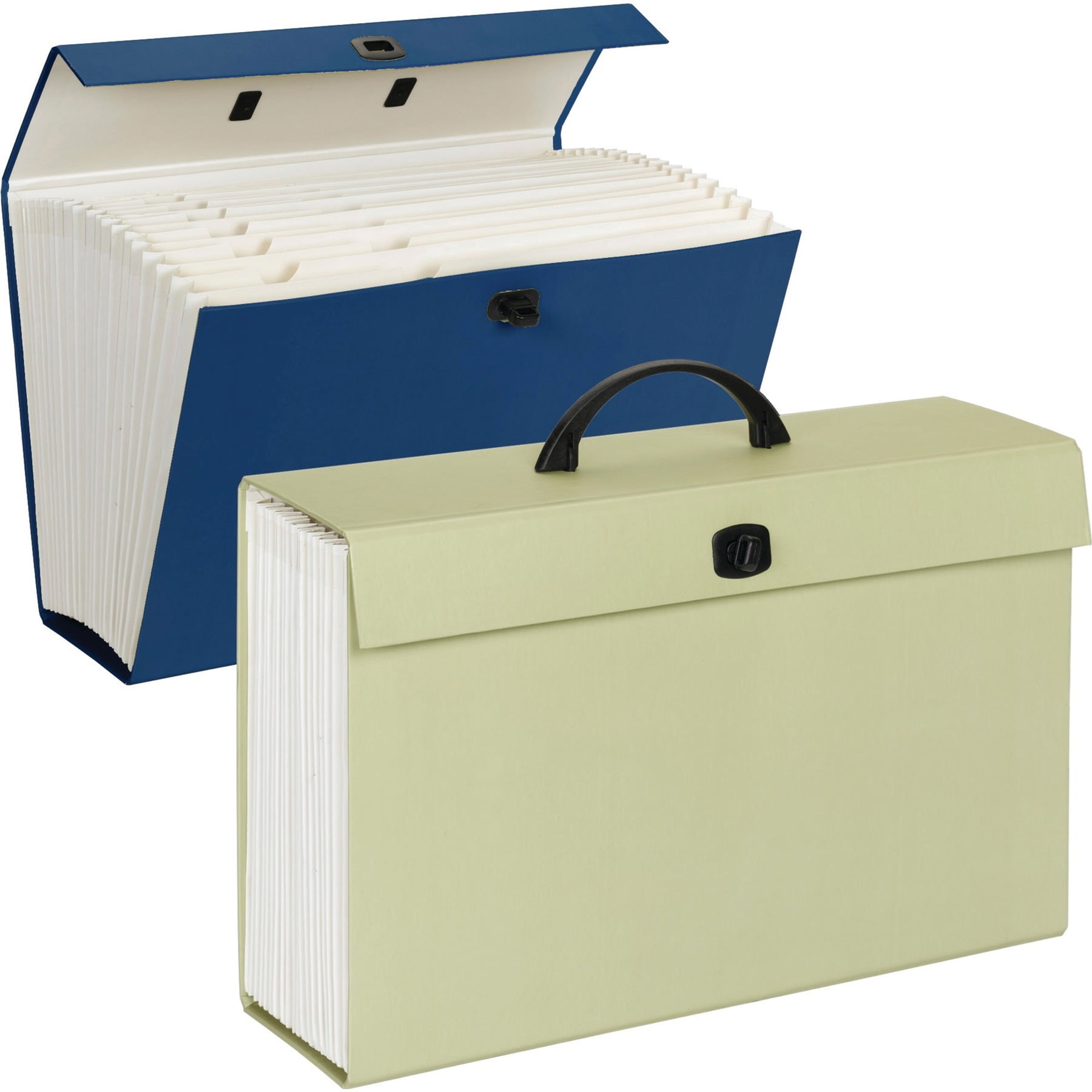 Versatile and useful executive type briefcase, manufactured with several accordion compartments. It can store papers and all kinds of light documents in a very comfortable and easy to move way thanks to the comfortable plastic handle that it has and that allows it to be loaded.
Additional characteristics:
It contains 19 pocket-type compartments that can be expanded.
They are manufactured in blue and green, with a lid and a button type lock.
Product benefits:
For the storage of letters and official size sheets, it contains labels printed with the letters of the alphabet to customize the files.
Due to the number of pockets, it has a storage capacity of more than 1,400 sheets.
11. Triangular folder holder for books and magazines
This elegant filing cabinet and organizer of triangular and loop or spiral shape is designed of wire with a metallic gold-colored finish. It represents a fantastic option to organize and classify documents, folders, brochures, magazines or books on your desk.
Additional characteristics:
Its measurements are 6.2 inches tall x 6.3 inches wide x 7 inches deep.
Each compartment is 1.6 inches wide x 7 inches high.
Product Benefit:
It occupies a small space on the desk so it is highly recommended for small areas.
12. Magazine file holder in the expandable form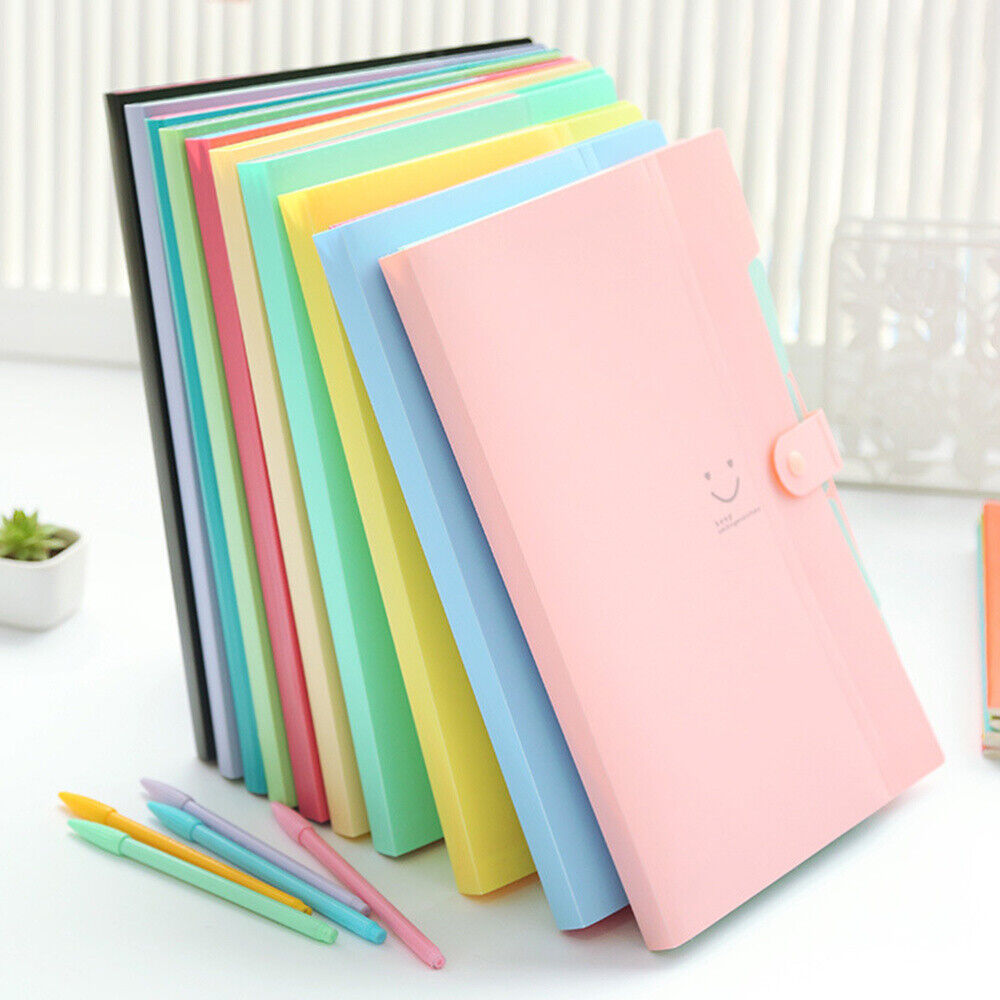 This file and document organizer type folder is very versatile for use because it can be easily loaded. They are made of plastic and cloth with 13 storage pockets and expand according to the amount of documents that are placed inside.
Additional characteristics:
Manufactured with the following approximate measurements: 12.99 x 9.45 x 11.18 inches.
Product Benefit:
Expandable compartments allow you to store all your stationery.
It does not deform easily and is a durable product.
Its closure is designed from the lid using elastic ropes that pass through the folder, which prevents the content from coming out.
Frequent questions:
1. How to choose the best organizing folder?
We must first evaluate our daily activities and the location of the workplace. If we work in an office, the recommendation is folders of the normal type, made of cardboard materials or cards to store documents. To organize within the files, folders of the hanging type are recommended.
If your activities require office transfers or to other places, expandable accordion-type folders or briefcases are recommended as they are made of a resistant material that allows you to store a variety of documents without the risk of being lost.
2. How to know if to buy a vertical type filing cabinet?
If your activity is within shops, medical offices or industries where there is a large influx of clients or patients and your need is to organize documents that are insight and that are often used, it is recommended to use vertical type filing cabinets with several horizontal inclined type compartments. It is best to place them in a visible and comfortable place with easy access to the workplace.
HOW TO ORGANIZE YOUR FILES
To organize our worksite
It is important to strive to organize our workplace, since order will facilitate our performance in daily work, making them more effective.
Fortunately, there are a variety of options on the market that provide the perfect solution according to each particular case, it is better to choose a file folder and file holder for desk that best suit our needs and allow you to effectively classify all important documents.