The return to class brings enthusiasm, expectations from new students, excitement but also a long list of school supplies. One of them is the jumbo glue sticks, these cannot be missing from the list for kindergarten and preschool.
Many school activities require gluing pieces, pieces of paper, cardboard, foams as well as developing projects where it is necessary to join elements. In this sense, the jumbo glue sticks can not be missing in the school bag.
What are the types of glues?
Before seeing some options of jumbo glue sticks for kids, it is convenient to know the types of glues that exist and some of their advantages and disadvantages.
1. Liquid white glue
It is widely used in a large number of school projects, its consistency is quite liquid and when it dries it is transparent. It is compatible with all stationery.
| Advantages | Disadvantages |
| --- | --- |
| It can be cleaned easily, it is an economical product, it is non-toxic, it dissolves in water easily. | It is not waterproof, contacting it weakens and dissolves. It is a somewhat weak glue so it is not able to hold much weight. It tends to dry if it spends a lot of time in the container. You can curl the paper if a lot is added due to the moisture in the liquid. |
It is used for crafts and school tasks, it is used to glue all kinds of paper, foam, cards, cardboard, and many other items. To be able to paste photography, it must be acid-free so as not to stain them over time.
| Advantages | Disadvantages |
| --- | --- |
| It is fast drying, it is easy to handle for the use of the little ones, it is non-toxic, it can be washed easily. It does not undulate the paper as with the case of the liquid white glue. | It is useful only for gluing light paper or cardboard, heavy materials do not tend to stick well. |
3. Instant Glue
It is used for stronger materials such as ceramics, wood, porcelain, cork, metal, plastic, leather, rubber, cardboard, nails, among others.
| Advantages | Disadvantages |
| --- | --- |
| It sticks fast, is durable and waterproof. | It is a toxic product so it must be handled with care, children cannot use them. |
4. Contact glue
Ideal for gluing large areas of plastic, leather, cork, wood, among others.
| Advantages | Disadvantages |
| --- | --- |
| It resists high temperatures, is water-resistant and allows some flexibility on the surfaces where it is applied. | It is a product not suitable for children and should be handled with care as it is toxic. |
5. Hot silicone
You can paste paper, cardboard, foam, cardboard, plastic and many other stationery.
| Advantages | Disadvantages |
| --- | --- |
| It is a non-toxic product and you can easily peel off the unwanted glue once it is cold. | It is used at high temperatures with a special instrument called a silicone gun. Children should not handle it without parental supervision because they could burn with hot glue. |
6. Cold silicon
It is the same for any stationery item in general.
| Advantages | Disadvantages |
| --- | --- |
| It can be applied in greater quantity unlike hot silicone and there is no risk of burning with handling. | It takes a little longer to dry compared to hot silicone. |
BEST JUMBO GLUE STICKS FOR KIDS
1. Package of 6 permanent glues
Excellent glue made without acid so you can apply with confidence in any place where you need to adhere. Its easy application is perfect for the little ones who are starting in school activities where they cut and paste frequently.
Just remove the cover and slide the surface with glue on the sheet of paper or the object to be glued, as the glue is worn out, the base must be rotated and gradually more glue will be available to continue with all the necessary activities.
Additional characteristics:
Multifunctional glue can be used for homework of all ages, crafts, scrapbooks, 3D prints and any other.
2 options for choosing glue capacity: 0.26 oz small glue stick and 1.27 oz large glue stick.
Different presentations come to choose from: 1 glue stick, 2-bar package, 3-bar package, 6-bar package, 8-bar package, 12-bar package, 18-bar package and 36-bar package.
They can be used to paste photographs as it will not stain or damage them.
It is non-toxic and safe for handling children.
It can adhere seamlessly to large numbers of surfaces and objects without leaving traces of wrinkling or glue accumulation.
Glue that could adhere to hands and clothes can be easily washed with soap and water.
2. Washable jumbo glue sticks for school
School glue sticks for children and all ages to do their homework with a quality product. The color of the glue is a pleasant purple shade that when dry is a small clear film.
Perfect for adhering a large number of elements effectively and safely such as fabrics, photos, paper, cardboard, cardboard, foam sheets, colored paper, crepe paper, and countless craft items.
Additional characteristics:
2 different capacities to choose from: large size 40 grams (1.4 ounces) and small size 6 grams (0.21 ounces).
Several presentations to choose from: package of 3 units, package of 4 units, package of 30 units and package of 60 units.
Its elaboration with suitable materials makes it a non-toxic product and can be handled with confidence by children at school, at home and anywhere.
You can remove unwanted glue from clothes and hands.
It is always recommended to cover the glue when it is not being used to prevent the stored glue from drying out.
They can also be used by children, youth and adults in general.
3. Package of 30 purple or transparent big glue sticks
Don't worry about buying a glue stick every time for your child's homework and school activities, this wonderful option will guarantee your children enough glue for school activities and complementary tasks at home.
They are also perfect for gifts because of the amount of glue sticks that come in the package. This presentation intends that children and young people have at their disposal enough glue material for different uses.
Additional characteristics:
You can choose the clear or transparent standard violet glue stick, both options when drying leave no trace of the glue.
The capacity of each glue stick is 1.41 ounces.
The glue is washable and leaves no traces of dirt or stains when using and washing.
The product is non-toxic suitable for children.
The glue on drying is transparent and leaves no evidence of its use.
Ideal for children because they are practical and comfortable to use.
4. Glue stick packages to choose from
This wonderful option guarantees that the objects will be glued in a strong and resistant way providing security and confidence when carrying out any project. Its colorful presentation is visually pleasing and the smallest students will love it. Perfect for kindergarten and preschool children.
It can paste many popular materials such as paper, wood, cardboard, construction paper, cards of all kinds, fabrics, foam board, photos, sequins, felt, plastic and countless materials.
Additional characteristics:
Each glue stick has a capacity of 6 grams (0.21 ounces).
4 presentations to choose from 1, 3, 6 and 24 packages. Each package brings 2 units of glue stick.
Glue sticks are safe, acid-free and non-toxic, so parents can feel confident while their children handle it.
The glue quickly clings to the surface leaving a strong bond.
The purple color of the glue disappears as it dries, leaving a clean and delicate job.
The manufacturer does not recommend that it be used in polypropylene or polyethylene-based plastics.
5. Big glue sticks for multiple purposes
Fantastic glue stick that provides quick and easy joining of a variety of school supplies and crafts without leaving any clutter or traces of unwanted glue.
Its formula is soft, easy to use, odorless and quick drying. You can remove any remaining glue with a damp or baby towel and it will leave without problems without leaving any trace and keeping the work impeccable.
Additional characteristics:
3 presentations to choose from: package of 3 units, package of 6 units and package of 9 units.
Each unit of the glue stick has 22 grams (0.77 ounces).
Quality product that guarantees a permanent glue.
Its formula is acid-free and non-toxic, so it is suitable for all audiences.
The glue dries quickly and leaves no color when dried.
It is safe to paste photographs as it will not stain or damage them.
Ideal for kindergarten and preschool children as it is easy to use and light to handle.
Unwanted glue residue can be easily washed with soap and water.
It can be used in a wide variety of paper, cardboard, foam, display board, graphics and a large number of projects.
When the glue dries it is soft to the touch, leaving a clean and odorless job.
6. White washable big glue sticks for art and school
If you want a strong and durable glue for all the school projects and that is both non-toxic and safe for children, this is a fabulous and practical option that meets those requirements.
It can be used for school and office activities as well as any work of art or crafts that require it as photo trimming, party decorations, wraps, collage and all kinds of papers, fabrics, and cardboard.
Additional characteristics:
2 different sizes: glue sticks of 8 grams (0.28 ounces) and glue sticks of 25 grams (0.9 ounces).
It should only be used as an adhesive.
Parents should be careful that children do not put it in their mouths.
The glue cap should always be placed while not in use.
The adhesive is quite resistant after drying.
The glue can be easily washed once dry or wet.
The main manufacturing material is plastic, acid-free and solvent-free.
The glue has no smell so it is pleasant during handling.
7. Non-toxic nonstick stick glue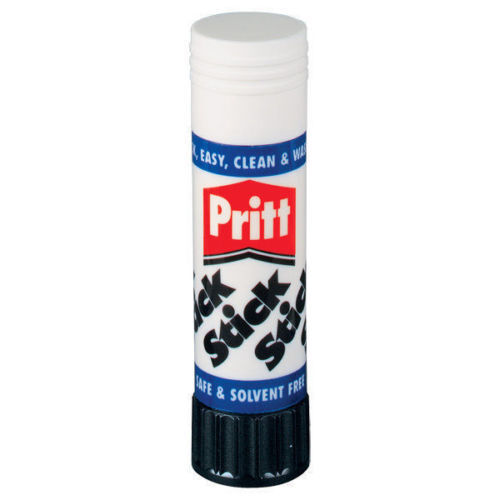 Practical presentation of glue in non-stick washable bar recommended for children to carry in their school bag. This option represents an ideal, fast, clean and accurate way to paste paper, photos, cards, cardboard, and any other stationery.
Additional characteristics:
4 presentations to choose from 1 glue stick, 5 glue stick pack, 10 glue stick pack, and 5 glue stick pack.
Each glue stick contains 10 grams.
It is a non-toxic product, it does not contain PVC or solvents, nor acids within the ingredients with which they are manufactured.
Perfect for children's use as it has the corresponding certificates so that they are suitable for handling.
Product made with 90% renewable raw material which makes it ecological and safe for the environment.
The following link delves a bit about the composition of glue sticks and their applications:
Frequent questions:
1. What would happen if a child ate glue stick by mistake?
Nothing dangerous is likely to happen but it is also important to know the quantity. If there is little glue, nothing should happen since most glue sticks are non-toxic and come with certificates for that purpose. If the child has consumed a lot of glue, it is advisable to see a doctor.
It is also important to mention that some children have allergies to some components and may react differently.
Parents should verify when buying glue sticks for their children that have the corresponding certificates and on their label say that it is a non-toxic product.
Likewise, parents and teachers, regardless of whether the product is not toxic, should watch the youngest children so that they do not take the glue stick or any other inedible object to their mouths.
2. What should be considered when selecting the best glue stick?
Very important when selecting it is that it is a non-toxic product, free of acids and harmful components within its formula since it will be handled by children and the product or hands full of glue residues can be taken by mouth.
The size will depend on the use that is given, the most practical and comfortable is that they are small presentations, especially so that they are easy to handle for children.
The transparency they offer when drying is also important, a glue that leaves traces of color in the work to be done will leave an unpleasant finish.
Fun: Jumbo 20 Glue Stick DIY Slime
Let´s go to paste
Once the different types of glue are known, it can be noted that the most practical for school activities because of their easy handling and cleaning in terms of the final finish are the jumbo glue sticks. In the multiple options shown here, you will surely find the most suitable for your little ones.
CONCLUSION
Whether you are kids in Preschool, Kindergarten, Middle School or High School, the School Shopping List website aims to help all students, teachers, and parents to find and buy best back to school supplies for both kids and adults. (check our other recent lists   Best Pencil Erasers, Pencil Case for Girls And Boys, Jumbo Colored Pencils, Jumbo Crayons, Watercolor Paint) Thanks for reading and sharing our Whiteboard Marker Pens. For more visit our home page. Happy Schooling!