The use of magnetic whiteboards encourages writing at all levels and all ages. Its use makes possible the transformation of ideas while they are reflected on a surface and this information is shared.
They are useful both at home and at school and in the office so knowing the multiple options available is convenient for everyone.
What are the applications of magnetic whiteboards?
The use of magnetic whiteboards is infinite, you can make schemes, brainstorming, exercises, drawings, write notes, shopping lists, reminders, general information and much more.
They are an improvement and evolution of the green boards that were used with white and colored chalk. The green boards were not very clean and a lot of chalk dust came off, which was unpleasant for people who used it.
Seeking to avoid the use of chalks and improve the quality of work, the magnetic boards are born which fulfill the same function and allow a much cleaner and more pleasant work.
Its use is perfect for making presentations of all kinds, whether at school or work, it can be used as a bulletin board, at school or at the university, to do exercises at home, to hang folios and many applications plus.
BEST MAGNETIC DRY ERASE WHITEBOARDS
1. Magnetic whiteboard with removable tray for writing materials
High quality white magnetic slate with a highly resistant aluminum structure for writing school, office, and homework.
Each piece that complements the board is rigorously tested to ensure a quality product. The surface of the board is compatible with all dry-erase markers.
Additional characteristics:
4 options available: 48 x 36 inches, 36 x 24 inches, 40 x 30 inches and 36 x 24 inches of porcelain.
It can be installed either horizontally or vertically depending on the available space available.
It offers a safe and reliable solution for wall installation.
Includes a removable aluminum tray to place the markers securely and for quick access. The tray can be installed on any of the 4 sides of the board.
The screws and nylon expansion tube of the board are of excellent quality.
The edges of the board are not sharp and have ABS plastics to offer security to those who use it.
2. Large dry erase board with pen tray
Versatile dry erase magnetic board for any application at school and in the office. It is perfect to use installed on the wall or as it comes, it represents a very useful tool for constant writing jobs.
The surface allows it to be written and erased easily and quickly. Documents or calendars can be hung on the board for quick and easy viewing.
Additional characteristics:
5 options to choose from: 60 x 40 inches, 72 x 40 inches, 48 ​​x 36 inches, 48 ​​x 24 inches and 2-pack of 36 x 24 inches.
The frame of the structure is made of aluminum, which provides a slate-style.
It can be used by people of all ages, from children to learn to write the vowels to the CEOs of companies for their meetings and corporate presentations.
The aluminum frame and the complete slate is elegant and with a strong design to work hard.
Includes a tray to protect the markers.
The backing material is a galvanized sheet.
3. Magnetic whiteboard with dry erase marker and 2 magnets
Excellent choice for the perfect writing and optimal dry erase performance, designed for all school, university, office, bedroom, home, and many other applications. The surface is completely smooth and highly resistant to scratches.
The construction of the entire slate is made of resistant materials so that you can work hard while ensuring a durable product.
Additional characteristics:
9 options available: 36 x 24-inch whiteboard with silver frame, 40 x 30-inch whiteboard with black frame, 40 x 30-inch whiteboard with silver frame, 48 x 36-inch whiteboard with black frame, blackboard 48 x 36 inch white with silver frame, 36 x 24-inch whiteboard with black frame, 24 x 18-inch blue board with silver frame, 36 x 24-inch blue board with silver frame, and 36 x 24 pink board inches with silver frame.
The corners of the board are made round and are made of nylon.
This package includes 1 magnetic board and a dry erase marker and 2 magnets as a gift.
Quality product that guarantees that the surface will not deform, will not wrinkle, nor will bubbles appear over time and use.
4. 17 x 23 inch magnetic board
Board for dry erase markers that allow easy and smooth writing for different daily use applications. It provides a fairly smooth surface that favors handling and makes dry erase simple and clean.
Additional characteristics:
3 options to choose from: blackboard with white frame, blackboard with the color of the frame you want to select and blackboard with a corkboard.
The installation can be done according to your preference and available space either vertical or horizontal.
The surface is painted steel type.
The frame is made of sturdy wood.
All necessary magnetic and installation accessories and a dry erase marker are included.
5. Dry-erase whiteboard with whiteborder
Magnetic whiteboards represent an excellent option to boost creativity as they are writing and drawing tools for organization and planning. They can be used for many school activities and tasks, generate lists of pending tasks, write down important notes, manage projects and many more applications.
Additional characteristics:
2 sizes to choose from 8.5 x 11 inches and 11 x 14 inches.
The surface for writing and dry erase is durable enough, resistant to stains and dirt and can be erased quickly and easily.
The package includes a marker designed for dry erase boards and a Pin-It type cork magnet.
Any type or brand of dry erase marker can be used on the surface of the board.
The slate assembly is type U and can be easily installed without problems since the mounting strips are included for this purpose.
6. Dry-erase whiteboard sheet set with 6 markers included
Wonderful option to paste in the refrigerator, any other appliance or metal surface and thus easily have a neat, white and suitable space to write, leave notes, reminders and erase easily when you want.
It is a very attractive option because it is practical and convenient to use, also, its size of 17 x 11 inches is perfect and can be easily pasted and taken from one place to another.
Additional characteristics:
Made with improved and proven technology that provides a new and good product for a long time.
Its surface is flat and smooth, which facilitates writing and manipulation so that the notes or information to be captured are legible and remain so.
The magnetic blade thanks to its flexibility offers the possibility of cutting it with a normal scissor so that it has different pieces if desired.
The set includes 6 dry erase markers so you can use the magnetic sheet immediately.
7. Magnetic white board package with a pen, marker tray, 3 magnets, and an eraser.
Magnetic dry erase board with ultra-thin and light accessories to offer a scratch-resistant surface and high quality so that the scripts written on the board are clear, easy to read and durable.
Additional characteristics:
3 presentations available: 24 x 36 inches, 36 x 48 inches and 18 x 24 inches.
The board comes with a dry erase pen, writing materials tray, eraser, and magnets.
The package comes with a mounting kit to install quickly and easily, anyone without experience can install it without problems.
Its design is quite light but at the same time very resistant and does not deform.
8. Mobile dry erase whiteboard with swivel stand
The perfect option that allows you to have a magnetic board in any desired place since it can be easily mobilized thanks to the support with wheels with which the board comes. The structure of the slate is made of solid wood which guarantees a flat, durable and scratch-proof surface.
Additional characteristics:
7 options to choose from: 60 x 40 inch double board, 48 x 36 inch double board, 72 x 40 inch double board, 40 x 28 inch double board, 48 x 36 inch board, 36 x 24 board inch and 24 x 36 inch tripod.
The surface of the board has a layer on the surface that acts as a protective film.
The package comes with the board, 1 tray for writing materials, 6 dry erase markers, 3 drafts, 10 magnetic nails and the blackboard stand with wheels.
9. Portable magnetic blackboard to slush on the wall
Portable magnetic blackboard perfect for use by children, tutors, educators, classrooms, home schools, businesses, offices, and many more applications.
It can be used as a magnetic board for letters, kitchen board, presentation board, guided reading and writing board, daily notes board, among others.
Additional characteristics:
Its design is double-sided so that there is enough space to write.
It can be easily cleaned with an eraser for dry markers or with a towel.
The dimensions of the board are 16 x 12 x 4/5 inches.
10. Magnetic board flipchart type with adjustable height
You can write and erase firmly and safely all the information you want, the steel tubes are of high quality and have rubber bands at the bottom to offer safe and reliable support. Perfect for presentations, placing notes and keeping ideas organized in a single space.
Additional characteristics:
3 presentations available: silver tripod, black tripod and double-sided slate with U-type bracket.
The package includes the white magnetic board, 3 dry erase markers, 1 eraser for magnetic boards and 6 magnets.
Its weight is light which is comfortable and easy to transport.
It has support hooks that allow you to hold documents or presentation sheets.
11. Dry erase whiteboard type self-adhesive contact paper
Perfect for school use thanks to the practical and simple installation, ideal to place in the children's room and reinforce school activities.
To install just remove the adhesive that comes as a protective cover, place the magnetic paper aligned on the clean surface where you want to place and press until it is completely glued.
Additional characteristics:
Its dimensions are 17.3 x 40 inches.
The package includes the self-adhesive magnetic board, 42 magnetic letters, 4 magnets, 4 dry erase markers, and 1 eraser.
It can be placed on multiple walls or surfaces such as brick, tiles, metal, windows, glass, wood or doors.
12. 36 x 24 inch dry erase whiteboard with aluminum frame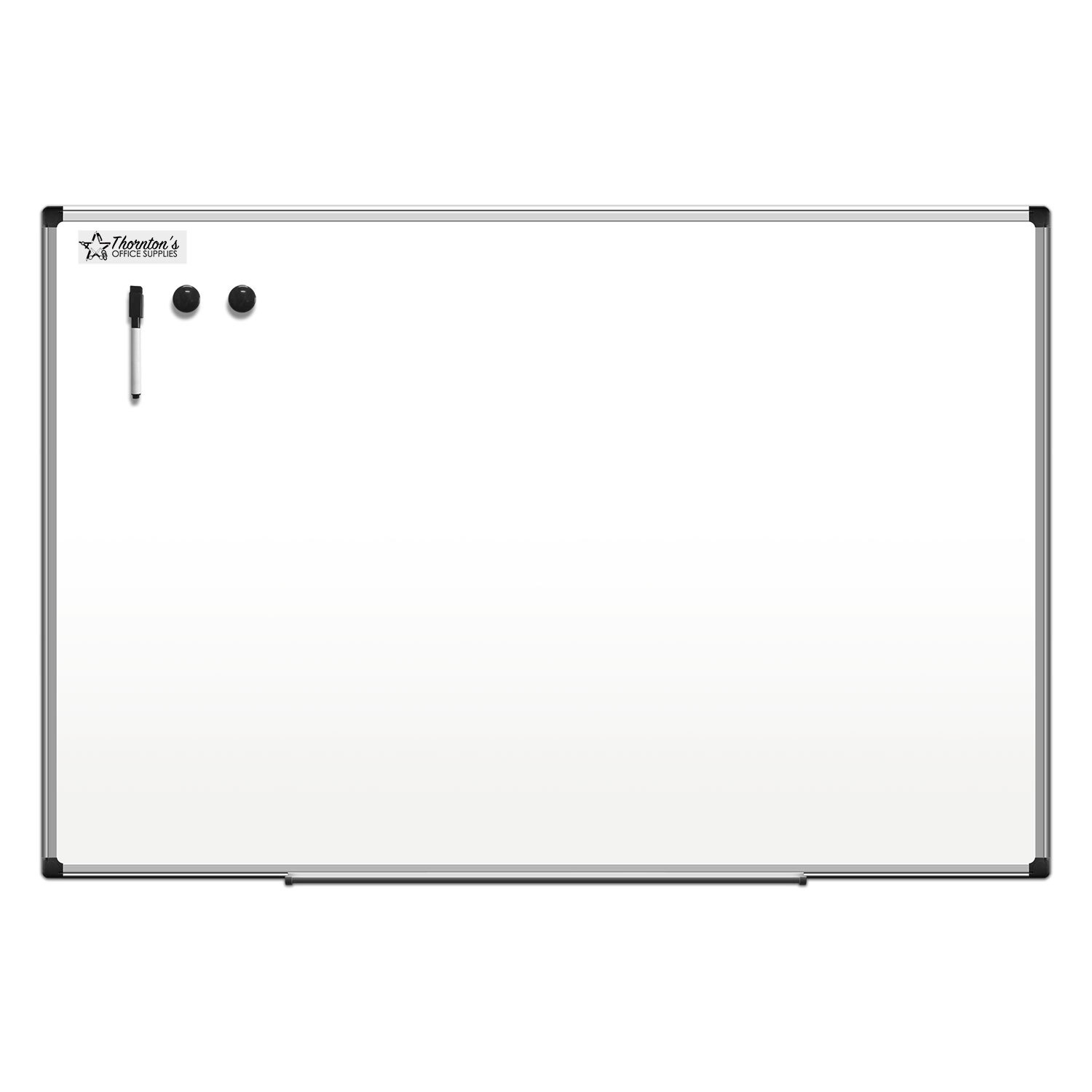 Wonderful magnetic board with easy dry erase that offers performance with unique and professional quality. Its elegant frame provides a product view and makes it attractive for use in classrooms, offices, and businesses. The corners of the frame come with an ABS system and with covers so that the screws are not visible.
Additional characteristics:
The surface material is made from melamine and is white.
The frame material is aluminum.
The assembly of the board is on the wall and must be done with screws.
Includes versatile tray to place markers and other writing materials.
To learn a little about the benefits and general information about magnetic whiteboards, it is advisable to review the following information:  visionbranding.ie
Frequent questions:
1. Do magnets work on magnetic whiteboards?
Yes, the white surface of the magnetic boards are located on the top of a thin sheet of steel, so when said steel is located behind the white plastic, the magnets will easily adhere to the surface of the board.
2. What is the difference between a magnetic board and a non-magnetic board?
Both blackboards are white and simple, they are made from sheets and can be erased and written on them easily.
The magnetic board has the same white surface as traditional blackboards, the only difference is that you can include magnetic accessories such as markers, arrows, sheets, among others to make the most striking presentations.
More things you can magnetic whiteboards

Multifunctionality and versatility
The use of magnetic whiteboards is increasing thanks to the fact that it allows a clean and tidy work. It can also be used in different areas, whether at school, university, at home, in the kitchen and any other, such versatility is what makes it so attractive and increasingly popular.