At the beginning of the school year, parents should think about the best option for their children to take their food to school in a safe way, especially in the preschool age. Kids metal lunch box represents a good choice to prevent food spillage and keep at a suitable temperature.
Currently, there are many models of lunch boxes or containers where children can take their meals to school, they are manufactured in different materials such as cloth, plastic, leather, and metal.
In the market, there are a variety of lunch boxes with different designs inspired by children's characters from fashion comics, and also other children's designs that your children will love.
To maintain food safety and ensure the durability of your child's lunchbox during the school year, it is recommended to use metal lunch boxes because of their high resistance to bumps and falls, it is convenient to locate one that has at least 3 compartments or divisions, so you can include at least 3 types of food to ensure the variety and nutrition your child needs.
What is the origin of the lunch box?
Perhaps many remember the first lunch boxes that were used in the first grades when attending school, these were square or metallic with colors, but they had no decorative figures or famous people of comics.
These lunch boxes were used to carry food that was prepared at home and that each child would later eat at recess time at school.
The origin of the lunch box or takeaway containers, dates back to the 1880s, in the beginning, the lunch box was taken as a symbol of belonging to a low social status and was attributed to people who for lack of time and money could not have a decent hot meal at their breakfast, lunch or dinner.
When children were sent to school at very early hours and when preparing food, for reasons of time and not being able to eat them in their homes, they began using metal boxes of cookies or cigars as lunch boxes or containers for transfer outside the home.
The first lunch box created specifically for children was in 1902, it was shaped like a picnic basket and as an ornament some lithographs of children playing.
Little by little they were modernizing and creating different models and designs, always to please the children.
THE 10 BEST METAL LUNCH BOXES FOR SCHOOL KIDS
1. Ecological stainless steel lunch box
Lunch box with beautiful rainbow design, bright colors, durable material, ideal to resist the childhood adventures of their children and even in adulthood, made of stainless steel, does not contain lead, PVC or BPA materials.
For its transfer it has a briefcase type wrap in carrying bag fabric, 100% recycled durable polyester fiber and includes several pockets that can be used to carry containers, bottles of water or different drinks.
Additional characteristics:
Each set includes 1 lunch box containing, 1 big dipper food container, 1 little dipper food container, an insulated carrying bag, and a magnet set.
The food container is designed with 5 compartments to pack different foods, recommended for children with special balanced feeding that require variety in their meals.
It has an adjustable strap and can be adjusted to carry it as a long or short handle, all this according to the need of your child.
2. Paw patrol metal lunch containers with gift puzzle
Beautiful and colorful metal lunch containers for the spoiled of the house with the favorite characters of their comics, their measures are approximately 8 x 6 x 3.5 inches, it has the perfect size, it is very comfortable to store food and ensure your transfer to school.
Additional characteristics:
This lunch box includes an additional paw patrol gift puzzle, which will provide your child with hours of entertainment.
Due to its strong metallic material, it can also be used as a carrying case for toys.
It has an easy-to-use closure to provide ease to children.
3. Minnie mouse semi-circular lunch box for girls
For the princesses of the house we recommend this lunch box made of high-quality materials, bright and colorful prints with the character of your child's favorite Minie Mouse, it has a semicircular shape with molded handle. It is lightweight to carry and is ideal for use in school, travel, and games.
Its beautiful design will make your girl fall in love and she will love to use it everywhere. The excitement of using it will make your little one can not wait to try their sandwiches, snacks, drinks at school and in outdoor activities.
 Additional characteristics:
Made of high-quality materials that make it strong and resistant, it will not break easily.
Made with BPA free and non-toxic materials, this makes it safe for children to use.
It is easy to clean after use. For its maintenance it must be cleaned with a clean and damp cloth, this so that at the time of reuse it prevents the proliferation of harmful bacteria that can be dangerous for the health of children.
4. Funny lunch box for food and toys
Fabulous metal lunch box designed with strong and resistant materials, in the shape of a classic robot, because of its elongated shape it has a lot of space in the lunch box for all the essentials: sandwiches, fruits, vegetables and drinks for your little ones.
The robot lunch box is a perfect choice for the packaging of school food for both large and small children.
Additional characteristics:
5 beautiful designs available: robot, rocket, guitar, truck, and dinosaur.
The measures of the lunch box are 9.4 x 6.4 x 3.3 inches.
5. Package of 2 metal lunch containers for all ages
Excellent mini lunch box for our children, ideal to carry food safely. Made from stainless steel with leak-proof seals, its design can overcome the mischief of the smallest of the house.
It has three stainless steel compartments to place the variety of foods your child needs.
Manufactured without BPA and made from recyclable PP.
Additional characteristics:
It is the perfect size to ensure a meal or snack for your children in schools or kindergartens
Its measurements are 7.75 x 5.5 x 2.75 inches / 19 x 14 x 7 centimeters.
Secure seals to ensure that food is not spilled.
The container is made of stainless steel, resistant and reusable material.
The outer box is made of recyclable PP material.
It comes with stickers of different vegetables and meals.
The package comes with two units, a blue lunch box, and a pink lunch box.
6. Fantastic hand metal lunch containers for children with Spiderman motive
Fabulous metal lunch containers, made from bright colors with the figure of Spiderman thinking of the little ones in the house. Ideal for those children who love their comics character, this design makes your child want to take their food to school inside it.
Additional characteristics:
Its size is 7.25 x 6 inches.
It has a strong handle so your child can easily grab it.
Its lock is easy for children to manipulate.
7. Classic black lunch box with star wars characters
Chest of drawers classic metal lunch box with Star Wars figures, for children who require variety and quantity of food. It is easy to clean and its construction material allows to maintain the ideal temperature of the food.
Additional characteristics:
Its measurements are 9 x 3.5 x 6.8 inches.
It has the ability to maintain the perfect storage temperature. Ideal for when food is stored that requires keeping cold for longer.
8. Great circular lunch box with Snoopy design
Color and fun in this beautiful round-shaped metal lunch box, its beautiful design with the characters of Snoopy Peanuts surely the little ones in the house will like. Its design offers great capacity and convenience to store food properly.
Additional characteristics:
It offers excellent storage capacity.
Its dimensions are 7.8 x 3.5 x 7.5 inches.
Its structure is easy to clean for your care.
9. Lunch box for children on the occasion of Doctor Who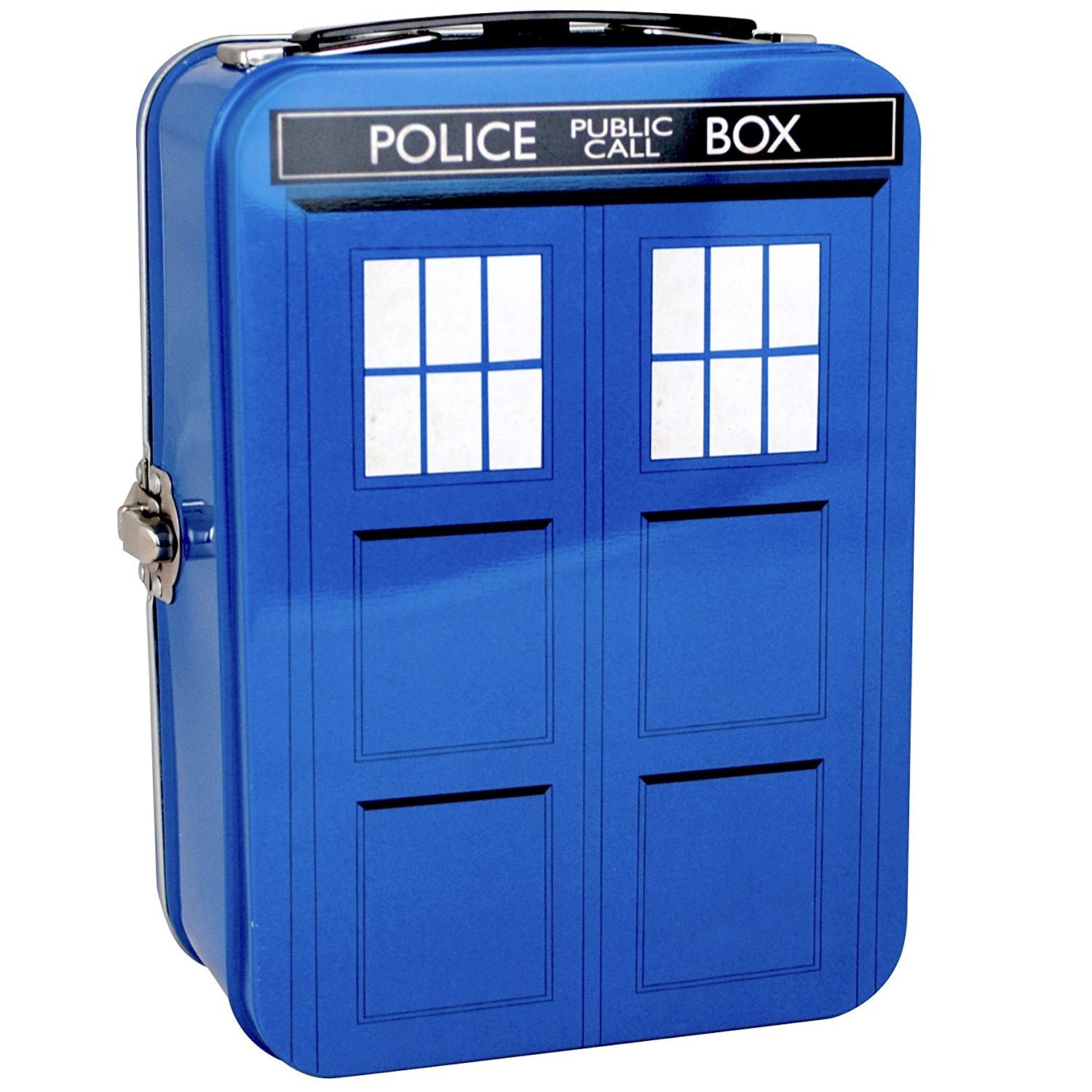 Shiny blue metal lunch box for school and home pampers, its beautiful design makes it ideal for storing our children's food for school, preschool or daycare.
Additional characteristics:
Excellent storage capacity.
Its dimensions are 133 mm x 200 mm x 80 mm.
It has a black handle made of resistant material to provide good support.
The lock is easy to handle.
10. Metal lunch box with colorful impression of Jake Neverland Pirates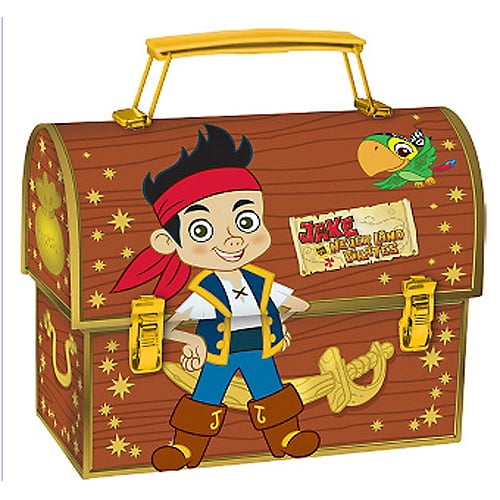 Beautiful lunch box with a very original and fun design to encourage fun your children. It is made with bright colors, its shape offers a large storage capacity. Its striking design thanks to its shape, makes your children do not want to part with it and take their food to school.
Additional characteristics:
The dimensions of the lunch box are 6 3/4 x 3 1/4 x 5 1/4 inches.
It allows children to store a small thermos for drinks and place them in an upright position.
It has a sturdy handle with plastic and metal to provide security in its transfer.
To learn a little more about the origin and history of the lunchbox, it is advisable to review: wikipedia.org
Frequent questions:
1. How to choose the best lunch box for children?
If you want your children to take their food to school in a good lunch box, but you don't know how to decide on the best one, we'll give you some tips, so you can choose the best lunch box for children.
As we have seen there are various classes, sizes, materials, and uses. In the market, there are a variety of lunch boxes or containers for the storage of our children's food to take to school.
First, for the selection of the school lunch box, you should not only take into account if your child is a fan of the fashion comic characters that adorn them but the ability he has to store food and according to the dietary needs or preferences of your son.
You should observe if it has the necessary compartments, or the size for such foods to enter.
The final choice is the responsibility of the parents, but those who will use the lunch boxes will be your children, so it is also important to think about which ones go with their tastes and needs.
2. Which material is best for your child's lunch box?
There are lunch boxes of different materials, the most common are plastic, there are also cloth and metal. In this article, proposals for metal lunch boxes have been presented due to their high strength, in general, their design and structure are similar to the others, what changes are the material with which they are built.
Although they are slightly heavier than plastic ones, metal lunch boxes offer better food protection against bumps or falls due to the movements and mischief that children usually do.
3. How should parents perform maintenance and cleaning of children's lunch boxes?
The following recommendations should be taken into account when cleaning lunch boxes:
Lunch boxes should be washed if they are plastic, thermal or metallic, with dishwashing detergent and warm water, it is recommended to perform this procedure every day before storing food.
Some thermal lunch boxes can be washed in the washing machine, but we must make sure that it can be done. Many thermal models can only be cleaned by hand.
It is advisable not to use thermos without the thermo holder, as these can spill its contents and make it difficult to clean the lunch box and are a source of contamination.
In the metal and plastic lunch boxes, it is advisable to freeze juices or drinks, so they will be better preserved and will have an adequate temperature at the time of consumption.
If the lunch box has bad odors, to eliminate them and give it a quick cleaning, you can use antibacterial wipes.
One of the advantages of metal and plastic lunch boxes is that they do not develop bad odors as easily as thermal ones.
The overload of the lunch box should be avoided.
Parents should try to pack what they believe their children will consume during the time of their school day.
It is advisable to pack everyday sandwiches in foil or airtight plastic Ziploc bags.
For the safety of children, avoid storing glass containers in the lunch box.
FUN: Blast from the past: School metal lunchboxes
To select the best metal lunch box
It is important when selecting a kids metal lunch box to find the best option according to the appropriate shape and design that meet the needs of the children and consider their tastes and preferences of course.