Hygiene is an important habit for everyone in our daily lives, in childhood, there should be greater emphasis on it since children are more exposed to germs, bacteria and any harmful external agent that can cause infection or cause discomfort.
Children of school age are usually very curious, play a lot and like to have direct contact with objects to know and discover them for themselves, the drawback of this is that because they do not know the nature of many things, they do not know how to differentiate the good from the bad, the dangerous things of the non-dangerous and of the things that could cause him some illness by his direct contact.
Why is it important to use paper towels?
For being part of proper personal hygiene since it is part of a routine of cleaning the hands, body and even objects that need to be kept clean.
The most exposed to contracting diseases by carrying dirty hands or touching dirty objects are children. The problem in itself is not that they touch dirty objects or things with their hands but that they can then take their dirty hands to their mouths, eyes, any wounds they have exposed or any other part of the body for which they can get an infection.
Hygiene comes into play, adequate personal hygiene that includes washing hands or body parts on a regular basis and drying those washed parts with paper towels (Wiki) will make children less likely to get sick.
What parents can do to prevent the spread of diseases in this way is to maintain proper hygiene in their hands. If we manage to make this a habit in them, when they are at school or anywhere else away from the attention of their parents or an adult, the spread of diseases can be greatly minimized.
At school, it is also important that teachers reinforce this habit in children by encouraging them to clean their hands before eating or after a school activity in which they have dirtied their hands.
More Details: Are paper towels an efficient option?
Benefits of using paper towels for school and children
Paper towels have multiple uses and offer almost the same utility as conventional cloth towels only that they are disposable and can usually be used only once. Some of the benefits or advantages of its habitual use are the following:
In general, its texture is quite soft, which allows adequate cleaning without irritating or damaging any part of the body.
Prevents the transmission of germs and bacteria, unlike cloth towels that must be washed and dried properly so that they can be removed.
It allows to clean the hands and any part of the body of any dirt, moisture and sweat.
It can be used very carefully to clean the nostrils.
In any work area (schools, offices, restaurants, among others) it allows all the people to carry out daily activities in a hygienic way, preserving the workplace clean and free of dirt.
It serves to remove dirt and food debris that may remain in our mouth and face after each meal.
For women, it is usually very useful for removing makeup from the face and for skin cleansing.
There are different options in the market and with a wide variety of prices for everyone's reach.
Easy and practical to take anywhere.
They can be stored for a long time without being damaged.
For which occasions is the use of paper towels recommended?
Paper towels have multiple utility options within which we can mention:
Dry hands after washing them or if they have been wet with any undesirable liquid.
Remove unwanted dust or moisture from a specific surface or object.
Dry and clean liquids that have accidentally spilled on any surface.
The 8 best paper towels for school and kids
Once you know the importance and benefits of using paper towels, it is convenient to know some of the multiple options offered by the market:
1. Square paper towels with quarter size sheets
They are ¼ sheet paper towel sheets, it is an ideal size to use when small activities are running, so you can take the right amount of towel needed without wasting material. The paper with which it is made is absorbent, strong, resistant and durable, additionally, the paper roll comes with 2 layers to ensure greater strength.
Additional characteristics:
The product comes with the following dimensions: 22 x 20.2 x 11 inches.
They can be used in small daily cleanings but with difficult dirt.
Ideal to serve snacks or use as napkins in family, school or work meetings.
The rolls come in white.
The package brings 16 rolls.
2. Seventh generation paper towels
They guarantee a deep cleaning without generating a negative impact on the planet since they are towels made with the premise of preserving forests and the environment by being made with fully recyclable material. The paper of each roll is virgin fiber, bleached without chlorine, they do not have inks or dyes or added fragrances, ideal for people with sensitive and delicate skin. They are difficult to dirty and it represents a very safe and effective product when manufactured with plants.
Additional characteristics:
Made with 100% recycled paper.
The product comes with the following dimensions: 14.4 x 11.7 x 10.1 inches.
The rolls come in white.
The package brings 12 rolls.
Each roll brings 140 sheets.
3. Multifunction folding paper towels
They are towels made with soft and absorbent material of high quality, its folding design offers an excellent image for those occasions that merit it as important meetings, school or work events, among others. The shape of its design makes it possible to select one towel at a time while the next towel remains forwards to be taken by another person next time.
Additional characteristics:
Designed to be placed in universal folding towel dispensers.
The package brings 150 triple folding paper towels.
The towels are white.
The product comes with the following dimensions: 12.4 x 27.6 x 9.6 inches.
4. Double layer paper towels
They are of the foldable type that can be placed in universal dispensers or they can also be placed directly folded in the place to be arranged either a surface, open tray or stacked in the work area. They can be selected with recyclable material options. Additionally, folding can be configured in different ways: folding C, folding S, folding M and folding Z. They represent an excellent durable and simple option for various applications, whether school, commercial or domestic.
Additional characteristics:
The product comes with the following dimensions: 20.9 x 13.9 x 9.9 inches.
Towels can be chosen as white or brown.
The package brings 125 paper towels.
5. Soft and strong paper towels
These towels offer a fairly smooth texture providing softness, freshness and comfort similar to a delicate fabric. It offers deep cleaning to any work area to be sanitized, whether they are wet, dry or heavily damaged surfaces. Its durability characterizes it as something unique, capable of polishing surfaces as if it were working with a cloth. They have the particularity of staying strong when they get wet, which makes them resistant to tearing.
Additional characteristics:
The box includes 2 packages of 12 rolls each, 24 rolls in total.
Each roll brings 100 sheets.
The product comes with the following dimensions: 14.5 x 19.4 x 11 inches.
6. Decorative paper napkins
An excellent option to encourage children to clean themselves and acquire good hygiene habits thanks to the colorful and fun impressions of these decorative napkins. Ideal to place in school lunchboxes and for children to acquire the initiative to clean up disasters that could cause while eating or doing some school activity. For children's parties, they are usually perfect as they give color and joy to those special children's moments.
Additional characteristics:
Absorb fat and moisture quickly.
Each package brings 700 printed paper napkins with 8 different types of prints.
The product comes with the following dimensions: 15 x 5.9 x 6.2 inches.
7. Quick-sized paper towels
Its design is based on shorter sheets that offer versatile and total cleaning. They have been manufactured with short stretches of sheets so that users can select the desired size and not waste material unnecessarily as they are twice as absorbent and resistant as conventional towels that are on the market. Its usefulness is quite wide, easy to take anywhere and dispose of it as required.
Additional characteristics:
The product comes with the following dimensions: 24 x 12.4 x 22.6 inches.
Doubly absorbent compared to regular towels.
Paper towels come in white.
The package brings 16 family-sized paper towels, which equals 40 regular-sized rolls.
8. Colorful paper rolls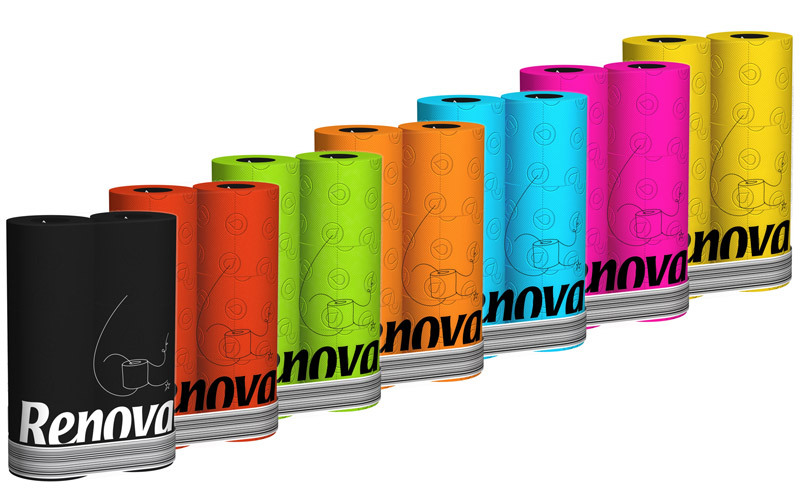 They are made with the intention of offering something totally new and different to people, this to change the daily life of the plain white that are usually found in almost all market options. Its manufacturing material makes the paper sheets quite soft and with a pleasant fragrance. The variety of colors available allows you to develop creativity and use them in multiple options, making them perfect for parties and events where decoration reigns.
Additional characteristics:
You can choose the color of the paper rolls: pink, green, red, blue and black.
You can choose the packages: 1 package of 6 rolls of 3-layer paper (only available for black color) or 1 package of 6 rolls of 2-layer paper (the rest of the colors).
The different options available for paper towels are perfect to use when we are away from home and we do not have access to cloth towels to dry ourselves and we need to clean our hands or some part of our body. In addition, they greatly facilitate our daily activities; both adults and children, as we are constantly exposed to pollutants and do not always have a bath with soap and water to clean ourselves.
But not only they serve for the prevention of contamination and for personal hygiene, its usefulness is quite varied, from cleaning in any work area: school, kitchen, office, among others; even decorative as parties and events.
Include them in our wallet, purse or lunchbox and always have them within our reach in school, office, work and home, most likely we will solve many accidents and unforeseen events that usually occur in a common and frequent way.
How Paper Towels Absorb Water
Frequent concerns:
1. How important is the manufacturing material of paper towels?
Its manufacturing material is essential since it is the main determinant of its quality and performance as well as its economic attractiveness. A poor sheet of paper will break easily and will not allow cleaning or drying properly as desired, if this happens, then to dry or clean something, in particular, we will need more sheets of paper which means spending more material and this will result in large associated costs.
2. The size of the towels can affect its main function; that is, clean or dry?
Not necessarily, the design of the size depends largely on the utility that the manufacturer wants to offer from his point of view to offer fast and efficient solutions to the final consumer. The above can be explained with the following example:
if a cup full of coffee with milk has been spilled on your office desk and what you have at that time is a paper roll with short sheets, you will simply use many sheets of paper to dry and clean the accident. If, on the other hand, you have long-leaf paper towels at your fingertips, you will surely use less quantity than with the short-sized paper sheets but for both types of paper sheets (short and long) you will be able to dry and clean up the mess.
CONCLUSION
Whether you are kids in Preschool, Kindergarten, Middle School or High School, the School Shopping List website aims to help all students, teachers, and parents to find and buy best back to school supplies for both kids and adults. (check our other recent lists, Glue Sticks, Colored Papers, Craft Felt Papers, Play-doh, Pocket Folders) Thanks for reading and sharing our post best paper towels. For more visit our home page. Happy Schooling!