The Handheld Pencil Sharpeners (Wiki) is one of the indispensable tools in school, academic and office activities. This instrument used to sharpen and remove the tip of the pencils made of wood, graphite, and colors, has the distinction of leaving them as new after using them and spending their tip considerably.
For a beautiful, impeccable and quality writing, the tip of the pencil must constantly be sharpened to make fine and clear strokes, in this way the writing will be more readable and visually more attractive.
History of handheld pencil sharpeners
The handheld pencil sharpeners are. born from the need to sharpen pencils quickly and safely. In ancient times, pencils were sharpened with knives, a very dangerous practice that requires some skill and experience not to cut or break the pencil. Obviously, only adults could carry out this activity because of how dangerous this was. Hence the interest in designing a tool capable of sharpening the tip of the pencils, which was not dangerous and that reduced the execution time, was in 1847 when Therry Des Estwaux invented the first handheld pencil sharpeners.
Types of handheld pencil sharpeners
Currently, there are plenty of pencil sharpeners of various sizes and types in the market to offer the right one according to the thickness and type of pencil to be sharpened. Among the most common, the following can be mentioned:
1. Classic single-blade pencil sharpener
it is the normal handheld pencil sharpeners that come with a hole to insert the pencil and that just the tip is sticking from the blade that is normally screwed to the body of the pencil sharpener. When turning the pencil and stick with the blade, it will be cutting the material of the latter and sharpening gradually until leaving the tip of the desired size. They are usually made of metal but there are also plastics.
2. Pencil sharpener with the deposit
it has the same principle of the classic pencil sharpener only that it is designed with a deposit or space destined to house the material residues that have been cut from the pencil, it is ideal for those cases in which it is necessary to sharpen quickly and there is no time to get up to a trash can or place to place the waste, pencil residue should only be removed once the sharpener deposit is full.
3. Double pencil sharpeners
It can be with deposit and without deposit. They have 2 holes with 1 blade each, each hole is of a different diameter, usually one larger than the other. The purpose of the double pencil sharpener is to be able to sharpen the pencils of normal size and to colors or pencils of thicker diameters.
4. Crank sharpener
Usually a little larger than handheld pencil sharpeners, can be made of plastic or metal and are arranged on a desk or a smooth surface. These pencil sharpeners have a crank as the main mechanism of action and cylindrical blades responsible for sharpening the pencil. The operation of the crank pencil sharpener consists in inserting the pencil into the hole and the crank is started turning clockwise. When sharpening the tip of the pencil, the crank is gradually loosening, this is perceived when the pencil has been ready and sharp. In the same way, you can take out the pencil while sharpening it and insert it again until you get the desired result.
5. Electric pencil sharpeners
It is slightly larger than normal pencil sharpeners and is usually placed on a desk because of their size and weight. Its principle is similar to the previous ones, only that it has adopted a small electric motor that rotates the blade once the pencil is inserted into the hole provided for that purpose. They also come with a built-in tank and you have to be aware of emptying the tank once it is full to prevent debris from damaging the pencil sharpener.
Importance of handheld pencil sharpeners
Despite being a small and economical tool, it represents a fundamental instrument for writing, drawing and all school and office activities. The handheld pencil sharpeners facilitate the difficult task of sharpening the tip to the pencils and colors saving time, doing an impeccable job and providing better performance on them once their tips are sharpened.
Who uses handheld pencil sharpeners?
Most people have used handheld pencil sharpeners at least once since when writing and drawing, the tip of the pencil and/or the colors must necessarily be sharpened to perform a beautiful and quality work. Some of its applications are the following:
In the home. In most homes, there is at least one student and obviously, students always have pending school activities and tasks to be carried out in their homes that merit the use of handheld pencil sharpeners.
In school, high school and university. Academic activities at any level; from pre-school to university, they contemplate multiple tasks, assignments, and activities that involve the use of handheld pencil sharpeners, which makes it an indispensable tool in any student's school bag.
In the office. However advanced the technology is and the office is equipped with state-of-the-art computers and devices to plan, organize and manage an organization, there will always be work tasks that require writing, these activities include the use of pencil and paper to be able to make an elegant and presentable writing; in that sense, the basic tools must be used within which the handheld pencil sharpeners is included.
BEST HANDHELD PENCIL SHARPENERS
Currently, there are different options of handheld pencil sharpeners, there are a variety of prices, colors, shapes and sizes, some of them are indicated below:
1. 2-hole handheld pencil sharpeners for standard pencils
The technology of this handheld pencil sharpeners has a ratchet sharpener that allows sharpening pencils and colors easily. It comes with 2 holes to offer the possibility of pencil tips and colors of standard size and for large or "beginner". Its design prevents the pencils from being sharpened excessively and thus extend their useful life a bit.
Additional characteristics:
The product comes with the following dimensions: 1.9 x 3.4 x 3.5 inches.
The handheld pencil sharpeners come with 2 holes, one of normal size and one of jumbo size.
Colors to choose from: orange, turquoise, and pink.
It comes with a deposit, which is shared for both holes.
It offers an easy sharpening of rotation.
Made of plastic material.
2. Colorful animal cartoon handheld pencil sharpeners
The material and construction of the handheld pencil sharpeners offer a durable tool, highly resistant to wear and easy to maneuver through its smooth surface. Designed with different motifs of animals and cars with beautiful and long-lasting colors thinking of the little ones to encourage their use since they will not only be for them a school instrument but also a toy. The blade is located inside the pencil sharpener to prevent children from contacting it and causing damage to their hands.
Additional characteristics:
The package includes 16 different handheld pencil sharpeners.
The shape of the handheld pencil sharpeners: hippo, turtle, pig, elephant, hedgehog, owl, car and cat.
2 handheld pencil sharpeners come for each animal and the carriage shape comes with random colors.
The body of the handheld pencil sharpeners is made of plastic material and the blade is made of metal.
The size of the small holes is 0.3".
The size of the large holes is 0.4".
The package comes with the following measures: 9.6 x 7.3 x 3 inches.
The size of each handheld pencil sharpeners varies according to the shape of the animal and the car.
3. Manual crank sharpener 2 in 1
Handheld pencil sharpeners that offer 2 solutions in 1 providing a different, unique and acute experience. The same handheld pencil sharpeners body offers a crank option at the top and bottom along with the waste box, there is a classic handheld pencil sharpeners. This tool is ideal for offices, children, and artists of all ages that require sharpening their pencils and colors regularly. Despite its size, it is very comfortable and easy to use.
Additional characteristics:
The handheld pencil sharpeners are blue.
Package measurements are: 4.5 x 4.2 x 2.4 inches.
The handheld pencil sharpeners measures: 2 * 10.3 * 4.2 inches.
Able to draw pencil tips and round, triangular, hexagonal colors and those with outer diameters of 6-8 mm.
It should not be used for wax crayons or oil paint bases as the blade channel could get stuck and cause a sharpener to malfunction.
4. 3 hole manual handheld pencil sharpeners
Manufactured with intelligent sharpening technology and with excellent resistance in its construction, which guarantees efficient and reliable performance. Its spiral blade allows sharpening pencils and colors effectively but without exaggeration to extend their useful life. Perfect for the classroom, home, and office. Comfortable and practical, they can be easily transported anywhere and stored in small spaces.
Additional characteristics:
The package comes with 4 pencil sharpeners.
Sharpeners come in blue, red, yellow and black, a different color for each unit.
Made with ecological plastic material and double-edged steel blade that guarantees high-quality sharpening.
The package comes with the following dimensions: 4.6 x 3.9 x 1 inches.
5. Creative 3-in-1 plastic handheld pencil sharpeners
An easy, fun and practical option to give to a small school-age child. It offers 3 solutions in 1 since the handheld pencil sharpeners include an eraser and a brush which makes it more attractive and interesting for children. They are shaped like a watch with bright and striking colors designed to capture the attention of the little ones. The handheld pencil sharpeners come with its reservoir and the eraser and the brush bring their covers to protect them and avoid possible damage.
Additional characteristics:
The package includes 4 units.
8 x 1.2 x 0.8 inches are the dimensions of the product.
Available colors: green, pink, blue and orange.
The eraser and the brush are incorporated in the body of the pencil sharpener.
Repeated colors can be received as pencil sharpeners will be sent randomly.
6. Classic metal handheld pencil sharpeners with a protective cap
These classic metal handheld pencil sharpeners are embedded in a plastic box with transparent lids for protection and that results at the same time as a small pencil waste container. The blades are high quality offering easy, safe and uncomplicated sharpening. It is recommended to replace the blade from time to time as it tends to become blunt with continuous and prolonged use, for this purpose spare parts of sharpening blades are included.
Additional characteristics:
Package measurements are: 4 x 3 x 0.5 inches.
6 units are included in the package.
The hole of the handheld pencil sharpeners is 8 mm in diameter.
Manufactured with high-quality material from aluminum alloy metal and steel.
Metallic color.
Includes 6 spare units of sharpening blades.
7. Handheld pencil sharpeners in the shape of a mini Rubik's cube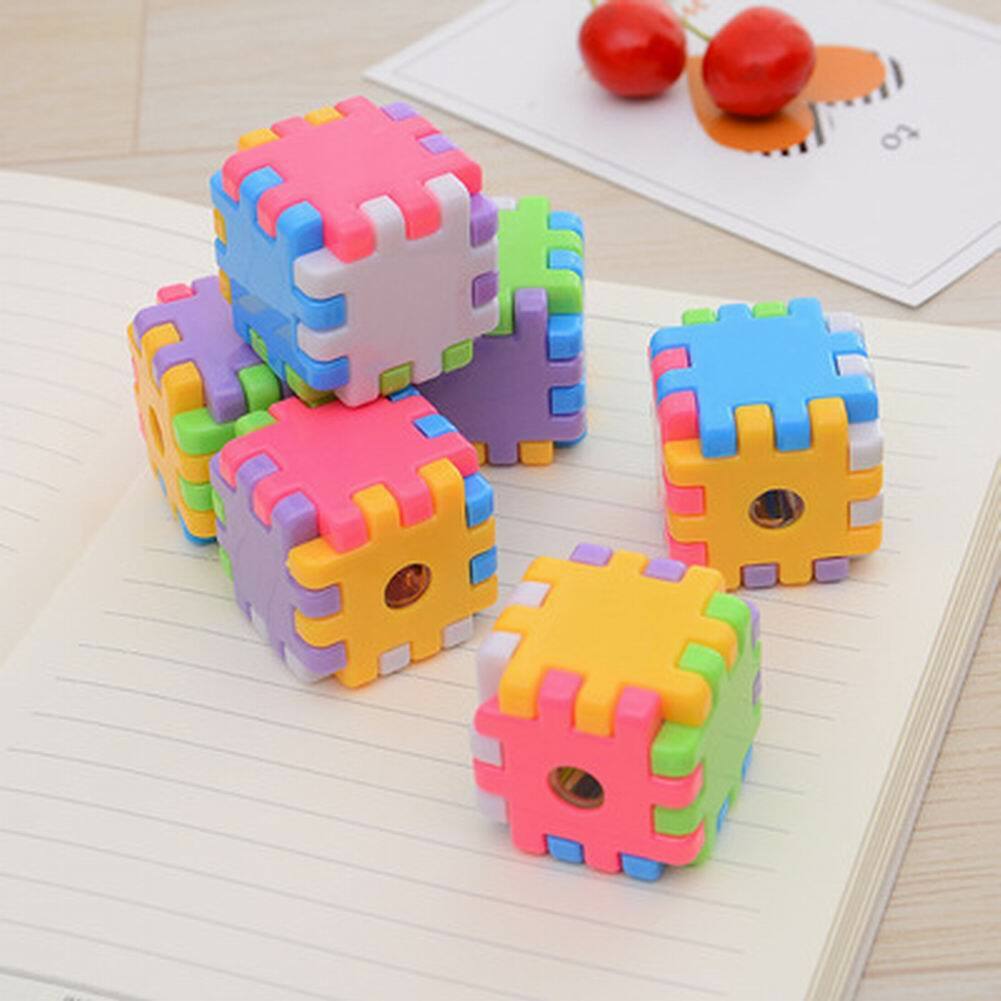 Elaborated thinking about satisfying the demands and tastes of the students of school age and for their use in the housework. Its colorful design in the form of a mini Rubik cube makes it attractive to the little ones and encourages them to take care of the studios. These handheld pencil sharpeners can sharpen pencils and colors of normal size and large size, its high-quality steel cutter sharpens the tip leaving a perfect and smooth cut.
Additional characteristics:
The handheld pencil sharpener's measures are 3.5 * 3.5 * 3.5 centimeters.
Color: multicolor, each side has a different color.
Made of plastic material.
The student of today wants simplicity, solutions at low cost but of quality and that provide good results. Despite the advancement of technology and the creation of sophisticated options, in the case of pencil sharpeners, the basic options are preferred. That is why the pencil sharpener is unquestionably the favorite of many and surely will continue to be over the years since it represents a simple, economical, easy to transport and easy to store option. Also, there are countless options to choose the one that best suits the tastes and needs of each.
If you want to give a gift to a student, whether a child or a young person, handheld pencil sharpeners is ideal, the variety of colorful and personalized options that you can find fit different personalities and styles.
Best of waste – pencil shavings
CONCLUSION
Whether you are kids in Preschool, Kindergarten, Middle School or High School, the School Shopping List website aims to help all students, teachers, and parents to find and buy best back to school supplies for both kids and adults. (check our other recent lists, Play-doh, Pocket Folders, Paper towels, Origami sheets, Headphones) Thanks for reading and sharing our post best sharpeners. For more visit our home page. Happy Schooling!