Secondary students in grades nine through twelve are perhaps the most difficult youth to please and as far as their expectations on school bags are concerned, of course, this is no exception. At that age, the tastes and personalities that characterize them are varied, from subtle dreamers to adventurers, challengers, and lovers of the new.
What school supplies do high school students need to store in their school bags?
As children and adolescents grow up, they are acquiring greater school responsibilities as they see more subjects and there is greater difficulty in each subject which implies to load more books, magazines, brochures and any other material to study.
High school students often manage multiple resources to function and defend themselves in the school environment, some of the school supplies that need to be protected and transported in their school bags are the following:
Textbooks of each subject.
Notebooks to write.
Magazines with informative material.
Work guides.
Laboratory practices along with their associated materials and tools.
Electronic devices such as laptops, Ipad, tablets, cell phones, headphones or any other.
And any other material or tool they need to perform their assigned activities.
Story of Backpack

BEST SCHOOL BAGS FOR HIGH SCHOOL STUDENTS [GRADE 9-12]
1. Anti-theft school bags
Large school bag with large storage capacity and spacious pockets to securely protect your work and office materials has breathable sponge mesh and padded shoulder straps with "S" curve for comfort, additionally offers optimal heat dissipation.
Includes USB port that is built into the exterior of the school bag and charging cable built into the interior, you can charge your mobile phone without problems while walking or moving from one place to another by simply connecting your power bank without opening the school bag.
Additional characteristics:
The product comes with the following approximate dimensions: 12.6 x 7.9 x 18.9 inches.
The product weighs approximately 1.75 pounds.
Beautiful colors to choose from: light gray, dark gray, black, blue red and purple.
It is adaptable to a 15.6-inch, 15-inch, 14-inch, 13-inch laptop, and Macbook.
Made with highly durable and waterproof nylon fabric.
2. Extra-large school bags
Spacious and versatile school bag for high school students, capable of storing any material, it also serves as a professional backpack and travel backpack for its large size and capacity. It includes a luggage strap to adjust the school bag to the suitcase and to facilitate the transport of both.
The school bag includes large and spacious main compartments and secondary pockets for smaller materials or objects. Its design includes breathable mesh with padding that allows soft and comfortable ventilation and backrest. It has a USB charging port and an internal charging cable to charge smartphones, tablets among other electronic devices.
Additional characteristics:
Made with 1680 oxford ballistic polyester material and waterproof zippers, which makes the schoolbags a product resistant to weathering and intense use under strong conditions.
It has a separate compartment designed to house a laptop up to 17 ".
It does not include a portable power supply.
Available in black color.
The approximate dimensions of the product are 19 x 13 x 9 inches.
The product weighs approximately 2.25 pounds.
3. Compact and stylish school bags
Its main compartments are generous and it has other additional pockets to ensure that all luggage is organized and secure. Additionally, it includes a case to protect a tablet, side pockets for water or beverage bottles and a front clip for fixing. The back panel is padded just like the shoulder straps in an "S" shaped mesh.
The shoulder pads have non-slip pads that allow you to disburse the weight to be transported evenly, can be easily adjusted to adapt to any height and is easy to remove when not needed. These school bags are perfect for transporting heavy loads due to their storage capacity and resistant material with which it is manufactured.
Additional characteristics:
Multiple combinations of colors and patterns available: aquamarine, black, charcoal, roses, feather spectrum, graffiti, blue, light waves, lime, midnight blue, neo, pink paradise, pink punch, rainforest, roswell ufo, shattered camo, space creatures, street art, toucan, triangle party, tropical nights, true navy, unicorn clouds, and woolly fabric.
The approximate measurements of the body of the backpack are 19.0 x 13.5 x 8.5 inches.
The product weighs approximately 2.04 pounds.
33-liter capacity.
Made of polyester material.
4. Wide university school bag
Unisex multipurpose school bag perfect for high school students, university students, for business and for traveling comfortably. It has a USB charging port with a built-in charging cable to offer convenience when charging any smart device in any space and time.
Its design includes a large main compartment, a separate padded laptop compartment, a medium-sized front compartment and two side pockets with meshes. It includes an easily accessible hole to insert headphones and listen to music while walking, traveling or traveling from one place to another.
Additional characteristics:
The product measures are approximately 13.4 x 9.8 x 20.4 inches.
The product weighs approximately 2.34 pounds.
2 models available: black with gray and black with blue.
Maximum size of a laptop to store: 17 inches.
5. Waterproof canvas school bags
Design inspired by innovation, sustainable development, and diversification. It offers multiple compartments to safeguard laptops, books, phones, pens, keys, wallets, clothes and any other object. Its integral use makes it attractive and perfect for high school students, university students, and any adult.
It includes as part of its design and functionality a USB charger on the outside and the charging cable inside. The USB charging point is only an access facility; that is, the school bag does not feed itself, so you should consider the power supply to charge the electronic devices.
Additional characteristics:
The school bag measures approximately 17 x 13 x 5.5 inches.
Its weight is approximately 1.4 pounds.
Four colors to choose from: black, gray, cyan and pink.
Its capacity is 8.7 liters.
Canvas fabric made of sturdy canvas to offer high durability and water resistance.
The school bag includes a USB cable.
6. Practices youth school bags
He attends school next year with these classic and timeless designs, a variety of colors to choose from but all with the same purpose, to protect their school supplies in the best way. The preparation material of these school bags provides a highly resistant and durable school item over time.
Its structure is composed of the main pocket for storing large materials and supplies, a front organizer pocket for small things like electronic devices, wallets, keys and accessories and a side pocket with mesh for water bottles or juices.
Additional characteristics:
The product has the following approximate dimensions: 17.5 x 13 x 10 inches.
Weighs approximately 4.7 ounces.
The capacity of 34 liters.
Made with 600 Denier polyester fabric to offer durability and quality.
Variety of colors available: navy, dark gray, black, navy, blue, Viking red, brook green, carpenter brown, charcoal, wrought gray, galaxy, navy blue, light gray.
7. Multi organizer school bags
School bags ideal for secondary schools due to the multiple pockets and compartments that it has, it allows organizing comfortably and simply a large number of materials and school tools to transport them safely at the same time. Includes laptop sleeve and hydration pocket.
Additional characteristics:
Multiple color combinations: asphalt gray, asphalt gray with reflective silver, black heather with green fanfare, bristol blue with jasper green, british khaki with night green, burnt olive green camouflage print with burnt olive green, light blue heather flag with White TNF, red tomato sauce with asphalt gray, medium gray campfire print with black TNF, orange papaya with spicy red, light gray zinc with green surf, among others.
Made with polyester material, nylon and includes the mesh.
The approximate dimensions of each school bag are 8.5 x 19.8 x 13.5 inches.
Its weight is about 2 pounds.
Its belts are molded by FlexVent injection with foam and additionally PE.
8. Refractive lightweight school bags
Highlighting school bag made with anti-scratch fabric to provide high-quality students with tear-resistance and waterproof. Its zippers and buckles are equally durable and water-resistant. These school bags guarantee the effective protection of your belongings from dust, dirt, and rain.
Its lightweight and ergonomic design include wide straps, padded "S" shaped with breathable mesh and previously padded back panel with a multi-layer sponge, offering a comfortable and subtle experience while protecting the spine by easing the load evenly.
Additional characteristics:
The measures of the school bag are approximately 18.5 x 13 x 8.5 inches.
Available patterns to select: black, blue, galaxy, purple and red.
Reflective fabric design on the back and front for easy viewing at night.
9. Water repellent formal school bags
Wonderful school bags of another level, 100% water repellent, offer multi compartments and multifunctionality at the same time. Its main pocket comes with a padded laptop sleeve and another padded case for Ipad. The central double zipper compartment is quite wide as for A4 folders.
Its rear panel is ergonomic, padded and with flow ventilation. The shoulder straps are contoured with a lot of padding offering pleasant support and uniform distribution of the load to hold. Additionally, the school bag has a reflective fabric to be visualized in the dark.
Additional characteristics:
The outer dimensions of the school bag are approximately 18.7 x 13.6 x 7.3 inches.
Variety of models to choose from: black, black with red and black with gray.
86 pounds is the approximate weight of the product.
Its capacity is 30 liters.
Made with 100% polyester 1680-denier material.
10. Printed patterns of female school bags
Female and multi colorful designs for high school students. Its spacious construction offers a main compartment for books, magazines, A4 and lower size files, 2 side pockets to protect water bottles and umbrellas, 1 front pocket for quick access to light objects, 3 interior pockets of which 2 are they are open and 1 comes with a zipper.
Its structure offers adjustable shoulder straps that widen with an adjustable plastic buckle, the straps have a centimeter of cotton to pad them enough and provide comfort to the student when loading. The seam of the school bag is made with delicate stitches to offer durability and extend its useful life.
Additional characteristics:
The product measures are approximately 1.4 x 15.4 x 4.7 inches.
Able to protect 14 " laptop.
Multiple designs to choose from: cranes, crows, geometry, pineapples, pink cats, flamingos, black with stars, strawberries, trees, strawberry pinks, and oranges.
Made with eco-friendly waterproof polyester fabric, waterproof and durable.
11. Waterproof neutral school bag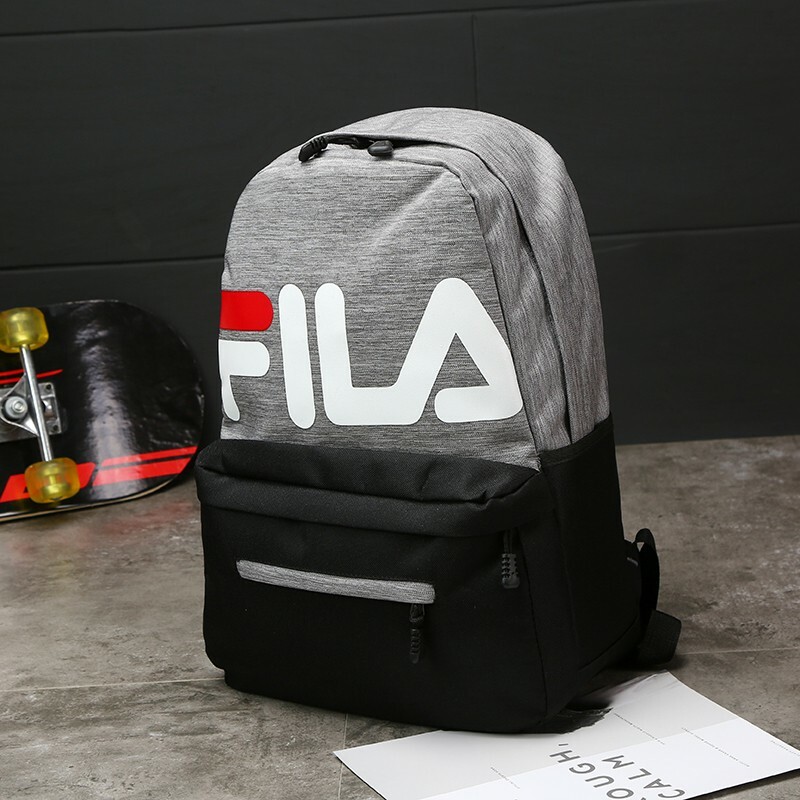 The comfortable, simple and practical design of a waterproof school bag. Its manufacture is based on adjustable shoulder straps, interior, and exterior pockets to organize multiple tools and school supplies.
Its structure consists of a large main pocket for storing larger school supplies, including a laptop sleeve, a front medium pocket and a smaller pocket located on the front just above the medium pocket.
Additional characteristics:
The dimensions are approximately 43 x 29 x 15 centimeters.
4 color options to choose from: black, gray, blue and light green.
Made with waterproof Oxford cloth.
12. Versatile fashion school bags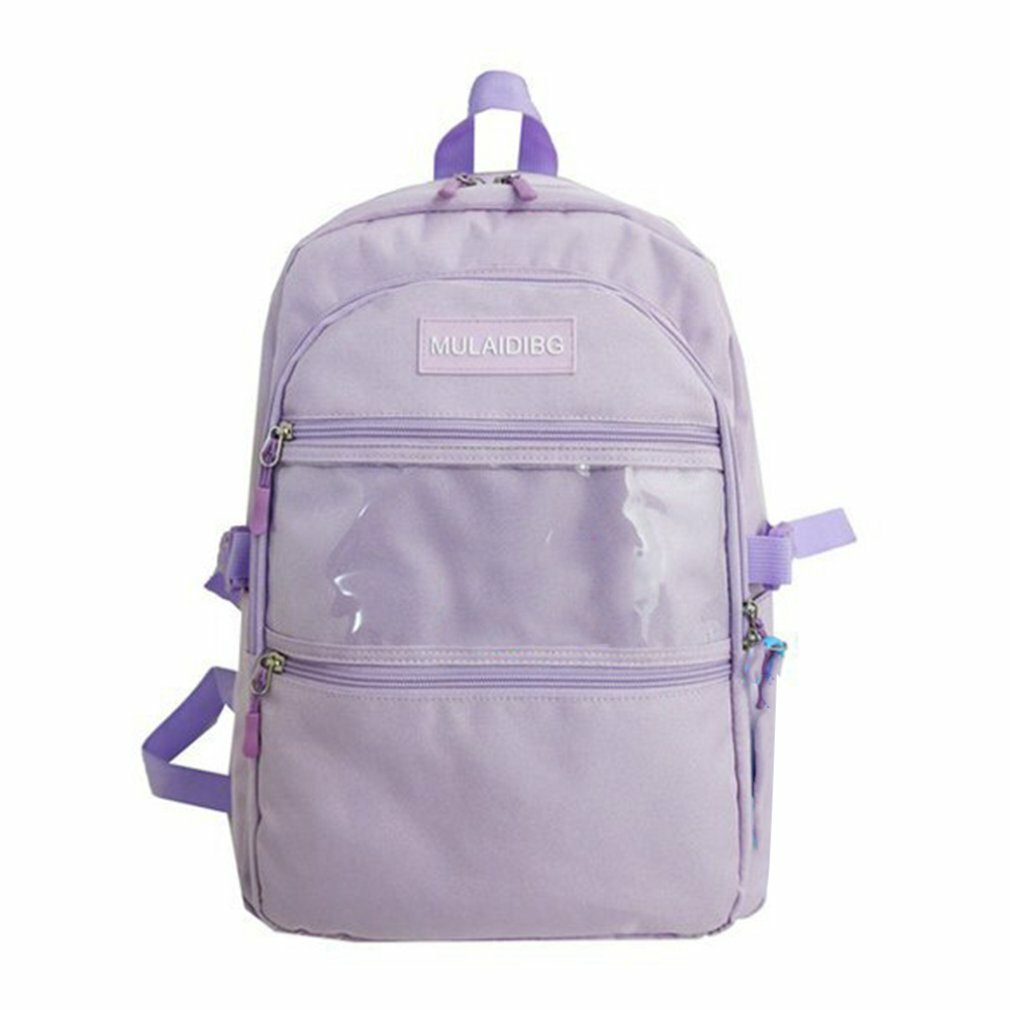 Large storage capacity thanks to its many available pockets. You can store large and small items in large quantities which provides a practical and useful tool for daily school activities.
Its impression is practical, elegant and durable. Their straps have been made with an adjustable humanized design so that they can give students enough ergonomics to protect and protect their muscles and joints.
Additional characteristics:
School bags measure approximately 29 x 13 x 42 centimeters.
Available in four colors: purple, red, black and gray.
Made with Oxford fabric to offer high quality and durability.
Frequent questions:
1. What do students in sixth through twelfth grades consider when selecting their school bag?
In this age range, the responsibilities and tasks are greater concerning other school stages, one of the main details that they look for in school bags is that they have the capacity for laptops since practically this represents a tool for daily use in their activities.
2. Regarding styles and colors, do students in sixth through twelfth grades prefer single-color tones or flashy prints?
Although the tastes are varied; regardless of the age and sex of the student, most prefer unicolor shades or a combination of colors than very striking patterns, which is why the options in the market are mostly based on combined colors.
What's in my school bag?? (high school senior)

High school students preferences
The path to adulthood and maturity that characterize young high school students, makes their tastes more defined and consider many more aspects of comfort, comfort, versatility, and functionality in their school tools.
Fortunately, in the market there are a variety of options for school bags that please from the simplest to the most demanding tastes, it is recommended that the student himself make the selection based on their particular requirements and activities to perform.
CONCLUSION
Whether you are kids in Preschool, Kindergarten, Middle School or High School, the School Shopping List website aims to help all students, teachers, and parents to find and buy best back to school supplies for both kids and adults. (check our other recent lists, Headphones, Clipboards, School bags For Kindergarten, School Bags For Elementary School, School Bags For Junior high School)Thanks for reading and sharing our post best School Bags. For more visit our home page. Happy Schooling!