Not all children can express themselves in the same way, some do it using verbal communication and actions but others love doing it by drawing so offering twistable colored pencils is convenient for them to express their thoughts, emotions, and feelings while drawing and they have fun.
What are the advantages of using twistable colored pencils?
The twistable colored pencils have some significant advantages that differentiate them from standard color pencils, some of them are:
It is not necessary to always have a pencil sharpener at hand to keep the tip sharp as the mechanism of these pencils consists of turning them so that the tip comes out automatically.
They allow to control the output and the amount of color.
Most are covered with a cylinder with a plastic barrel, which provides great protection to the color core and makes it difficult to break.
10 BEST TWISTABLE COLORED PENCILS
1. Scented rotating color pencils
Enjoy a wild adventure full of color where sweet aromas are mixed with bold and bright colors is possible thanks to this wonderful option of rotating colored pencils. All pencils come scented so that children can enjoy a unique sensory experience.
Additional characteristics:
The package includes 12 bright shades: pink, red, orange, yellow, light green, dark green, light blue, dark blue, purple, brown, gray and white.
The pencils are scented with the following aromas: smelly cheese, cinnamon, grape, cranberry, sugar cookie, watermelon, orange, cherry, black raspberry, white vanilla frosting, evergreen, and popcorn.
Mixing colors with aromas will make children feel comfortable and motivated during their drawing sessions and artistic activities.
Thanks to its rotating design, the tip of each colored pencil will always be ready to use.
Its use is recommended for children over 3 years of age.
2. Set of 50 crayola twistable colored pencils
A different option to standard color pencils that gives a little twist to the imagination and creativity of small artists. Ideal for beginners who have not yet become familiar with the handling of standard pencils.
Additional characteristics:
Package with 50 crayola twistable colored pencils with exclusive shades.
It is not necessary to sharpen the colored pencils with pencil sharpeners, each one comes with its tip ready to use, you just have to turn the colored pencil to extract the tip and have it ready for use.
The color core of each pencil is protected by a plastic barrel that covers it to ensure its safety.
These rotating colored pencils are made of plastic from materials that make it a completely safe non-toxic product for handling children.
Perfect for back to school, for homework and any arts and craft activities.
3. Portable rotating color pencils with watercolor effect
Encourage your children to create drawings on paper and on fabric with these 12 wonderful colors that leave a watercolor effect on the surface where they are applied. They have the student quality that all small and great artists need so that their school and home projects are perfect and with a unique and incomparable appearance.
Additional characteristics:
The box includes 12 vibrant colors encapsulated in individual rotating barrels made from plastic material.
It is not necessary to scrape or sharpen the tips of the colored pencils, just turn the color body conveniently and the tip will be available and ready to use.
The barrel that wraps each colored pencil is designed to protect it and prevent it from breaking easily.
They are made of wax and non-stimulating elements which makes it a non-toxic and safe product for the manipulation of preschool children and artists of all ages.
The ink of each colored pencil is durable and does not fade over time so the drawings will always be bright and finished first.
The use of these colored pencils is recommended in children over 3 years of age.
4. 50 moving colors with a professional finish
Spectacular set of 50 different shades so that artists have a variety of colors to select and let their imagination fly. Creating unique works of art will be a simple task thanks to the wonderful finish provided by these items.
Colored pencils allow drawing and writing to be smooth and pleasant when handling. The twist and barrel of each colored pencil is PVC which protects the lead inside and prevents it from breaking easily.
Additional characteristics:
The set includes 16 metallic colors, 2 neon colors and 32 regular colors.
The 32 regular colors that come with the set are brown, red, vandyke brown, rose madder, vermilion, red purple, pink, orange, yellow orange, orange pale, yellow ocher, orange naples, yellow, cobalt green, lemon yellow, yellow green, olive green, green, blue green, sky, light blue, pale green, cobalt blue, ultramarine, lavender, prussian blue, purple, white, black, gray, gold and silver.
The 16 metallic colors that come with the set are red metal, brown metal, purple-red metal, orange metal, pink metal, orange yellow metal, lemon yellow metal, pale orange metal, yellow metal, green metal, sky blue metal, metal yellow green, blue metal, purple metal, black metal, and cobalt blue metal.
The 2 neon colors that come with the set are neon yellow and neon orange.
To arrange the tip of the color, you only have to rotate the lower part of the color until the color advances.
Colored pencils are made of wax, which allows for a long-lasting finish without fading.
It is a non-toxic product that meets the standards and requirements necessary for the safety and handling of children.
5. Package of 20 gel highlighters
Perfect for adding a different finish to works of art without leaving bleeding on any sheet of paper. The final work will be a smooth and stain-free coloration. It is ideal for work where you need to code or differentiate texts with varied colors.
Additional characteristics:
The package includes 3 light pink colors, 2 dark orange colors, 3 yellow colors, 2 blue colors, 2 purple colors, 3 green colors, 2 dark pink colors and 3 light orange colors.
Its design consists of a gel bar that can be turned easily and safely to always keep a tip available for work without constantly sharpening it.
Colors will not dry when left uncovered.
Children will enjoy drawing with these colors thanks to the easy handling they provide.
6. Washable rotating crayons for children
If you want to give a different gift but at the same time, children love it, this fascinating cylinder full of colors of rotating wax will surely love it. The little ones can play from the first moment they receive them and begin to draw and paint in an easy and fun way.
Additional characteristics:
3 presentations available: a set of 24 colors, a set of 12 colors and a set of 6 colors.
They are made from natural wax which makes it a non-toxic and completely safe product so that children can draw and play with them.
Its color can be easily washed from skin and clothing.
Each crayon has a small hole located at the top of each lid to avoid possible suffocation in children if they swallow them.
If children accidentally eat crayons, parents should not worry because they are made with natural wax and the risk of toxicity is minimal.
The cylinder is perfect for storing crayons conveniently and very well protected and is perfect for transporting anywhere.
When handling and drawing with them, they glide smoothly like silk.
Its rotating design facilitates the manipulation by the youngest children since with just turning each crayon on the top, they will have available tips.
7. Package of 6 rotating colors with chalk bar
Practical and comfortable choice of chalk colors to draw on the board in a comfortable and fun way. The chalk bar is covered by a plastic barrel that protects the chalk core and makes handling pleasant and dust-free.
Additional characteristics:
The colors that come in the package are: red, white, green, yellow, blue and orange.
Perfect for school use in children and teachers as the color chalk is made with non-toxic materials.
Children and adults will be able to draw and create works of art with chalk colors without getting dirty and leaving dust everywhere.
Its rotating design facilitates the distribution and proper handling of the chalk inside the protection barrel.
Perfect for use on home whiteboards, classrooms, and office boards.
Ideal to encourage children to their first strokes full of color and fun.
8. Non-toxic rotating color pencils 3 in 1 effect
Colored pencils that offer a unique effect of 3 functions in the same color pencil: it serves as a color crayon, pastel and as a watercolor. The product leaves an extremely silky and smooth finish, which makes it stand out from other similar products.
They are made with natural non-toxic wax products so your little ones can also paint their skin and body with these colored pencils without representing any danger to them.
Additional characteristics:
Colors can be easily cleaned from the skin with soap and water or with a damp towel.
Its structure is easy to hold with small hands.
The cap of each colored pencil has a pore design to ensure that the trachea does not block if the child accidentally swallows it.
The plastic structure that protects the wax core makes each colored pencil difficult to break.
9. Solid tempera paint crayons
Its high coverage, silky and vibrant colors and the quick-drying it offers once the color is applied make them attractive colored pencils and suitable for the daily school use of small artists.
Additional characteristics:
The box includes 12 wonderful colors for fun: red, yellow, orange, purple, dark blue, pink, light blue, light green, dark green, black, white and brown.
Perfect to use as face paint for parties and recreational activities.
Its manipulation offers smooth and mess-free writing.
Made with non-toxic materials, which provides peace of mind for parents and safety for children.
10. Super colored pencils for drawing art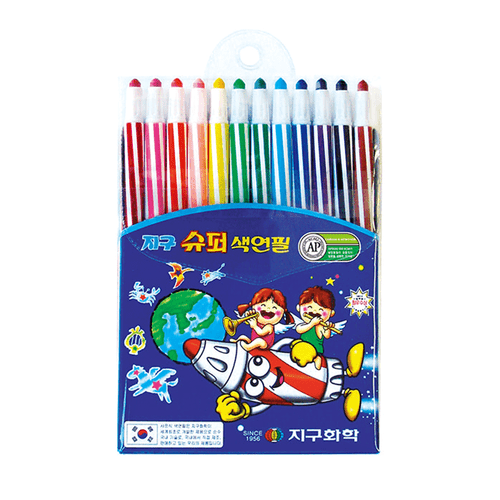 Mechanical pencils with super colors, the box brings 12 different shades to give children the standard colors they need to start creating their drawing art. Its mechanical structure means that the body of each pencil can rotate to offer the tip of color.
Additional characteristics:
Multiple options available to choose from: box of 12 assorted colors, box of 12 units of red, box of 12 units of pink, box of 12 units of orange, box of 12 units of peach, box of 12 units of yellow color, box of 12 units of purple, box of 12 units of black, box of 12 units of brown, box of 12 units of light blue, box of 12 units of light green, box of 12 units of dark blue color and box of 12 dark green units.
Each pencil measures approximately 18 centimeters.
Its rotating body is convenient to regulate and control the output of the wax core.
Providing children with colors represents a great gift for them as they will not only have fun but can enjoy multiple benefits. The following article explains in detail the benefits it offers for health coloring: teachkidsart.net
Frequent questions:
1. What is the difference between a standard color pencil and twist colored pencils?
The main difference is that a twist colored pencils can be rotated so that the color tip comes out at the bottom and can be used, standard color pencils cannot do this, to get the color tip you have to use the pencil sharpener.
Another difference is that most of the twist colored pencils are thicker than standard color pencils.
2. What aspects to consider when buying twistable colored pencils?
In general, the same considerations that would be taken for standard color pencils should be taken; that is, the number of colors available, quality and that they are non-toxic.
An aspect to be considered different from standard colored pencils is the rotating mechanism, it should be as manageable as possible for young children to use them.
Trying out twistable colored pencils
Let's color
The twistable colored pencils offer a different mechanism to conventional colored pencils that may be much more comfortable and convenient for small artists. The fact of dispensing with a pencil sharpener for use is an attractive feature that many parents and teachers may love.
Looking for Trendy Backpacks for School?