Today unicorns are in all children's items and products and this is due to more and more companies and brands considered this lovely topic in their catalogs. Unicorn backpack is a perfect example, children love unicorns, their enchanting colors and presentations make them more and more enjoyable for children.
What is unicorn fashion?
It is unknown when exactly this fashion began but the truth is that it is a magical trend that children love. It has been seen in the decoration for parties, in children's looks, in different products for children and even in food.
This trend has been gaining more and more strength with time but today it has positioned itself as one of the preferred by the smallest and is the mixture of materials and colors that have the conditions and the perfect opportunity for them to put fly their imagination.
This theme intends to refer to a fantasy world where children enjoy the harmony of colors while having fun, act with their imagination and enjoy their childhood.
Best Unicorn Themed Backpacks [School Bags]
1. Unicorn backpack for children in blue background with fascinating colors
Beautiful and colorful backpack with unicorn theme in blue background and bright colors that will give them joy to the day to day of small school children. Its structure is located that can accommodate standard size folders. The space available to protect school materials is quite ample.
Additional product features:
Made with resistant nylon material.
Its construction includes zip closure.
Its design includes 15 inches of shoulder drop, 15 inches high and 11 inches wide.
 Product benefits:
The zippers are easy to open so that the little ones can handle without problems.
The straps are padded to provide comfortable support for the little ones.
The straps are reinforced to help them withstand considerable weight.
2. Mini unicorn bookbag for back to school for the little ones
Striking unicorn bookbag made of environmental plush for environmental conservation. The texture of the backpack is fluffy, soft, comfortable and safe to store school supplies for the little ones.
3 options are available to choose from, a blue unicorn, a pink unicorn and a unicorn with shades between yellow, pink and blue.
Additional product features:
His shoulder drop is 1.81 inches.
Its measurements are 9.45 inches wide x 3.93 inches deep x 11.81 inches long.
Product benefits:
The zipper closure is quite soft which facilitates opening and closing.
The straps are adjustable so that they can adapt to different sizes.
The backpack is durable and game proof.
It serves for different types of occasions such as school bags, backpacks for toys, and backpacks for trips.
3. Galaxy girls unicorn backpacks for school with chest strap
Practical, comfortable and colorful girls unicorn backpacks with a galaxy background. Perfect to effortlessly store all the school supplies needed for back to school. Its structure has 1 spacious main pocket, 1 small zip pocket located on the inside, 1 medium pocket on the inside, 2 side pockets and a front zip pocket.
Additional product feature:
The backpack is 10 inches long x 4 inches wide x 12 inches high.
Product benefits:
The backpack is padded which provides softness and comfort to children while carrying it on the back and shoulders.
The straps that fall on the shoulders are adjustable.
Bottles of water or juice can be stored in the side pockets.
The quality of the backpack is ultra-durable and can be cleaned easily.
Belt buckles include a whistle so children can whistle if they have an emergency.
4. Boys unicorn backpack with anti-loss strap
Fun design with carefully crafted details to offer a delicate and captivating result. This boys unicorn backpack has a main compartment is very spacious to protect all your children's utensils. It has 2 easily accessible front pockets that offer a multi-use option, perfect for storing snacks or small items.
Additional product features:
Blue unicorn motif.
Includes refractive material.
Made with resistant canvas material.
Benefits offered by the product:
The backpack is padded to provide comfort to children.
The straps to hold the backpack on the shoulders are adjustable to fit the particular height of each child.
Includes an anti-loss strap that can be easily removed, perfect for protecting your little one.
Includes a label to add the child's name and personalize the backpack.
The backpack can be easily cleaned with a damp cloth.
Free of phthalate, PVC, and BPA.
5. Fascinating and colorful rainbow unicorn backpack
Beautiful rainbow unicorn motif with a main compartment for notebooks, books, and other larger items. Additionally, it has a small front pocket, 2 side pockets and 1 pocket with buckle closure on the front.
Additional product features:
The pads are elastic.
Made with resistant polyester material.
The dimensions of the backpack are 11.5 x 8 x 16 inches.
Benefits offered by the product:
Zippers can slide easily, are sturdy and smooth for optimal performance.
The padded cotton with which the backpack is made makes it easy and convenient to use.
The processing material is waterproof which makes it resistant to rain and durable fabric.
Shoulder straps allow a perfect and appropriate length adjustment for each height.
The fabric is completely breathable.
6. Black unicorn mini backpack
Beautiful durable mini backpack with fashion unicorn print in black. Perfect to use as a backpack to protect utensils from daily activities, as a travel bag or as a bag for extra-academic activities.
Additional product features:
The dimensions of this mini backpack for kids are 9.25 x 3.5 x 11.5 inches.
Its structure includes 3 compartments with zippers.
Benefits offered by the product:
It provides a fresh and lovely style for children of all ages, from preschool kindergarten and elementary students.
It has a small size that provides ease of carrying while providing large storage capacity.
The maintenance of this mini backpack is simple and easy to clean.
7. Lightweight mini backpack with unicorn print in soft purple hues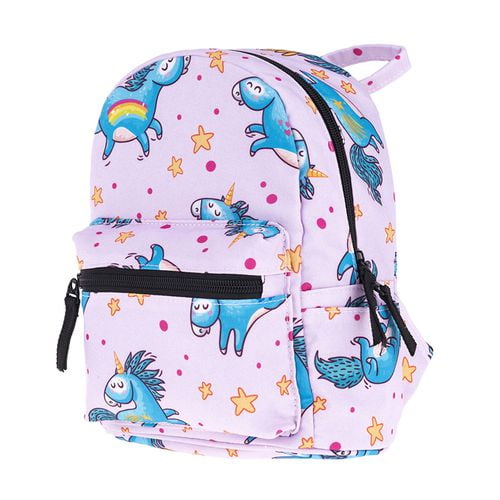 Lovely mini backpack for little schoolchildren. It has a comfortable handle to carry as a handbag. It can be used for different functions, such as a school backpack, such as a work bag, a travel bag, a toy bag, or a shopping bag.
Additional product features:
The size of the mini backpack is approximately 30 x 11 x 24 centimeters.
The unicorn mini backpack is made of polyester material.
Benefits offered by the product:
The backpack is durable and resistant thanks to the material with which it is manufactured.
Despite being small in style, the mini backpack provides enough space for children to easily store their school items.
8. Plush unicorn backpack with sublime colors
Sweet unicorn design for little schoolchildren who love the tenderness, color, and fun. Its manufacture is handmade so that every detail is unique and provides a beautiful and delicate finish. Perfect for school and for any other occasion outside it that merits the protection of valuable materials or objects.
Additional product features:
The backpack is made with soft plush and PU material.
The dimensions of the backpack are 28 x 9 x 24 centimeters including ear height.
Benefits offered by the product:
The closures of the backpack are zippered which facilitates the opening and closing of each pocket.
The straps that go on the shoulders to support the backpack can be adjusted from 38 to 74 centimeters.
It can be easily washed by hand or cleaned with a damp towel.
9. Cute unicorn backpack with different options and colors to choose from
If you or your children are lovers of unicorn motifs, this fabulous and charming option will fascinate everyone. They are 9 different patterns to choose from and all beautiful full of delicate shades. You can select between blue, pink or purple tones.
Additional product features:
The backpack is made of high-quality polyester.
The backpack structure has a main compartment, a laptop compartment up to 14 inches, a bottom zip pocket, 2 side pockets and a front pocket with buckle closure.
Benefits offered by the product:
The fabric with which the backpack is made is waterproof so rain or any spillage of unwanted liquid will not be a problem.
To provide greater comfort when carrying the backpack, the straps are padded.
The thick handle is comfortable enough to carry the backpack by hand when required.
The zippers of the compartments are bidirectional, which makes it very convenient when opening and closing each compartment.
10. White plush unicorn backpacks for school
Beautiful 3D plush unicorn backpack for school. Its presentation will delight unicorn lovers. Perfect as a gift, your children's eyes will light up when they receive this adorable gift. You can select between 2 presentations: a mini backpack and a big backpack.
Additional product features:
Made with polyester material.
It has a back pocket to store all desired items.
Benefits offered by the product:
The back of the backpack is made of high-quality velvet which provides a smooth texture and at the same time guarantees that it will not cause irritation or allergies.
It is lightweight so your little ones can carry it with confidence since their back will be protected.
The length of the strap is variable for a comfortable fit.
The braided cord is durable and guarantees to keep all the children's belongings safe.
11. Adorable pink backpack with small unicorn prints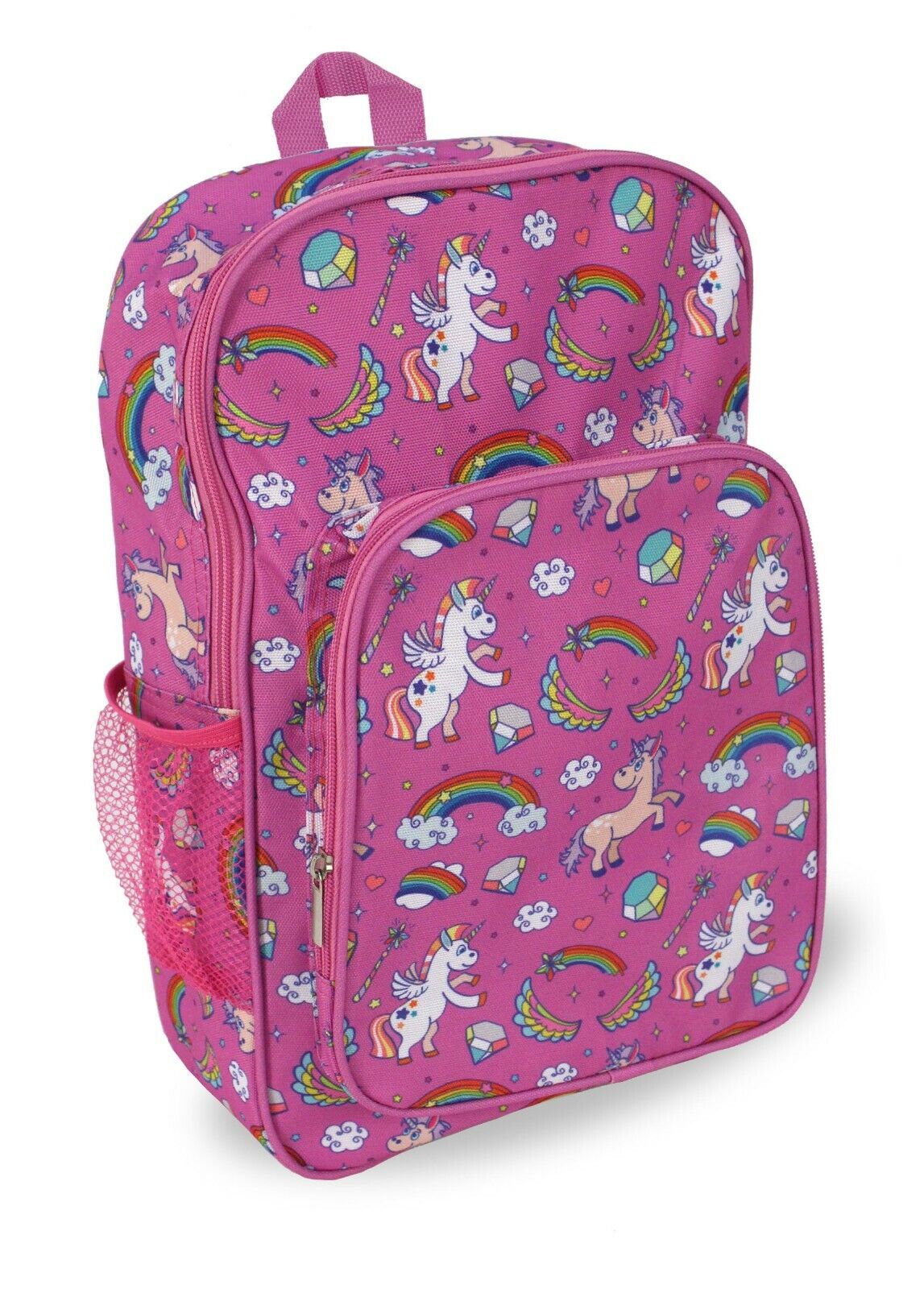 Backpack inspired by an adorable and fun design that is practical, comfortable to carry, with enough space and free of harmful components. Its unicorn print makes it even more special and attractive for children as it is a very fashionable theme.
Additional product features:
The backpack includes a bag of colored pencils as a gift.
Made with 600D polyester canvas.
Consists of 1 fairly large main pocket, and lower front pocket and 2 side pockets.
Benefits offered by the product:
It is very spacious, enough to store large standard size folders.
The manufacturing material is completely safe for children, free of PVC, BPA, without phthalates or lead.
Shoulder straps come with mesh and are padded to offer excellent comfort.
They can be washed daily by hand, remaining firm and intact for a long time.
12. Cute 3D unicorn backpack ideal for kindergarten and preschool
Your children will stand out with this delicate and lovely 3D unicorn backpack. Its colors radiate joy and fun while providing adequate shelter for all the materials and school supplies your children need. Your children can choose between a blue unicorn and a pink unicorn.
Additional product features:
The measures of the backpack are 28 x 9 x 30 centimeters.
Its structure includes the main pocket and 2 small side pockets.
Benefits offered by the product:
The backpack space is large, which allows you to store notebooks, diapers, toys, clothes and any other items that your child needs to store and transport.
The straps are dual and very comfortable because they have a padded material.
Its weight is light because a two year old can carry it without problems.
Frequent questions:
1. What are the colors of the unicorn?
Unicorn fashion is distinguished by the explosion of metallic and bright pastel colors that, apart from providing a delicate touch, provide fun.
There are pink, blue, purple, gold, black, yellow, red, green, orange, gray and rainbow unicorns that are the most used and favorite for containing several colors in a single presentation.
The unicorn tones found in clothes, dyes, makeup, products for children and countless other items.
2. What does the colorful unicorn or rainbow unicorn mean?
Its meaning is very important since it constitutes the multiple tones that the human eye can see. That is why the unicorn symbol contemplates the union and inclusion of something new and magical. Gradient colors of the rainbow harmoniously also represent the emotions of human beings.
WHAT'S IN MY UNICORN SCHOOL BAG
To choose the best unicorn backpack
School items are no exception when talking about products with unicorn motifs, in the case of unicorn backpacks, many options are in the market for this theme so fashionable. Offering children school supplies with the reasons they like, will make them feel more motivated to attend their school day.
Other Backpacks for School
As children and adolescents grow up, they are acquiring greater school responsibilities as they see more subjects and there is greater difficulty in each subject which implies to load more books, magazines, brochures and any other material to study. So Scool backpack grows with your children. See other backpacks according to grade-wise.