Children of initial school age, approximately up to 5 years, love to play and run in the areas intended for their free time at school. Regardless of the activities or games, they do with their friends, it is important to offer them a constant water supply, the best way to do this is to offer them an adequate school water bottle.
What are the motifs or styles of the school water bottle preferred by kindergarten and preschool students?
Kindergarten and preschool children are mostly very visual children, at the time of selecting their best water bottles for the school they love the most striking colors and motifs beyond the manufacturing material, size, quality, comfort and shape of the bottles of water.
In general, the aspects they consider when selecting them are:
Their favorite colors, girls prefer pink, purple and pastel colors; while children like blue, green, brown, gray, black and slightly darker colors.
The kid's bottle models that come with their favorite television characters.
It is always recommended that parents accompany their children when choosing the best water bottle for kids to ensure that the product is the most suitable for them.
BEST WATER BOTTLE FOR KINDERGARTEN AND PRESCHOOL
1. Water bottles with television characters
What greater happiness for your kindergarten children and preschoolers than to enjoy their favorite characters in their water bottles. Collaborate positively with the environment by selecting this washable and reusable water bottle that will allow them to keep the little ones hydrated while attending their school activities.
These water bottles with wonderful and colorful designs have an operating action lid that allows them to open it with one hand quickly and easily. It includes a loop to transport it in a practical way ensuring that it will not drip at any time while traveling.
Additional characteristics:
The product comes with the following approximate dimensions: 4.3 x 2.8 x 6 inches.
The product weighs approximately 4.8 ounces.
Variety of reasons to choose: batman, frozen, cars, paw patrol, my favorite villain, marvel, justice league, moana, Minnie mouse, Minecraft, Little pony, PJ masks, pepa pig, Disney princesses, shopkins, Secret life of pets, trolls, spiderman and wonder woman.
Made of 18/8 stainless steel, BPA free, which guarantees a product resistant to breakage and durable.
Do not microwave.
15.5 ounces of capacity.
2. Water bottles with self-sealed caps
Designed with the curiosity of children in the initial school age, it is an excellent spill-proof option for children who have not yet overcome those accidents. Its transparent lid is designed in this way so that the child is inspired by the inner workings of the bottle and thus awaken his wit.
Its main feature is the auto seal technology that guarantees a leak and spill-proof product. The lid can be opened completely to allow easy cleaning. It has a protective cover on the nozzle to prevent the entry of germs and dirt in it.
Additional characteristics:
Cherry Blossom Dandelion, Jungle Green All American, Nectarine Robots, Sapphire Bubble Chevron, Thistle Petals, and Ultramarine Chirp are the reasons to choose.
The approximate measurements of the product are 2.8 x 3.5 x 7 inches.
The product weighs approximately 3.2 ounces.
Made with matters material 100% BPA free.
3. Stainless steel water bottles
Double-wall insulated product that guarantees the cold temperature of liquids and drinks up to 12 hours, not only the temperature but also its freshness and flavor. Its thermal insulation under vacuum guarantees maximum cold retention. According to its manufacturing material, it offers a fairly long warranty.
Its innovative design seeks to provide and promote a safe, healthy, hygienic and long-lasting lifestyle. It has a fixed carrying handle that is integrated into the bottle to facilitate the manual grip of it, its lid is hygienic pop-up type button for easy access and handling. So that the bottle can maximize its cooling, it is recommended to cool it first before adding the liquid.
Additional characteristics:
The approximate measurements of the product are 2.6 x 2.6 x 7 inches.
The product weighs approximately 8.3 ounces.
Wonderful motifs available: blue, green, pink, red with blue, purple, teal, captain marvel, cars, cat with blue lenses, desert flames, Disney princesses, fat unicorn, frozen, Harry potter, hello kittie, amazing, Jojo Siwa, paw patrol, PJ masks, my Little Pony, Mario bros, Little bo peep, R2D2, pokemon, the secret life of pets, spiderman and toy story,
Made with stainless steel inside and outside.
12 ounces capacity.
4. Simple water bottles with sorbet cap
Beautiful, simple but modern kids water bottles for school for the smallest, have thermal insulation to ensure cold, fresh and pleasant drinks. They are made of stainless steel which guarantees a high quality and resistant product. It is not designed for hot liquids as pressure can be generated in the container and can be dangerous.
Kindergarten and preschool kids will love to stay hydrated with the beautiful presentations and colorful designs that come in these water bottles. There are a variety of patterns to choose from and combine with lunch boxes, school bags and according to the personality and taste of each child.
Additional characteristics:
The package measures are 7.4 x 3.2 x 3.2 inches approximately.
The product weighs approximately 11.2 ounces.
Manufactured with 18/8 BPA free stainless steel.
Different reasons to choose: nightmare before Christmas, lazy adventure, hearts, fox and flower, dinosaurs, varied motifs of Mickey Mouse and Minnie Mouse, Chiang Rai, bubble dogs, astronauts, hungry monkey, ice cream cone, polka play, rainbow, shark bite, solar system, sunshine dino, under construction, unicorn, tropical seas, sweet candy, sorbet, wild zoo, Woodland friends, watermelon splash, watercolor sharks and prism.
5. Kids drink bottles with fun animal and fruit motifs
Its design has easy-to-use parts for children, is made of high-quality material and is spill-proof to avoid possible accidents. It has a combination of a patented valve with a stem tube and a shut-off valve for children to adjust properly, and it is also easy for parents to clean.
Their variety of designs and colors makes them attractive to the little ones and they can choose the reason of their preference according to their personality. It is perfectly designed for small hands so that children feel comfortable when handling it and feel safe and confident when hydrating.
Additional characteristics:
The product measures approximately 7.5 x 4 x 2.9 inches.
Its weight is approximately 3.2 ounces.
More than 40 models to choose with a beautiful combination of colors, shapes, figures, animals, and fruits: sharks, wolves, hippos, hedgehogs, flamingos, dinosaurs, cats, monkeys, raccoons, iguanas, mermaids, aliens, skates, planets, cherries, strawberries, unicorns, among others.
Made with 100% free of BPF, BPA and BPS polypropylene material.
0.4 liters capacity.
6. Colorful and translucent kids water bottles for school
The shape of the bottle has lateral notches to offer ease of grip by the small hands of children. Its lid is soft to the touch so that it is comfortable to drink, on the top of the cup it is threaded to avoid possible spills. The body, the lid, and the valve can be placed in the dishwasher for cleaning.
It has a loop on the lid which can be attached to the school bag or any other object for easy transport or storage. Its manufacturing material guarantees an indestructible product, resistant to bad odors, translucent, difficult to get stains and trap unwanted residues.
Additional characteristics:
The product has the following approximate dimensions: 12 x 5 x 5 inches.
Weighs approximately 3.84 ounces.
350 ml capacity.
Reasons to select: blue, blue seahorse, blue space, orange, green giraffes, eco-cars, green trail, orange, pink, pink elephant, pink wheels, pink forest, purple, purple beep, purple turtle, navy blue slate, sea turtles, space.
7. Water bottle with ice lolly
Once your child knows this wonderful bottle, she will be your favorite game and adventure companion on the sunniest and hottest days. Its design is leak-proof and for children in constant movement and activity, which guarantees a product of high quality and resistance.
It has a peak with a protective cover on the lid to facilitate hydration of the child. It includes an ice palette to freeze the water, it is recommended to place in the freezer before storing the desired liquid, its function is to keep the cold temperature of the drink for longer.
Additional characteristics:
The product has the following approximate dimensions: 3.9 x 3 x 5.9 inches.
Weighs approximately 4.8 ounces.
16 ounces capacity.
3 male reasons to choose: blue with hearts, blue with airplanes, varsity blue with oars.
8. Tropical kids drink bottles
Beautiful and fun bottle of water with tropical motif of fruits and beach animals. It offers a pleasant and fun hydration to the little schoolchildren of the kindergarten and preschool thanks to its colorful design with a wonderful impression of tropical life underwater.
Its design includes a spill-proof cover that is screwed, this to protect the child from possible accidents capable of generating unwanted spills.
Additional characteristics:
The measures of the bottle are approximately 9.5 x 3.2 x 2.9 inches.
Its weight is approximately 3.2 ounces.
The body is transparent with colorful prints and blue cover.
Made with phthalates and BPA free material.
9. Sip bottle with carrying handle
Beautiful and practical water bottles made with stainless steel and triple insulation to keep your children's drinks cold and fresh for up to 36 hours guaranteed. Its structure includes 2 layers of stainless steel and a layer of copper and a protective silicone layer to offer a strong and high-quality product.
Its size is compact and practical since it enters most lunch boxes and at the same time, its storage capacity is adequate for a small kindergarten and preschool. For children it is easy to carry thanks to its built-in rubber handle, it also includes a spout lid so that they can drink their drinks practically and pleasantly.
Additional characteristics:
5 patterns combined with colors to choose from: butterflies, dinosaurs, panda, rocket, and unicorn.
The product has the following approximate dimensions: 4.2 x 3.5 x 2.8 inches.
10.6 ounces is the approximate weight of the item.
12 ounces capacity.
Made with ecological 18/8 stainless steel material, free of BPA and phthalates.
10. Custom aluminum dinosaur
A particular water bottle made of aluminum perfect to store water or the desired liquid and keep its ideal temperature. Beautiful dinosaur design in green color. The wonderful thing about this water bottle is that you can personalize it with different sources by adding your child's name and identifying it forever.
Additional characteristics:
Silver color with dinosaur motif and the name of the child you want to place.
The following are approximate product dimensions: 3 x 9 x 9 inches.
It has an approximate weight of 6.1 ounces.
600 ml capacity.
11. Cartoons in kids bottle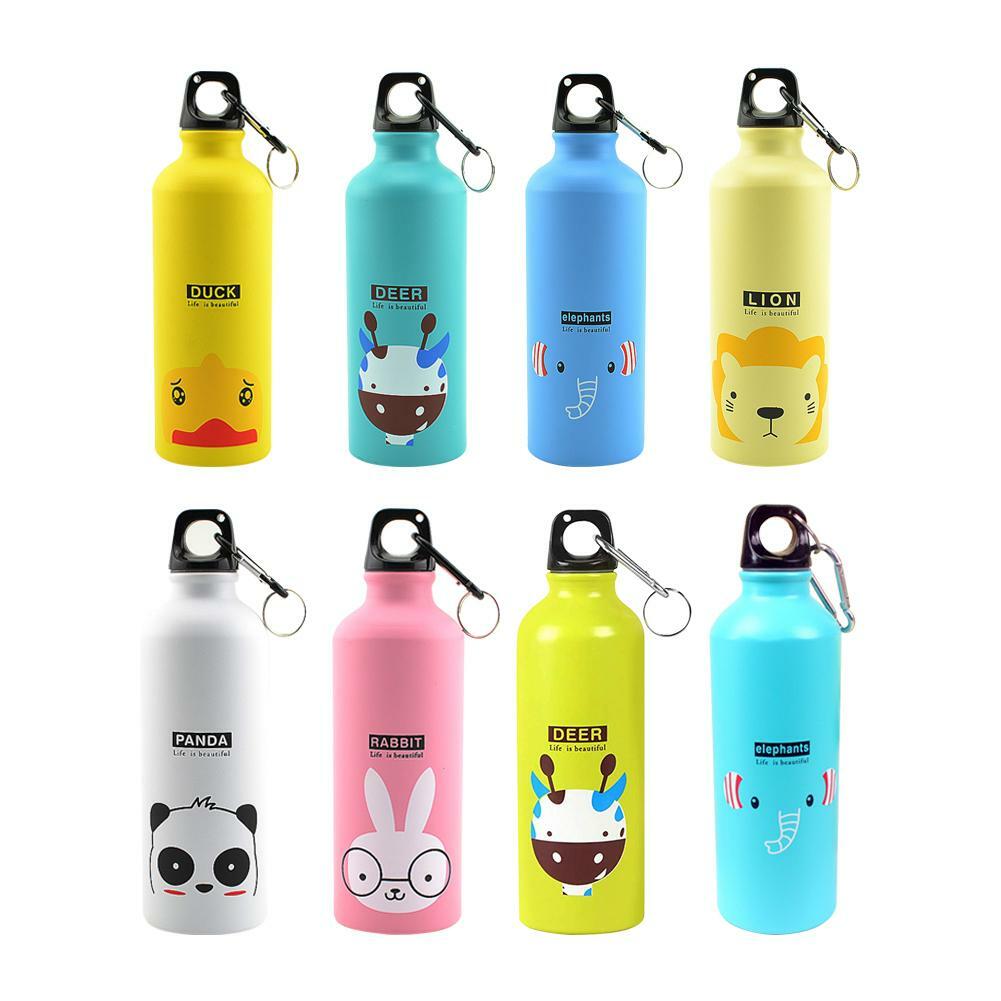 Fantastic and colorful water bottles made of aluminum alloy and a metal ring on top. Perfect for the daily use of your children either to attend school, to the park, to ride a bike, to go shopping, travel and any other activity in which they need to hydrate every so often.
Additional characteristics:
8 models combined with colors: yellow duck, blue crow, dark blue elephant, yellow lion, white panda, pink rabbit, yellow crow, and sky blue elephant.
The following are approximate dimensions of the bottle: 8.27 x 2.56 inches.
Its capacity is 500 ml.
Its weight is approximately 78 grams.
Hydrating is important for everyone, so you should always have a bottle of water on hand. If you want to know a little more about the importance of always taking them with you it is good that you review the following information: cehsnews.com
Frequent questions:
1. Is it necessary for a kindergarten and preschool child to always carry a bottle of water?
Yes, perhaps it is one of the articles that goes unnoticed and is not given such importance at the beginning of classes but it is recommended that children in kindergarten and preschool carry water to always hydrate with them and the best way is to make it reliable water that their parents can prepare and serve themselves.
2. What should parents consider when selecting the best water bottles for school?
Size is important, that they can store enough water for your children and that they can comfortably carry in their lunch box or school bag. The shape or structure of the bottle is also important, that it is easy to grip and the ideal is that it is anti-spill.
BottleBottle Tritan Leak Proof Kids Water Bottle with Flip Straw and Handle
Small to hydrate
It is completely clear that a school water bottle is essential for every school start, the children in kindergarten and preschool are very active and are always in constant motion which means they must constantly hydrate to replenish the fluids they lose when they sweat in each activity and game they perform.
CONCLUSION
Whether you are kids in Preschool, Kindergarten, Middle School or High School, the School Shopping List website aims to help all students, teachers, and parents to find and buy best back to school supplies for both kids and adults. (check our other recent lists School Bags For Elementary School, School Bags For Junior high School, Best Backpacks For High School, Lunch Boxes For Kindergarten ,Lunch Box For Middle School)Thanks for reading and sharing our post Water Bottle For Kindergarten. For more visit our home page. Happy Schooling!