The whiteboard markers are widely used in school activities, from kindergarten to high school. Students and teachers constantly need to write and draw on whiteboard to cover the programmatic content of each school year.
What aspects to consider with the use of whiteboard markers?
Their use is part of the day by day in the classrooms and in the complementary school activities to be carried out at home, some considerations to take into account concerning them are the following:
About personal or common use of markers, each child should keep and maintain their school tools and supplies, this will help them to take responsibility for the care of all their items.
Teachers in the classroom and parents in the home should provide kindergarten, preschool, middle school and primary school students with direct instructions on the care they should be given and their correct handling.
BEST WHITEBOARD MARKER PENS
1. 6 washable dry erase fine tip markers
Ideal for children to make lines of fine lines with bright colors, they are suitable for school use and for complementary activities at home. The small artists can express their bold ideas on the board and can easily erase them.
They can be used for any number of school projects and recreation activities if children want, with these markers they can write, draw, organize and program on small surfaces and whiteboards of all sizes.
Additional characteristics:
The box has 6 pieces of washable markers with the colors red, orange, yellow, green, blue and black.
The ink of each marker can be easily washed and erased on any slate surface with an appropriate eraser or even with a simple dry towel or damp towel.
Stains or colors that may adhere to the skin or clothing can easily come out when washed with soap and water.
2. 15 color markers for dry erase magnetic boards
If you want colorful options for the fine strokes of small school artists, this presentation offers a variety of markers with vibrant and bright colors to let the imagination of students in kindergarten, preschool, and any school-age fly.
Additional characteristics:
Fifteen colors available for drawing on the board: black, purple, dark blue, red, light pink, dark pink, brown, light brown, yellow, light green, dark green, light blue, turquoise, light orange and dark orange.
Each marker cover comes with a built-in felt eraser so that it is always available in case the children need it to erase any errors in the drawing.
Handling and writing are quite smooth and provides quick drying.
Made of ecological material free of xylene and toluene.
The smell of the markers is very low thanks to the materials used for its manufacture.
It is recommended to store horizontally to avoid possible leaks.
3. Pack of 8 washable markers with low odor for acrylic board
Practical package option of 8 markers with fantastic colors for children to have fun and entertain by drawing while completing their homework at school. The ink is made with easy-to-clean materials and is at the same time stain-proof, which makes it a pleasant and outstanding product.
Additional characteristics:
The colors that come with the package are: gray, green, blue, orange, red, purple, yellow and brown.
The 8 magnetic markers are dry erase and come with an eraser cover.
Manufactured with non-toxic material which provides security for the manipulation of school students.
When its smell is uncovered it is quite low which will not cause discomfort in children while they are using them.
Its size of 5 inches x 0.45 inches allows easy handling.
4. 12 assorted color markers with a chisel tip
Non-toxic options so that children can handle it with complete safety and tranquility. Its low smell will allow them to draw and enjoy while drawing colorful lines in their activities at school and at home.
It guarantees an easy cleaning on the surfaces to be used, the ink can be erased with a dry towel or a damp baby towel leaving them without residue. Stains on clothes and hands can also be easily removed with soap and water.
Additional characteristics:
Made with safe material for children without xylene and toluene.
They do not dry easily, they can be open for 2 or 3 hours without drying.
Its ink guarantees a long service life compared to other markers.
Its colors are bright and the ink is consistent, which allows its application in mirrors, magnetic boards, glass boards, porcelain boards, melamine, stainless steel sheets.
Twelve different chlorines come: black, blue, lime, pink, green, red, turquoise, yellow, light brown, dark brown, purple and orange.
5. 10 medium dry-erase color markers
Fantastic presentation with a variety of markers that will help small artists to reveal their interior art and capture creative designs with bright, vibrant and striking colors. They offer high performance and durable ink coloring so they can create drawings and color on surfaces for quite some time.
Additional characteristics:
The package includes 10 units of dry erase magnetic markers: light blue, dark blue, purple, pink, orange, red, light green, dark green and 2 black units.
The color design is intense with a low odor so it can be pleasant during handling.
The ink is non-toxic, which offers safety for children and peace of mind for parents.
They can be used on almost all surfaces without any problem.
Each cover of the markers includes an eraser made of felt material so that imperfections can be erased or simply erase a drawing to make a new one.
Marker ink can be easily erased.
The design with which the covers of the markers are made prevents them from leaving any flat surface.
6. Gift set with 13 bright colors
Children are able to create, define, teach and communicate through their imagination embodied in drawings and color, let them give you this wonderful set of 13 markers so that they can realize their dreams of being able to express themselves in the best way that only they can do.
Additional characteristics:
It allows school students to express their point of view in a fun, colorful and bright way.
They have been manufactured under a strict and prudent completely organic production procedure, which provides non-toxic and strong odor-free markers.
Perfect for non-porous surfaces such as glass and acrylic boards.
The most fascinating and fun colors on the market: black, dark brown, light brown, orange, red, yellow, light green, dark green, light blue, dark blue, purple, light pink and dark pink.
Children can write and color in style in all their school sessions and during their homework, always relying on the work they do thanks to the quality and safety of their use.
7. 14 pieces of color markers with eraser cover
The display of bright colors during writing or drawing is possible thanks to the patented 3-chamber liquid ink procedure. In addition, the strong and bold tones after each stroke guarantee a different and readable effect that many will fascinate.
Additional characteristics:
The package includes two units of each color to complete the 14 pieces.
The seven colors available are: yellow, orange, pink, red, green, blue and black.
Ink strokes are thin and vivid.
Safe to use by children and adults as a result of the non-toxic materials with which they are made, which at the same time offers a rather low odor.
It is guaranteed that the ink will not be caked but will be soft for cleaning and so that the surfaces are clean and without traces of scratches.
8. 8 Pack of quick-dry and low odor fine tip markers
Inks with consistent marks without leaving jumps during the entire stroke and the bright color remaining throughout its route. The intense and bright colors manage to capture everyone's attention and allow a perfect finish in the drawings and writings to be made.
Additional characteristics:
The package includes eight colors: brown, pink, purple, orange, green, red, blue and black.
It can be used in confined places with complete confidence since the ink is created with a low odor formula ideal for school-age children and also for home and office use.
Its versatile tip provides wide and fine writing.
The finish is much better in glass, porcelain boards, and all non-porous surfaces.
Perfect for creating fun and colorful presentations with a unique style to impress teachers, classmates, and office mates.
Colors can be seen and distinguished from far away due to the intensity of their ink.
Ink drying is quite fast.
There are multiple types of tips on these markers: bullet, chisel, fine and ultra-fine.
9. 12 assorted colors of double-pointed markers
Expressing oneself with colors is the desire of children and even young people and adults. The wide spectrum of colors offered by this wonderful option will awaken the creativity and imagination of all the members of the classroom and will encourage them to engage in all the activities to be carried out.
 Additional characteristics:
Bright colors available in each package: black, maroon, brown, forest green, ocean blue, light green, light blue, red, orange, yellow, purple and pink.
Each marker has a double point available, at one end it is a medium tip and at the other end, it is a fine tip.
Its ink is easy to clean for the convenience of children, parents, and teachers.
Colored ink strokes are consistent and strong, leaving a unique and perfect finish in the work to be done.
The ink does not leave stains on work areas or clothes or hands.
The tip with medium ink is perfect for writing and drawing in areas of large space.
The fine ink tip is ideal for details, to better define some lines and for more precise writing.
10. 13 Thick color markers for thin line strokes
Perfect for the first scribbles of their small artists, they are safe for handling because they are non-toxic, which offers parents peace of mind and confidence while their children have fun and draw. They are made with high-quality materials that offer lasting ink for children to entertain and draw for a long time.
Additional characteristics:
The colors available for this presentation are: red, orange, yellow, light green, dark green, light blue, dark blue, light pink, dark pink, purple, light brown, dark brown and black.
They are perfect for students in general and teachers in the classroom.
Its manufacture is free of xylene and toluene.
They can be easily erased with an appropriate eraser, with a dry towel or baby wipe.
Ink that could stain the hands or clothes can be easily removed with soap and water.
Pleasant at the time of use due to the low odor they provide.
11. 10 units of whiteboard markers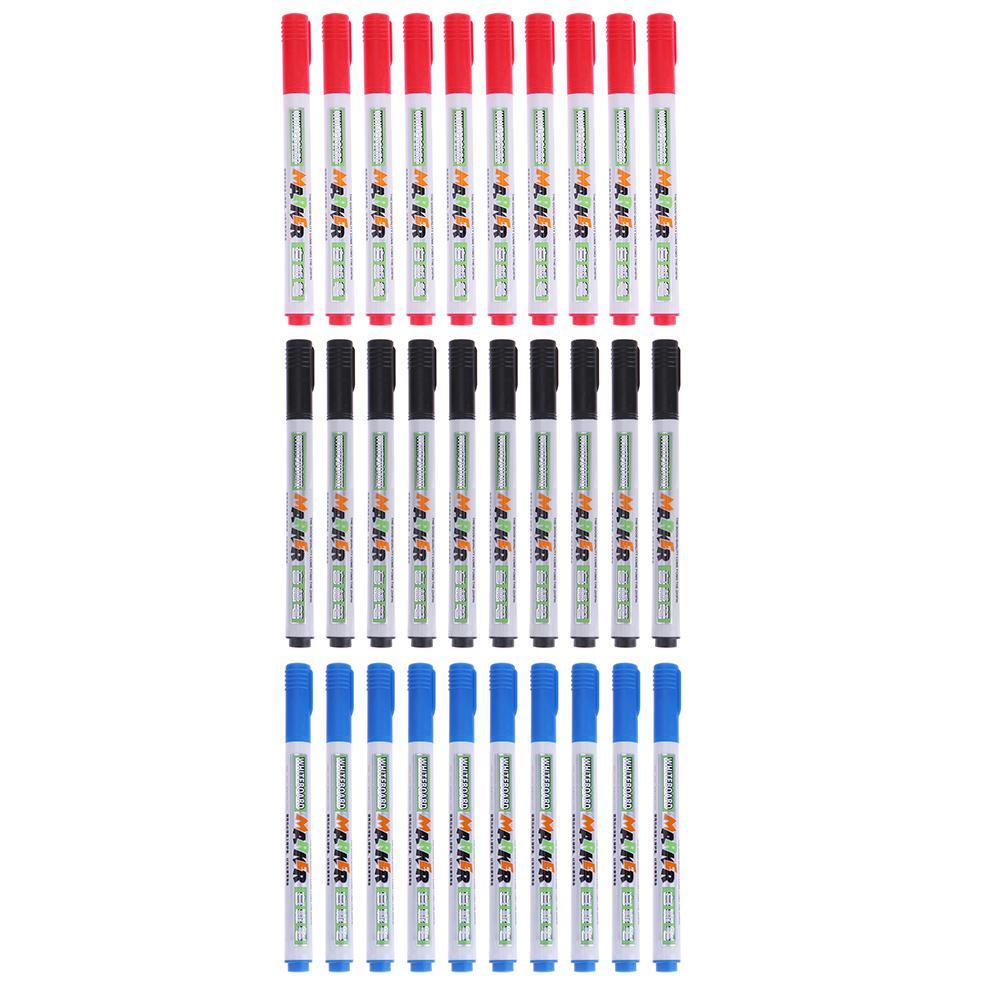 For correct writing, without problems and difficulty when handling it on the board, this option is great. It can be used to write and draw on glass, wood, fabrics, and whiteboards. The color does not fade along the path. The cover that protects each marker is adjusted to prevent the ink from evaporating.
Additional characteristics:
The package includes 10 units of markers of the selected color.
Available in red and black.
Markers are made with a plastic shell, oil ink and the tip of the marker is fiber.
The line width of each stroke of the color marker is 1.5 millimeters.
In the following article, some aspects are indicated on the whiteboard markers that students like and those that do not, it is convenient to review the material since it can be useful when choosing them: busyteacher.org.
Frequent questions:
1. Are the marker pen safe for children's skin?
Many chemicals and substances to make school products and supplies can be absorbed through the skin, which can be harmful to the health of not only children but also adults.
To prevent this from happening with a marker pen, parents should pay special attention to the manufacturer's label and say "non-toxic" to ensure that they are safe for children to handle and for the general public.
2. What other things apart from school activities do marker pen serve?
They are used to identify boxes to keep food in the refrigerator.
Notes can be placed in the bathroom mirror.
To make mind maps or brainstorm on sheets of paper.
Shelves, boxes or drawers can be identified where important material is protected.
To write on the shower doors some information that people want to learn and that can be reinforced while taking the bath.
They serve to mark on the windshield of the vehicle some important information about this or the next date to perform a specific service.
To write on the desk notes to remember.
Best Marker to Use on Glass Whiteboard
Write and draw
Using whiteboard markers in classrooms provides a quick work dynamic for school activities and for assessing students in a personalized way while the class group is fed back with activities and evaluation.
CONCLUSION
Whether you are kids in Preschool, Kindergarten, Middle School or High School, the School Shopping List website aims to help all students, teachers, and parents to find and buy best back to school supplies for both kids and adults. (check our other recent lists   Best Pencil Erasers, Pencil Case for Girls And Boys, Jumbo Colored Pencils, Jumbo Crayons, Watercolor Paint) Thanks for reading and sharing our Whiteboard Marker Pens. For more visit our home page. Happy Schooling!