The imagination of children is wonderful, which is capable of creating their minds is amazing. Giving them to jumbo crayons for toddlers will allow them to turn their ideas into reality while they enjoy and play creating their worlds full of imagination and color.
Do you know the benefits of using colorful crayons for toddlers?
The smell may not be very pleasant the first time children have the opportunity to manipulate them, but the wonderful benefits that result from their daily use in school activities mean that children and parents finally love them.
Here are some of the benefits of coloring and drawing with jumbo crayons:
It allows children to arouse interest in manual exploration and writing and associate it as something fun and creative.
Children while coloring should hold the paper while with the other hand they are applying the color, this implies a bilateral coordination that with the frequent practice is reinforced and improved.
It considerably deepens muscular endurance and develops fine motor skills in children by increasingly striving to complete their drawing tasks.
Children can realize that a different color intensity can be achieved if a greater or lesser force is exerted in the application of the crayon, this awakens them and strengthens their sensory processing.
They awaken visual perception in children and the creation of spatial awareness by understanding how the appearance of drawing changes as they draw lines and complete it.
BEST JUMBO CRAYONS FOR TODDLERS
1. Jumbo crayons easy to hold non-toxic
Crayons that offer the safety and tranquility that all parents are looking for since all children usually tend to take almost all objects to their mouths and these crayons are made with non-toxic natural wax that also do not include soluble elements such as asbestos and lead.
They are easy to hold because of the size of their thickness that is approximately 1.4 centimeters. The large size of its construction provides durability in each piece and contributes to the improvement of children's thinking and exploration skills.
Additional characteristics:
2 presentations available: 16 colors and 24 colors.
Each crayon is approximately 10.8 centimeters long.
The design of its structure makes it difficult for children to break it easily.
The colors are bright and vibrant ideal for children to develop their imagination, encourage their creativity and independence.
Perfect for a gift as it comes in a recent sturdy round with lid that facilitates storage.
Parents can feel confident when their children manipulate and create their works of art with these fantastic crayons.
2. Crayons of triangular colors
Created under the inspiration of practical commitment and the incentive to children of imaginative play with the interaction of school tools consistent with their intellectual and emotional development. Each crayon has been carefully crafted to encourage children's learning.
These crayons with vibrant colors and structure with easy-grip that encourage creativity at all times, inside the school and outside it in complementary activities. Its unique triangular shape favors correct manipulation by children and improves their writing skills with frequent use.
Additional characteristics:
The box includes 10 durable colors.
Made with plastic material resistant to breakage, which guarantees great durability.
Its unique design prevents crayons from leaving where they are.
Its practical folding case in which it comes facilitates cleaning and transport.
3. Box of 16 stunning colored crayons
These crayons are easy to hold and very hard to break. Created carefully so that they can be manipulated by the small hands of young artists. The large size of each piece of colored crayon means that it will have a more durable color.
Additional characteristics:
The 16 colors include primary and secondary colors with 8 additional colors to the original package.
Children 3 years and older can use them because they are safe and made with non-toxic material.
Their storage box is convenient and practical to transport while traveling or moving from one place to another.
Its large size facilitates the grip of children's small hands.
4. Honey-scented wax crayons
Fabulous natural, ecological and safe option for the smallest artists of the school and the house, these colored crayons are made with 100% pure beeswax and food-grade color pigments which provide safety for the use of babies and children of all ages.
Additional characteristics:
3 presentations to choose from: pack of 12 crayons, twin pack of 2, pack of 12 crayons with book.
It does not contain wax paraffin or other cheap unhealthy or safe fillers.
Its shape is unique that facilitates the grip and handling of children.
Shockproof, very hard to break.
The diameter of each crayon is 20 millimeters.
Crayons have a honey smell thanks to the material with which they are made.
The book that comes with the presentation of the 12 crayon package brings 40 large pages full of beautiful images of fauna and flora so that children can color them.
Its packaging is free of plastic.
5. Assorted colors of jumbo crayons for toddlers
Classic formula designed with intense color pigments to provide drawings of small bright colors and a soft design. With these crayons, the kids can mix a variety of colors and form a palette with more varied and extensive options. The quality of the crayons is unique, it guarantees a lower peeling than the common crayons.
Additional characteristics:
2 presentations to choose from: a box of 200 crayons and a box of 400 crayons.
Color crayons are made with wax and have a thin layer of protective paper.
A large diameter for each crayon was considered for children's small hands.
Colors included in both presentations: red, blue, violet, black, orange, yellow, green and brown.
25 units of each color in the presentation of 200 crayons and 50 units of each color in the presentation of 400 crayons.
Its formula is composed of a mixture of soy to offer a safe, soft and colorful product.
6. Box of 12 stackable crayons
They are recommended as the first colored pencils so that kindergarten and preschool children begin their first colored strokes and can become familiar with these school instruments. These first strokes will encourage the development and creativity of these children.
They represent an exciting option to learn and play at the same time. Its design is unique and particular so that the little ones can easily grab the crayons to color their images and designs. Children can paint without much effort thanks to its quick and easy pigmentation.
Additional characteristics:
Each package contains 12 crayons with basic and assorted colors.
The kids can stack as building blocks which helps with the development of intelligence.
They can be washed with soap and water easily.
Writing and drawing colored lines are smooth for delicate drawing and clean work.
Its round base allows them to be held securely on the surface and also so that children can grab them with their fists and make their drawings.
They are made with non-toxic material, totally safe for handling by children.
Its design includes a hole that crosses the entire crayon to prevent possible suffocation if children could accidentally swallow them.
Its use is recommended for children over two years old, for younger children, absolute vigilance by their parents or an adult is recommended.
7. Set of 200 colorful crayons for children
Bright and beautiful crayons that guarantee a product of exceptional quality for an incredibly low price. Its presentation comes without wrap and thick size so that children can easily grab them. Their bright colors generate enthusiasm in children and encourage them to continue creating arts and drawings.
Additional characteristics:
8 classic colors come: brown, black, blue, green, orange, violet, red and yellow.
The box brings 25 pieces for each color.
Ideal for use in school lessons and complementary activities at home.
These crayons are perfect for school activities that require rubbing colors as a drawing technique.
Large areas can be covered with these crayons, their use is recommended for children with special needs.
8. Washable crayons with palm grip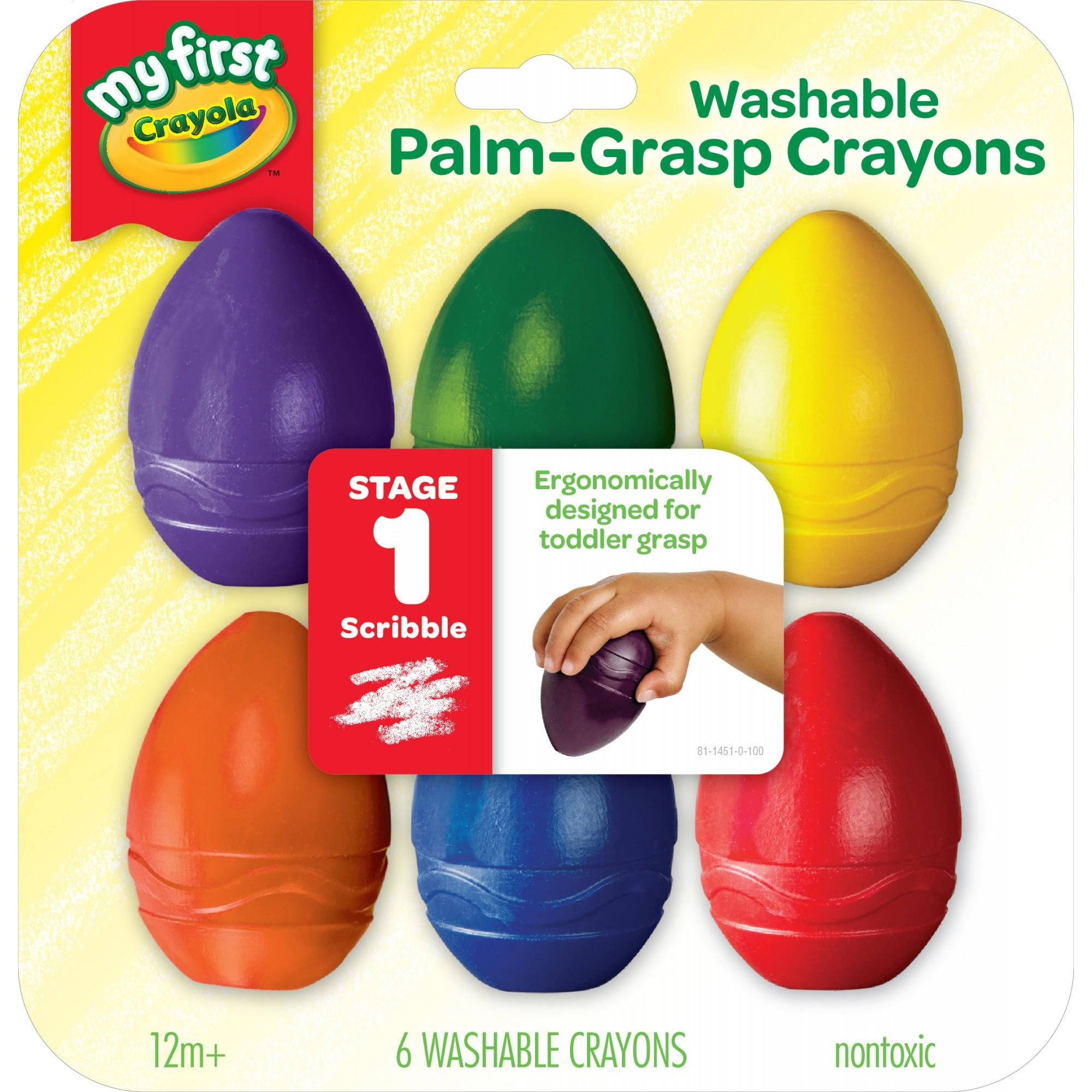 Ideal to help children develop their thinking skills and arouse interest in exploring colors, mixtures and creating works of art from their inspiration, emotions, and feelings. Its oval shape is perfect so that the little ones can take them at ease and without exerting effort when using them to draw.
Additional characteristics:
Each box contains 6 bright and vibrant colors: purple, green, orange, yellow, blue, and red.
Each crayon is round and its shape is oval similar to that of a chicken egg.
Recommended as the first colored crayons for children to encourage their imagination and creativity.
Its design is a thick structure of colored crayons so that school students can easily hold them with the palm of their hand.
They can be washed easily with hand soap and water.
Recommended for children three years and older.
They offer a guarantee that children will not stain or dirty their fingers and hands so that parents can rest easy and let their little ones have fun and enjoy coloring without complications.
Made with 100% natural wax, which creates safety for parents since most children tend to get distracted and put objects in their mouths.
9. 10 pieces of extra-large colored crayons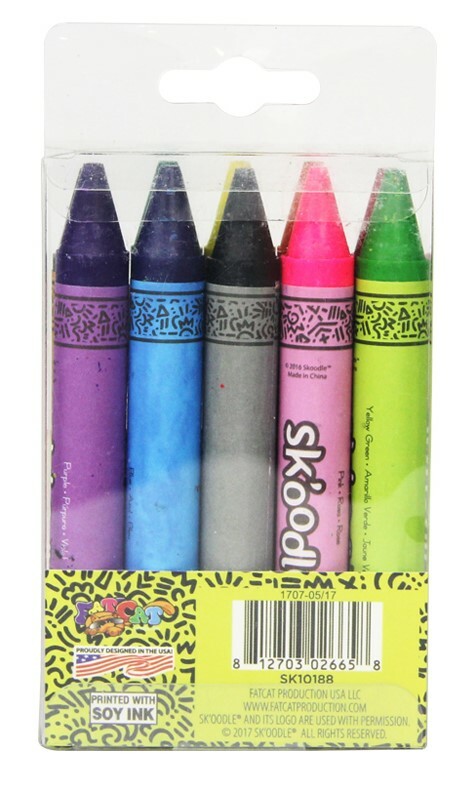 In many school activities for kindergarten and preschool students, they should color and mix colors. This practical, comfortable and simple crayon option is part of the fundamental tools in every return to class. Its creation is inspired by fostering and boosting children's imagination and creativity through play and color.
Additional characteristics:
Crayons are manufactured with non-toxic material for the peace of mind of parents and teachers.
The colors that come in the box are assorted: red, orange, yellow, light green, dark green, black, pink, brown, blue and purple.
Crayons are covered with a thin layer of paper to identify and protect them.
The pigment of each crayon is a bright and striking color.
Each crayon measures approximately 10.94 x 1.42 centimeters.
Perhaps you do not know the amount of wonderful things that can be done with jumbo crayons if you are curious and want to know a little more about it I invite you to review the following material: handsonaswegrow.com
Frequent questions:
1. What aspects should parents consider when buying jumbo crayons for their children?
The size of the crayons is important to consider always depending on the age of the child. There are practical options for younger children to help them become familiar with pencils and to adapt quickly and comfortably with their correct grip.
The smaller the children, it is recommended that the diameter of the crayons be larger. As children grow and acquire ease and movement with their hands and pencils, the thinner and longer crayons are usually the best for them.
2. If parents buy normal colored pencils for the school list, is enough and they do not need to buy jumbo crayons for toddlers?
No. Although they are school tools for coloring, drawing and adding color to school activities, each has a different function and application.
The finishes of classic colored pencils are completely different from those of jumbo crayons; Also, there are special drawing techniques that are usually applied with the latter.
To avoid the purchase of jumbo crayons for back to school is not to provide children with all the basic tools necessary for them to learn and perform properly throughout the school year.
COLORFUL IDEAS WITH CRAYONS
Play while learning and having fun
Surprisingly, a crayon inspires creativity and exerts a physical effort with that instrument on a blank sheet of paper, makes it possible to create stories and images that have a lot of meaning for a child and that say a lot about him.
Parents can raise the level of creativity and play in their children by providing appropriate tools and at the corresponding age. So they should not miss the opportunity to give their children happiness by providing jumbo crayons for toddlers to have fun, relax and create the works of art that only they can capture on paper.
CONCLUSION
Whether you are kids in Preschool, Kindergarten, Middle School or High School, the School Shopping List website aims to help all students, teachers, and parents to find and buy best back to school supplies for both kids and adults. (check our other recent lists  Water Bottle For Primary School, Water Bottle For High School, Best Pencil Erasers, Pencil Case for Girls And Boys, Jumbo Colored Pencils) Thanks for reading and sharing our post-Jumbo Crayons. For more visit our home page. Happy Schooling!