Origami (Wiki) is an art of Japanese origin that is based on the creation and transformation of paper into figures, initially without using additional tools or utensils such as scissors, glues or any other, but over time it has evolved and currently includes cutting and pasting pieces. Its main base is the folding of paper using hands, imagination and creativity.
The wonders that can be achieved using this technique are many, the shapes and figures created are considered paper sculptures for the delicacy and dedication that merits its elaboration.
What are the benefits of using origami sheets in school activities?
Although it seems a simple and unimportant technique, the truth is that the practice of origami is very beneficial for all people who practice it but for children, it is more beneficial for both physical and mental stimulation that is capable of providing. Some of them are mentioned below:
It represents a challenge for them which implies the acquisition of learning and skills while having fun.
The requirement of attention for a long time and the effort required by the mind to manipulate the paper in the proper way to create the desired figure, stimulates the concentration greatly improving it.
It helps to improve patients because to create the figures they must have a lot and insist until they achieve the expected result.
It allows them to activate the memory by repeatedly repeating certain basic instructions that are necessary to perform the job correctly.
Develops visual coordination with the hands by stimulating muscles, nerves, and bones while paper folds are performed.
Encourage the child's imagination by wanting to create their own paper figures according to their thoughts and creativity.
Strengthens the emotions of children by feeling able and satisfied to create paper sculptures with their own hands.
Stimulates mathematical reasoning by coordinating instructions in paper folding movements such as up, down, then, first, back, among others.
It generates a feeling of relaxation by forgetting other unpleasant moments and concentrating on a fun activity.
What are origami sheets for school?
The utility that can be given to origami sheets at school is many since school activities always include crafts for children to develop and improve certain skills. Here are some of the uses:
The children can create paper figures such as airplanes, hearts, snakes, dresses, fans, fish, rockets, animals, Christmas balls and many others.
To make flowers to decorate the room, to create special day arrangements such as Mother's Day, to make centerpieces.
To learn how to make congratulations letters on special days, to congratulate on birthdays or for any other reason.
To decorate gifts with the created figures.
Types of origami sheets
Classic: It is the one used by beginners, includes a square sheet of paper, cut, paint and paste.
Pure or Pureland: It only allows you to make folds (fold the sheet) and one at a time, it does not allow complex folds.
Modular: Used to create complicated models based on simple models that are assembled to form the desired part
Of action: It covers moving figures, those that fly or are inflated
Wet folding. The sheet of paper is moistened to create curved figures, once the sheet dries, the figure looks very realistic.
Tessellated: It is a figure pattern that does not allow overlapping figures.
Kirigami: The figures are made directly using scissors; that is, the paper is cut by drawing with the scissors.
11 origami sheets for your school needs
Once the benefits of using origami sheets and their diversity of applications are known, it is convenient to know some of the options offered by the market:
1. Mini 2 inch square origami sheets.
Perfect for teachers and children at school, its size is attractive for small and comfortable jobs at the same time. The quality of the paper is excellent because it is handmade, it is difficult to tear, it guarantees an easy fold and does not bend at the edges of the sheet. It includes a document with multiple origami designs to help stimulate the artistic abilities of children and whoever uses the material.
Additional characteristics:
The product comes with the following dimensions: 2 x 2 x 0.8 inches.
20 bright colors that include 3 metallic colors, the sheet is colored on both sides.
The package includes 200 sheets.
100 origami designs included.
2. Economic package of 6-inch origami sheets
A ream of foldable double-sided origami paper sheets perfect for people who want to dabble in this wonderful world of creativity and for the most experienced craftsmen. Ideal to practice and make the most incredible designs from simple to complex. The manufacturing material is of quality, each sheet is made with GSM paper guaranteeing high strength and ease when folding the sheet.
Additional characteristics:
20 assorted colors.
25 pieces of each color.
5 x 6.1 x 2 inches are the dimensions of the product.
The package includes 500 sheets.
3. Square origami set for children
The set of 1100 sheets of origami paper is geared towards adults and children to live a unique experience creating and enjoying. The intention is that parents are involved with their children in the construction of pieces of paper, can express and capture such rewarding moments with just a few origami folds.
Additional characteristics:
15 assorted colors.
The set includes 1100 sheets.
Double-sided colors.
The product comes with the following dimensions: 7.2 x 6.9 x 4.7 inches.
4. Origami paper with printed designs
Origami paper kaleidoscope patterns were created and developed to improve the creations of artists in the origami world and paper artisans. Its printing is coordinated on the front and back of each sheet of paper to provide a pleasant aesthetic combination to all origami models that you want to create.
Additional characteristics:
The product comes with the following dimensions: 15.2 x 2 x 6 inches.
The designs come with high-quality printing with vibrant and bright colors.
The package includes 500 sheets.
12 different designs that include more than 40 sheets for each design.
Includes instructions for 6 projects.
5. Container box with origami paper
Its attractive presentation offers perfect storage for all sheets of origami paper, so there will be no worry of seeing the origami unleashed from one place to another. The design of the box is easy to open and allows you to easily remove each sheet of paper, allowing you to control at the same time the sheets that will be kept inside the box.
Additional characteristics:
The package includes 750 sheets.
High-quality product that allows you to bend easily without tearing or mistreating.
1 x 6.1 x 3 inches are the dimensions of the product.
25 assorted bright colors, 30 sheets of each color.
6. 8 color origami paper crane
The sheets can be used as origami, manufacture of greeting cards, paper crane and any other craft. It offers the ideal size while ensuring ease when folding your sheets and the most popular and preferred colors by most. It is an excellent option as a gift for those who enjoy creating art with origami. Its easy folding makes it suitable for beginners and for experienced people it will be very friendly.
Additional characteristics:
The package includes 800 sheets.
The product comes with the following dimensions: 3.4 x 3.1 x 2.8 inches.
Paper sheets come with fruits and flowers.
8 assorted colors in pastel colors.
7. Japanese origami paper
It makes possible the creation of colorful and fun projects thanks to this collection with unique designs that will allow you to create animals, plants and any model with just folding the sheets of paper that come in the kit. Just unpack the material and start creating from the simplest traditional designs to the most complex and eye-catching. Perfect for school gifts since its use in academic activities is very wide.
Additional characteristics:
The product comes with the following dimensions: 6 x 6 x 1 inch.
The package includes 500 sheets.
10 designs with bright colors.
50 sheets for each design.
Includes for free an electronic source with more than one hundred samples and materials for learning.
8. Origami paper with fireworks and space themes
The package includes a brief instruction to help you make simple traditional origami models with which you can create puppets with animal heads, cranes, among others. The paper is smooth, flexible and able to retain folds very well, its graphic printing is of quality with solid and crisp colors. A paper folder is included so that the sheets can be stored and kept beautiful and in perfect condition.
Additional characteristics:
6 x 6 x 1 inch is the dimension of the product.
The package includes 200 sheets.
20 designs with beautiful and vibrant colors.
Design reasons: galaxy outdoor spaces and fireworks.
Made with premium paper (80 GSM).
9. Multi vivid colors of origami paper
The set offers a wide variety of colors for those children and people who love to create colorful and fun models. Approximately only 18% of the sheets of paper included in the package come from only one side. Perfect for creating traditional art forms. Its variety of colors can make it easier for children to know and distinguish the universe of colors that exists.
Additional characteristics:
The package includes 200 sheets.
The product comes with the following dimensions: 5.9 x 5.9 x 0.7 inches.
The colors are solid and vivid.
50 colors, 4 units for each color.
Made with premium paper.
10. Adventure origami paper pack
If you want origami paper with exciting patterns this is your best option, the diversity of fun patterns and full of personality, will give you a unique experience building and creating the models of your preference. Pattern motifs include flowers, paintings, animal prints, geometric figures, and many other striking designs.
Additional characteristics:
The package includes 120 sheets.
40 unique designs, 3 units for each design.
Each sheet has a stamped pattern on one side and a complementary color on the other side.
Easy to fold to create perfect designs.
Product dimensions are as follows: 14.4 x 7.9 x 0.7 inches.
11. Marble patterns of origami paper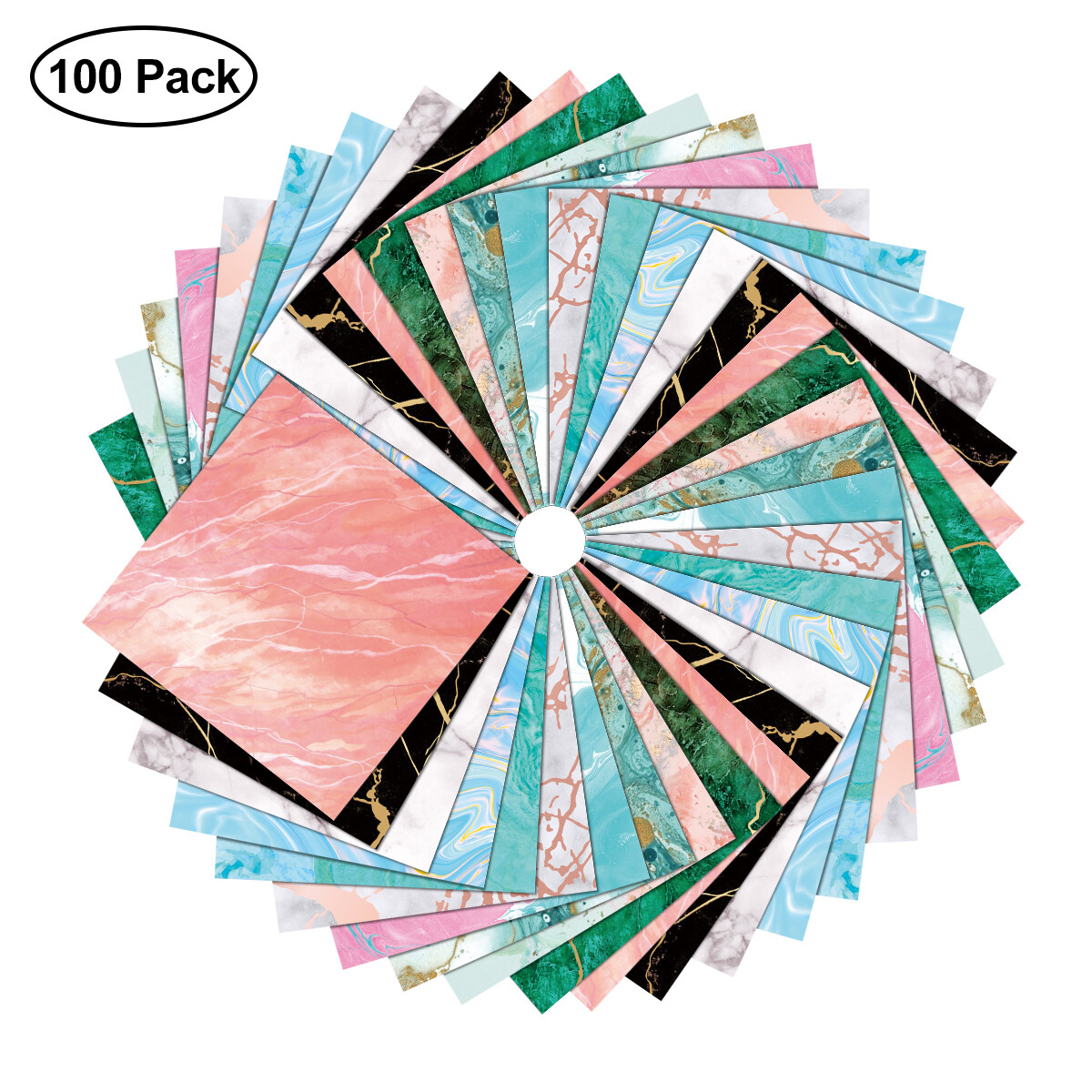 Designed to start a new hobby in which you can deepen ties with children, family or friends. The sheets of paper can be folded safely and easily to create any shape: flower, dove, heart, hat, swan, rabbit or any other model you want to decorate the home, office, party or any other environment. Its manufacturing material offers durable paper sheets, safe for health and difficult to wrinkle and tear.
Additional characteristics:
100 sheets are included in the package.
10 designs of tan marble patterns.
10 pattern units for each design.
The dimensions of the product are 15 × 15 centimeters.
Made with 80 GSM paper.
10 Easy kids craft ideas with origami paper
To relax and create
Including the practice of origami from an early age greatly stimulates the development of artistic, physical and intellectual skills in children, so incorporating activities in a usual way that includes this technique is an important point to consider.
Parents and teachers should encourage children to practice origami, in the market, there are multiple options of colorful, patterned sheets of paper, with majestic and striking designs that are fabulous to arouse interest in children. Usually, there is enough information, videos and teaching material that teaches to create from basic figures to complex forms, many commercial options include material this reference material so that you get down to work at once.
To practice the origami technique you don't need much, just paper and a comfortable place where you can execute it. You can create countless figures and shapes while having fun and having fun. If you like crafts, there is no possibility of getting bored since your imagination and creativity will be stimulated while acquiring the multiple benefits that your usual practice implies.
CONCLUSION
Whether you are kids in Preschool, Kindergarten, Middle School or High School, the School Shopping List website aims to help all students, teachers, and parents to find and buy best back to school supplies for both kids and adults. (check our other recent lists, Colored Papers, Craft Felt Papers, Play-doh, Pocket Folders, Paper towels) Thanks for reading and sharing our post best Origami sheets. For more visit our home page. Happy Schooling!