Pom poms are ball-shaped figures, usually handcrafted from diffuse fiber; they come in different sizes and shades. In school activities, they are often used a lot for different projects or craft tasks.
It is important to guarantee this school article to children so that they can develop their artistic abilities and perform appropriately when executing these activities.
What are the projects where pom poms are used?
Some ideas of creations that can be made using pom poms are the following:
Finger puppets.
Snowmen, crowns, candy canes, Christmas ornaments, and other festive items.
Scrapbooking ornaments.
Butterflies, spiders, chicks, and any animal.
Business cards, an invitation for birthday parties.
Antennas, buttons, noses, among others.
How are pom poms made?
The handmade process to make a pom pom is quite simple, it requires a piece of cardboard, scissors, and wool yarn. Below are the steps that must be performed for its creation:
A circle of cardboard in the form of a ring should be cut, an approximate distance of 2 centimeters between the exterior hollow and the interior hollow must be considered.
The ring created with cardboard should be wrapped with the thread passing through the center hole each end of the selected thread.
The thread must be passed several times through the center hole, the more times the thread is passed, the greater and better the final consistency of the pom pom.
When the whole process of winding the thread in the cardboard ring has been completed, the thread should be cut at the level of the cardboard plane.
All fibers found in the ring should be wrapped with a piece of yarn or wool and adjusted so that they do not come out or separate.
The cardboard ring must be cut to separate it from the pom pom created.
With the fingers, the pom pom is shaped to add volume.
Finally, the ends of all threads must be rounded and matched with a scissor.
Best pom poms for school crafts
1. 1400 pieces of kids pom poms with 5 different sizes
Colorful pom poms perfect and pleasing to the eye so that the little ones are motivated to make crafts with them, they can create fun and different designs from dolls, puppets, birthday invitation cards or any special celebration, eyes for dolls, piñatas and infinity of Projects.
The material and practicality of the pom poms allow them to adapt to any type of decoration and school activity. Within the 1400 pom poms that come in this fabulous package, there are 5 different sizes to be able to select the most suitable one according to the work that is being done.
Additional characteristics:
The colors that come in the package are: white, brown, red, black, orange, green, blue, yellow, purple, among others.
Perfect to stimulate interest and arouse imagination and creativity in children thanks to the intense colors.
The sizes of the pom poms are as follows: 10 mm (approximately 1100 pom poms), 15 mm (approximately 80 pom poms), 20 mm (approximately 60 pom poms), 25 mm (approximately 40 pom poms) and 35 mm (approximately 20 pom poms).
The package includes Googlys Wiggle eyes of different sizes, the available sizes are 12 mm (approximately 10 units), 10 mm (approximately 20 units), 8 mm (approximately 30 units) and 5 mm (approximately 40 units).
2. 2100 multicolor pom poms pieces for crafts
Gigantic craft set that includes 2100 pom poms full of color and fun. The set also comes with 100 units of bulging eyes to complement school projects, art, crafts, decoration, hobbies and any project for the little ones.
By purchasing this set of pom poms you will get enough pom poms so that children can have fun and fulfill their school art activities for a long time since the number of units contemplated in the set can satisfy that requirement.
Additional characteristics:
The colors that come in the set are assorted, some of these are pink, light blue, dark blue, orange, light green, dark green, red, yellow, white, among others.
Made with high-quality material that makes it possible for the pom poms to last over time while they look bright and vibrant.
Made with plastic and non-toxic material so that children can handle it with confidence.
Pom poms come in varied sizes: 10 mm, 15 mm, 20 mm, 25 mm, 30 mm and 35 mm.
The bulging eyes in black and white and color that are included in the set, provide humor and fun to all the projects to be carried out.
The sizes of bulging eyes in black and white are: 5 mm, 8 mm, 10 mm and 12 mm; while the sizes of bulging eyes in color are: 8 mm and 10 mm.
3. 5-inch kids pom poms for decorations
A charming set of 100 pieces of pom poms to promote intellectual development and generation of skills in children. Offer children this type of interactive toy that will allow them to open their imagination and create amazing works of art.
They not only serve for school projects, but they also serve for DIY crafts, room decoration, doll making, necklaces, toys, Christmas decorations, hair ties, home decor, and many more applications.
Additional characteristics:
The package comes with 100 pom poms of approximately 1.57 inches in diameter (4 centimeters).
The set is multifunctional, used for homework, artwork, crafts, home decorations, and many others, which makes it perfect for both children and adults.
The manufacturing material makes the pom poms soft and fluffy, which makes it pleasant for the little ones to handle.
Parents should supervise young children during use as pom poms can be put in their mouths and can be dangerous.
4. 1900 multicolored craft pom poms of 1 centimeter for decorations and art
Lovely and colorful option to give to children who enjoy creating art with a variety of craft materials. The 1900 fluffy pom poms will allow your little ones to elaborate on many projects and ideas and share their creations with their classmates, family, and friends.
Additional characteristics:
The variety of colors available makes pom poms adapt to all kinds of decorations and school projects.
Ideal to strengthen family ties and spend time with children while they do their creations.
Made with fiber completely suitable for use by children.
The package comes with 19 different colors and 100 units for each color.
Parents and teachers should take care of young children while handling them as they can put them in their mouths and be dangerous.
5. Fun zoo created with kids pom poms
Wonderful option to give to children and that they can enjoy learning while assembling animals from pom poms and craft materials. Ideal for young children to be motivated to carry out art projects while they play.
Even beginners will be able to create a zoo full of color and creativity since the package comes with an instruction manual that clearly explains how to build each animal. Parents should help the little ones guide them to put the animals together.
Additional characteristics:
More than 60 animals can be made: kitten, bunny, piggy, walrus, panda, owl, elephant, hedgehog, fox, pigs, frogs and many more.
The package comes with pre-made pom poms and mini pom poms, 90 yards of colored threads with 8 different shades, nose, and eye beads, plastic tape measure, glue, cable, and other accessories to complete the projects.
The set comes with an instruction book and ideas for children to make animals.
6. Colorful soft acrylic craft pom poms
Perfect for children to bring joy, color, and fun to their craft school projects, they can be used for fun decorations, provide a three-dimensional effect to paintings, add personality to photo albums, among others.
There are countless variety of creations that can be made with these wonderful items, children can create animals, figures, shapes, and a variety of works of art using their imagination.
Additional characteristics:
The 450 unit set comes with several mini pom pom components: from ¼ inch to ½ inch.
The colors that include the set are brown, black, green, orange, pink, light blue, red, violet, yellow and white.
Made from high quality and non-toxic materials, which makes them safe for children to handle.
Children of all ages can use them but they are more attractive to younger children thanks to their rainbow color design.
7. Pack of 100 multicolor pom poms for crafts and art
Perfect Pom poms for all types of school projects and crafts, their spongy texture, bright and fun shades will be the object of curiosity for children. They can be used for DIY activities and to decorate old objects such as pictures or photos.
They also serve to add color or a touch of personality to already developed school projects such as billboards, models, presentation of works, among others. To decorate children's parties are very useful, usually serve to complement the piñatas, centerpieces, and gifts.
Additional characteristics:
The package includes 100 pom poms and 1 gift-color cup holder.
Made with non-synthesized natural cotton material which offers a soft texture and pleasant to the touch.
Keep nearby objects or materials a little color away from water or humid environments.
Children can use it to play with their small pets such as cats or dogs but the type and time of play should be controlled as pets could swallow them.
It is not recommended for children under 3 years as there is a danger of suffocation due to the handling of small parts.
8. Large bag of 324 fancy craft pom poms in kaleidoscope colors
The perfect complement to art and creativity school projects is this fantastic bag of luxurious pom poms with vibrant colors and fascinating soft texture. Having the pom pom bag at hand will be tempting to pour the components on the table and start creating.
Additional characteristics:
The pom pom bag comes with the following bright colors: hot pink, neon orange, crimson red, bumblebee yellow, turquoise, clover green, indigo blue, lime green, violet, orchid, black and white.
They can be used in various school projects, in posters, such as garlands, necklaces, crowns, inside the tutu, as birthday gifts, costumes, among others.
Each bag comes with a group of bulging eyes as a gift to complement the projects.
The size of each Pom pom is variable, they are 3/8 inches to 1 ¾ inches.
9. 2000 mini fluffy multicolor pom poms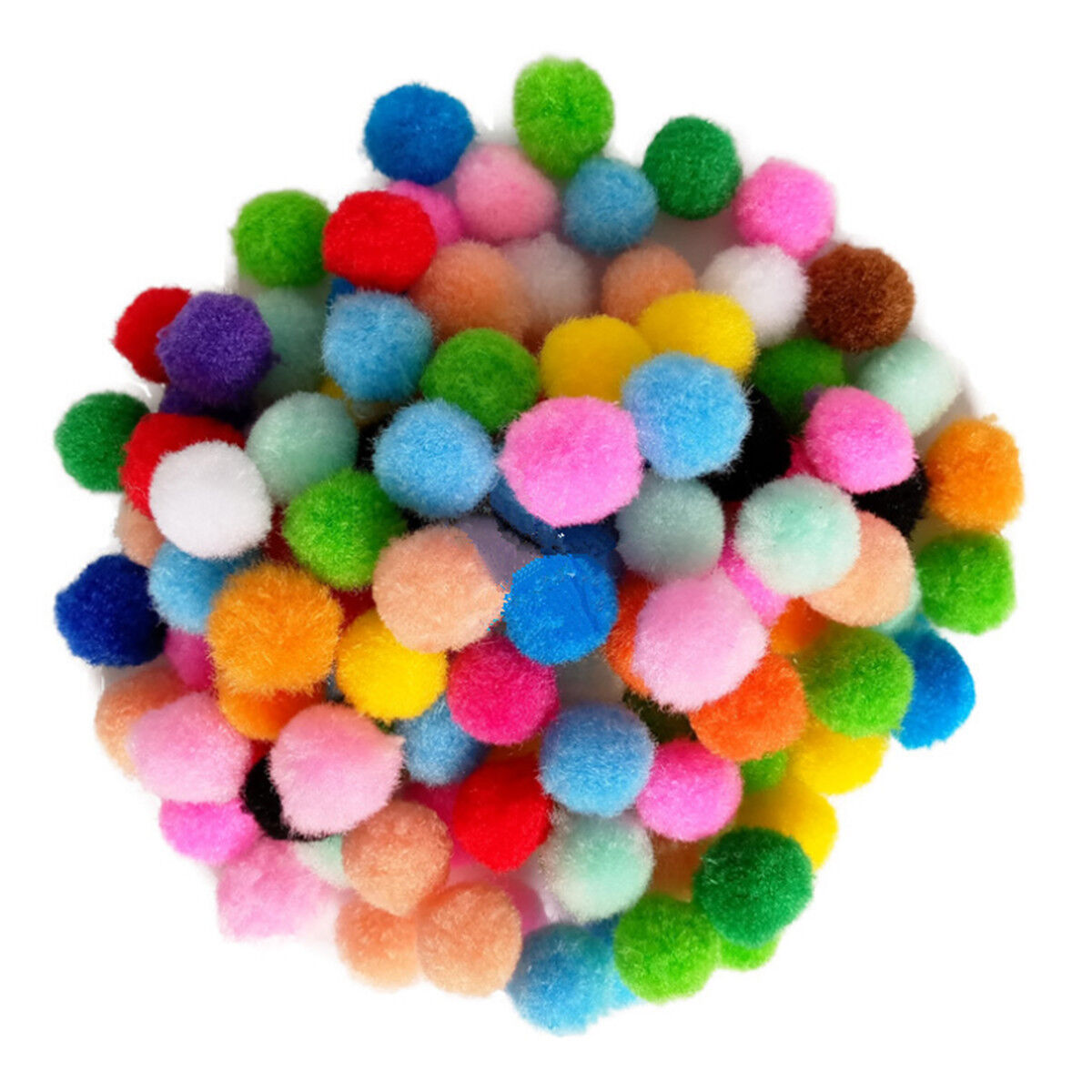 If you are looking for a large number of pom poms option to be unconcerned for a good time of this material so required for the elaboration of art and craft school activities, this fabulous bag of 2000 mixed balls of colorful pom poms in an excellent option.
Additional characteristics:
Made with polypropylene material.
The 2000 mini pom poms come with varied and random colors.
Each pom pom is approximately 8 millimeters in diameter.
Light green, red, yellow, light blue, orange, purple, white, pink, brown, dark blue, black, dark green and peach are some of the colors that come in the pom pom bag.
They can also be used in sewing, scrapbooking, DIY projects and any other craft creation.
Multiple ideas can be done with pom poms, but you can also create a pom pom from scratch, the following information explains step by step how to make a pom pom with simple materials: www.instructables.com
Frequent questions:
1. Where do pom poms come from?
It is said that it originated in the 18th century when the Hungarian cavalry wore a high structured cap as part of their uniform and placed some symbol to identify or add a distinctive touch, some used metal plates on the cap, other plumages and others placed pom poms.
On the other hand in South America, many traditional garments wore pom poms of different colors to represent a marital status. In Scotland also, pom poms have always been part of the traditional clothing of that country.
Little by little, the pom poms became known and were used in various areas such as school dances, decoration of traditional festivals in the villages, ornaments of all kinds, among others.
2. What size do pom poms come from?
The size of the Pom poms is based on their diameter, there are currently a variety of sizes available, the most commercial are: 2 ", 1", ¾ ", ½", 3/8 ", 3/16" and 1/8 "
If a pom pom more than 2 "in diameter is required, it can be made simpler with a suitable thread for this purpose.
Pom Pom Ideas for School Supplies
To create and decorate with pom poms
The things that can be done with the pom poms are many and the variety of sizes, colors, and textures available make them adaptable to any area, from school projects to home projects, decoration of clothes, parties, toy making, piñatas, centerpieces, among others.