School bags for preschoolers are like a toy for them, they represent a symbol of color and fun where they keep their main and favorite tools to play and learn at school: notebooks, sketchbooks, play dough, color-packed holsters and wax crayons and to transport home their daily tasks to execute.
How should kindergarten and preschool children carry the backpack so that it does not harm them?
The size of the school bag has a lot to do with the weight they can support and of course the one the child will carry on his back. In this sense, parents should be very cautious when selecting their size because the larger the school bag, without realizing it, they will be able to introduce more and more things and all that excessive weight can damage and affect the shoulders and back of the children. Preschoolers
Doctors recommend considering the weight of the child and that the weight of the school bag does not exceed 10% of their body weight. For example, a 5-year-old child can weigh approximately 18 kg, so the school bag he should use must weigh 1.8 kg or less.
Parents and teachers should be very aware of the materials that should be taken daily to school and should be transported in the school bag, it is advisable to keep most of the materials in the classroom and carry only the tools daily in the school bag and necessary materials, this to introduce the lowest possible weight in them and thus avoiding the pressure and traction due to overload that exerts an exaggerated weight on the muscles and joints.
Read More: Backpack Safety, Bag For School
Tips to protect kids from carrying the school bag in the wrong way.
In general, the following tips can be followed to protect the shoulders, back and all preschool muscles and joints associated with carrying the school bag:
1. Distribute the weight in the school bag.
Many children usually carry the school bag with only one side; that is, using a single strap and overloading the shoulder and muscles on that side much more.It is advisable to use the school bag for both straps, so the weight will be distributed in all muscles and the impact will be less.
2. Maintain a good posture.
Try as far as possible to carry the back straight and not curved.
3. Organize the materials inside the school bag.
Although it seems that it did not help much, it is convenient to distribute the materials inside the school bag, for that they come with different compartments and pockets. The largest and heaviest books should be placed in the largest pockets and glued to the back. Small materials and tools can be distributed in smaller compartments.
4. Use the hands.
If there are things that can be taken out of the school bag and carried in the hand it would be very helpful. If for any reason the children must remain standing or waiting for a long time, it is convenient to remove the school bag and grab it by the hand to rest the shoulders and back a little.
5. Check the charging time of the school bag.
Parents and teachers should actively participate in this task, if the school bag carries a lot of materials and is very heavy, rest intervals should be alternated for at least 15 minutes.
6. School bags with firm adjustments;
That is, the weight does not slide the straps and the weight gradually shifts down. It is recommended that the school bag be at least 5 centimeters above the waist.
7. Practice some exercise or sport.
It has been shown that the regular practice of exercises or some sports activity in children brings not only multiple benefits to their health but also the strengthening of muscles.
8. Use school bags that have padded and wide straps.
The padded backrest and the width of the straps provide greater support of the school bag on the shoulders and back which makes its load more pleasant and light.
What aspects to consider when buying school bags for kindergarten and preschool children?
At each school start, a shopping adventure begins where one of the main school tools to buy is the school bag. The little ones are dazzled by the different motives and colors when selecting the one they like best but there are other factors that should be considered and it is the parents who are responsible for this work. Here are some suggestions to keep in mind when buying the school bag for the little ones in the house:
Consider the size and weight of the child according to the advice given above. 10% of the child's body weight is the maximum weight that the school bag should weigh.
Pay close attention to the manufacturing material with which it is made, which is a comfortable but resistant material at the same time. Look at the design of the straps, make sure they are wide enough and padded.
Look at the number of compartments and pockets that the school bag has, it is always preferable to select one that has multiple options to organize books and school supplies. The greater the number of pockets, the better the school bag will be since the children can distribute in a more balanced way all the material to be protected.
Consider buying a school bag with wheels. It may be the best option to forget about the problem of children having to carry weight on their shoulders and back but perhaps it is one of the most expensive options that are not available to all parents. Regardless of the case, the size of the school bag with wheels should be considered, since the children must drag it and a lot of weight will represent a considerable effort for them.
COOL SCHOOL BAGS FOR KINDERGARTEN AND PRESCHOOL
Meet the best options for school bags for the little ones at school, multiple colorful and fun options that will make the school adventure more pleasant:
1. Cartoon canvas school bags
Spectacular and striking modern rabbit cartoon school bag, totally suitable for children from 2 to 7 years. It is a multifunction school bag as it can be used for kindergarten, preschool, as a bag to store lunches and snacks, as a travel bag or to store small toys. It is made of resistant fabric which makes it a high quality, water-resistant and durable option.
Additional characteristics:
The item comes with the following dimensions: 9.84 x 4.72 x 11.42 inches.
Made of canvas material.
School bags come in four different colors to choose from: blue, green, red and purple.
It has padded straps with breathable meshes that allow a correct adjustment to the shoulder and pressure reduction.
The school bag weighs approximately 8.8 ounces.
2. Anti-loss school bags
Beautiful and portable safety school bags with a strap for children 1 to 2 years. It allows children to play with it while storing their favorite toys and items. Ideal for storing diapers, wipes, toiletries and any other day-to-day items of children in the nursery. Made with waterproof diving material with high resistance to wear and dust.
Additional characteristics:
The product has the following measures: 7.48 x 2.36 x 9.05 inches.
Red and black colors with beautiful Mickey Mouse motif.
The school bag weighs approximately 3.8 ounces.
3. Colorful school bags with fruit motifs
Warm mini stuffed school bag with beautiful, colorful and fun fruit motifs for the nursery and preschoolers. Built with lightweight, portable and easy-to-carry material, children can keep their books, keys, small toys and any detail they like. It can be used not only for kindergarten and preschool but also for travel, shopping and for daily casual use.
Additional characteristics:
Beautiful fruit motifs: grape, pineapple, watermelon, strawberry, and orange.
Made with plush material.
The product measures 25 x 25 x 9 centimeters.
4. Dynamic impressions in school bags
It is a durable school bag designed to carry the essential materials and tools of preschool and nursery children. Its manufacturing material is oxford fabric and polyester, the material is washable with cold water and then it can be left to dry naturally. Its structure is composed of a large main pocket and two side pockets.
Additional characteristics:
40 varied reasons to select the one you like best: aquatic life, flowers, wild animals, pictures, birthdays, vegetation, shapes, and varied drawings.
The school bag has an approximate weight of 8.8 ounces.
Each item measures 11.8 x 9.4 x 4.7 inches.
5. Tigers in school bags with a safety harness
Fun and beautiful school bags inspired by tigers in the third dimension, made of premium nylon which guarantees a high quality, safe and durable product, perfect for demanding routines. Its padded straps provide comfort to the shoulders and backs of the little ones.
Additional characteristics:
The school bag is included with the safety harness, perfect to keep your child safe around him.
The school bag has the following dimensions: 9.8 x 7.9 x 3.9 inches.
Weighs approximately 5.3 ounces.
Recommended age of use: 1 to 3 years.
Available colors: yellow, blue, red and pink.
6. Delicate and subtle school bags for young children
Lovely school bags inspired by the tenderness that reflect the spoiled ones of the house designs full of personality, fresh, unique and delicate, special to store the toys and favorite items of the little ones. Each motif has a different design but usually includes a large pocket to protect larger items such as books, notebooks and smaller pockets for smaller items.
Additional characteristics:
The item comes with the following dimensions: 23 x 26 x 9 centimeters.
Weighs approximately 5.3 ounces.
Delicate and beautiful motifs of teddy bears and puppies: dark blue, sky blue, red, light pink, old pink and hot pink.
Made of canvas material.
Magic design of super colorful unicorn horn with horns included in the top of the school bag. Space is enough to incorporate a standard size folder, it has different compartments for books, notebooks, and folders. Its straps are padded for maximum comfort and can be adjusted in a personalized way. The side pockets come with a mesh and the front pocket has a zipper to protect the items well.
Additional characteristics:
The dimensions of the article are approximately: 23 x 19 x 8 centimeters.
Variety of colors to choose from: pink, silver, blue and black.
Made of high-quality PU leather material and easy to clean.
8. Children's drawings embodied in school bags
Lovely designs to get the attention of children and that they find it pleasant to bring their school supplies. The prints of children's drawings based on dinosaurs are perfect with a beautiful appearance, their manufacturing material offers a high quality, durable, lightweight and comfortable item. They are waterproof, abrasion-resistant and easy to clean.
Additional characteristics:
School bags measure approximately: 22 x 21 x 7 centimeters.
Motifs with different colors: pink, red, light blue and dark blue.
Made of non-toxic oxford cloth material.
9. Children's school bags with dog motifs
Children love animals, especially puppies, so this wonderful and creative motif of a soft, elastic and lightweight school bag has been designed so that the little ones can store their things and feel motivated to gladly attend their nursery or pre-school.
Additional characteristics:
School bag measure approximately: 27 x 34 x 9 centimeters.
Item weight: 7.8 ounces.
Made of plain cow oxford fabric.
10. Penguin 2-compartment school bag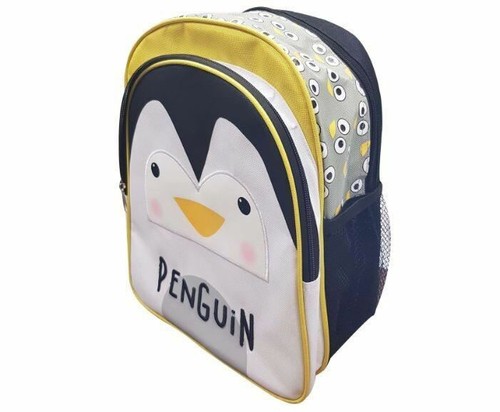 An emotional, compact and comfortable penguin school bag that your child will surely love, has the perfect size to protect the essentials that children need to transport every day to their nursery or preschool. The manufacturing fabric is durable and includes a moisture-resistant inner lining.
Additional characteristics:
The measures of the school bag are approximately: 4.5 x 12 x 10 inches.
Made of polyester material and nylon lining.
Designed for children from 2 to 6 years old.
11. 3D dinosaur school bag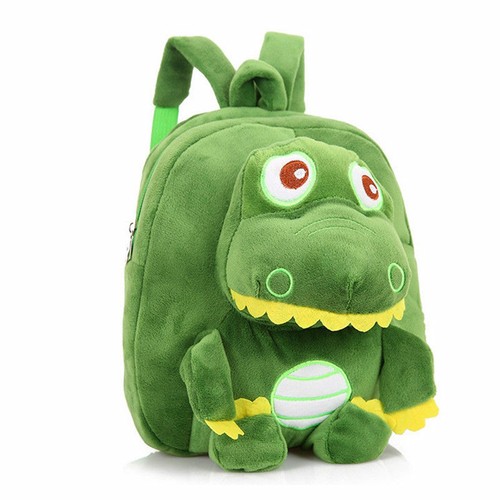 The 3D dinosaur will surely be a motive that your little one will love, its soft and fresh material will provide a pleasant feeling and you will want to take it everywhere. It is as if it were a stuffed animal but the child can keep things inside, it has a great capacity to store books, snacks and even toys.
Additional characteristics:
28 x 24 x 7 centimeters are the dimensions of the school bag.
Made of plush material.
A4 paper cannot be inserted.
In the market, there are plenty of school bags to please the tastes and imagination of small school children but to avoid shoulder pain, back pain, injuries and maintain a good posture it is essential that parents can select them in compliance with the recommended characteristics in this article. Undoubtedly there are options that satisfy the creativity of the little ones and that at the same time can comply with these recommendations.
CONCLUSION
Whether you are kids in Preschool, Kindergarten, Middle School or High School, the School Shopping List website aims to help all students, teachers, and parents to find and buy best back to school supplies for both kids and adults. (check our other recent lists, Pocket Folders, Paper towels, Origami sheets, Headphones, Clipboards)Thanks for reading and sharing our post best School Bags. For more visit our home page. Happy Schooling!