In the time of the technology that we are living, where children prefer video games as an alternative to spend time while they are not in school, parents should choose the tools they deem suitable for the development, both physical and intellectual of the smallest of the house, a solution for this case are the epic books for kids.
Reading represents one of the activities that should be encouraged, to encourage children's intellectual growth, since this tool is essential to acquire knowledge and develop amazing skills and abilities.
Reading helps children to form their personality, to relate in an appropriate way within society, allowing them to have a more solid formation, where they cannot be easily manipulated before ideas that can be harmful in their lives.
To stimulate reading in children at an early age, parents should consider what are the favorite topics that can get their attention according to their tastes and preferences.
The most captivating themes for children have to do with adventures, fantasies, superheroes or characters with supernatural powers but that they find credible in their mind and that, through their experiences and emotions within the text, leave a message about the responsibility, love, commitment to friends, loyalty, fidelity, among other values ​​that should be encouraged in them from an early age.
That is why, it is recommended for reading, the books of the epic theme about adventures and episodes of characters since these thanks to their multiple experiences conquer the minds of children and get them into the adventure of starting with reading.
What are the benefits of encouraging reading in children?
It is surprising how every day children are increasingly immersed in video games and can spend a whole day playing in front of a screen, be it television or computer, iPad, among other resources at their disposal, this makes them every day people dependent on the games of their choice and tend to isolate themselves from a very young age.
It is up to the parents to make the effort to help them incorporate other activities in their free time, such as reading that according to psychologists and studies carried out is one of the best tools to implement from an early age.
There are many benefits, but here are some of the most important:
Through early reading, the child begins to interact appropriately within his family circle and in the environment of society, makes him more sociable.
It helps foster a safer personality in children, through the development of an interactive communication system between the text of the book and the child.
Through reading the habits are formed in the child of reflection and increases the ability to analyze situations.
Reading from an early age in children recreates them mentally, entertains them and increases the ability to be distracted by the time they are reading the book.
Through reading, children contribute to language improvement, making them speak better and more fluently.
Improvement of oral and written expression is achieved, the child progresses in his vocabulary and can improve his spelling.
If your child begins to read, the improvement of their interpersonal relationships is encouraged and they gain the ability to expose their thoughts and increase their ability to think better and reflect.

NEXT, WE RECOMMEND THE BEST 10 EPIC BOOKS FOR KIDS
1. Would you Rather? … and why?
This entertaining book is part of a series dedicated to family fun, which offers its readers a series of scenarios where options will be given to solve different situations. It is ideal for the little ones in the house, but equally enjoyable by parents, siblings or friends.
 Additional characteristics:
This book contains more than 90 questions that will make you think and laugh out loud.
Recommended for both children and adults.
Ideal for a travel weekend or a family reunion.
Great gift option for all ages.
2. The Incredibles
This book full of interesting adventures tells the fun adventures of a family with unique powers, headed by Bob and Helen Parr, also known as Mister incredible and the elastic girl, in a solidary way with their children Violet, Dash and Jack-Jack will try to save the world from a threat that cannot be seen but can occur at any moment.
Additional characteristics:
Ideal for ages 6-8 years.
Available only in digital format.
Based on the award-winning movie "The Incredibles", produced by Pixar in conjunction with Walt Disney Pictures.
Number one in sales for children's books.
3. The Wonderful Things You Will Be
This work is characterized by a quiet and almost poetic style. It is recognized for its original illustrations and its good number of teachings on the love and hopes it has, in addition to adding a unique touch to the way of telling a story full of rhymes and reflections.
 Additional characteristics:
This book was named Best-Seller by The New York Times for 116 weeks.
Aimed at children between the ages of 3 and 7, although it can also be enjoyed by teenagers and adults.
Available in physical format and, soon, in Kindle digital format.
This book is illustrated and created by Emily Winfield Martin, one of the most respected illustrators of the medium.
4. What Should Danny Do?
Interesting and educational books in equal parts, this work seeks to help children understand the importance of decisions and how they can influence the future.
In this beautiful book, he explains his theory through 9 stories that finally combine in one and whose protagonist is a training superhero named Danny.
Additional characteristics:
Of the most recommended books for children over 3 years old.
An excellent way to teach children responsibility.
Available in 2 languages: English and Spanish.
Made by Adit and Granit Levy, two primary school teachers who sought to encourage children to read.
5. Diary of a Wimpy Kid: Wrecking Ball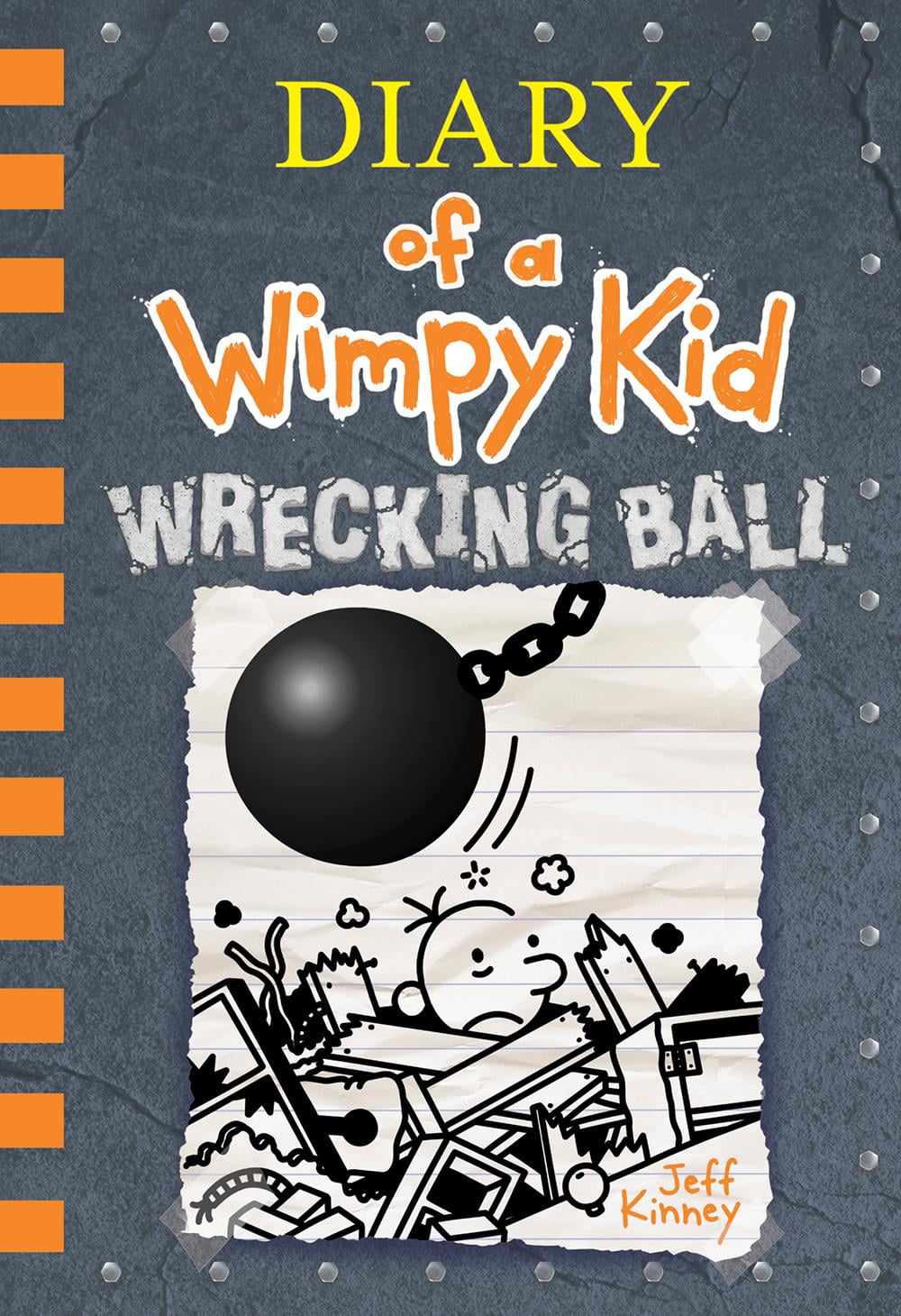 As part of the series of one of the modern classics of literature for the youngest, this book tells the story of Greg Heffley and how his family had airplanes for remodeling at home, but then he realized that he was not going to be as simple as it seemed at first.
 Additional characteristics:
The book is characterized by its comic style and black and white cartoon illustrations.
Prepared by renowned illustrator Jeff Kinney, who is one of the most prolific illustrators of recent years.
The book was named Best-Seller by The New York Times during the year 2019.
6. Dog Man: Fetch-22
In this recently published work, we see once again the adventures of Dog Man, a half-dog police officer who lives various adventures with his companions in their quest to combat crime in a unique way and different lessons about friendship, amiability, and life.
Additional characteristics:
Aimed at an audience older than 7 years old.
This book is the current sales leader in children's literature.
It is available in 2 versions: digital and physical Kindle.
It stands out for its subtle humor and its charismatic characters.
7. The last children on earth
This book is the beginning of a series of books, this work covers the story of a 13-year-old teenager named Jack Sullivan who, in his attempt to survive in a world dominated by zombies, takes refuge in his treehouse and forms a survival gear
His team consists of his best friend Quint, his pet Rover, his platonic love June and a former abusive Dirk; and together they will try to defeat an incredibly intelligent monster called Blarg
 Additional characteristics:
Available in physical, digital format and as audible CD.
Named Best-Seller during 2015 by USA Today.
A Netflix adaptation based on the book series is available.
Praised for its mix of texts and images in black and white.
8. Code 7: Cracking the Code for an Epic Life
This book was awarded the prestigious Mom's Choice award. Here the story of 7 school-age children living various adventures and anecdotes is told, in which they learn lessons about friendship, forgiveness, and perseverance.
Additional characteristics:
Intended for ages over 6 years.
A great option for children looking for a transition between drawing books to more traditional ones.
Performed by Brian R Johnson, one of the most respected writers for middle children.
It can be found in different formats, such as physical, digital kindle and audiobook.
9. The Grinch
A classic absolute of classical literature and popular culture is about the history of Grinch, who lives in Villa-Quien, where Christmas is celebrated with enthusiasm; however, he developed a hatred of Christmas for a past event and will seek to ruin Christmas at all costs.
Undoubtedly one of the most influential works of all time, since it has received different adaptations on the big screen, just like on television.
Additional characteristics:
Created by the multi-award-winning children's story writer, Dr Seuss.
Praised for generations, he is known for his hints of humor and his recurring messages about love and the Christmas spirit.
Suitable for all ages and especially for ages between 5 and 9.
10. The Grouchy Ladybug
As one of the reference books of stories for children, this story follows the journey of the grumpy ladybug through different scenarios that, in many cases, pose a challenge for her due to her irritable character and her scarce manners.
Additional characteristics:
This story contains various messages about good manners, companionship and the importance of friendship.
Recognized for its unique style of illustration, done on a generally white background and its colorful characters.
This story, apart from the positive messages it contains, explores other concepts such as shapes, sizes and time.
Recommended for children in pre-school ages.
It was written and illustrated by Eric Carle, creator of a classic such as the very hungry caterpillar and from head to toe.
It can be found on multiple digital platforms, such as pdf, kindle and audio CD, apart from its physical versions
Parents and teachers should encourage children to read so they can enjoy the benefits they can get with it, to know the importance of reading in children, it is advisable to review the following link: all4kids.org
 Frequent questions:
1. What type of reading is recommended for preschoolers?
It is always important for parents to know what type of reading is recommended for preschoolers and this, books with colorful images are recommended with the incorporation of graphic images.
The text should be reduced to stimulate the child's perception and this stimulates him to introduce it in the form of a game into the world of reading. There are comics, books with albums with figures, books with toys, books in the form of theaters that speed up their concentration and intelligence.
2. How to know if children are understanding reading?
As a first step-parents or teachers should read or at least have a rough outline of the reading that children have, they should know about the subject and the message of the book.
Find a quiet moment alone with the children and ask them questions about the characters in the book or story, know that he likes the adventures or situations that are experienced in the text, so that parents can determine how the child is assimilating the teaching of the book and how it is impacting in their learning.
To Select the best epic books for kids
For parents, it is a constant challenge to select or choose the right book for their children, but according to all the recommendations, they should be updated with the new titles that are released, read a summary of the content and know if it has been successful among the children, and on the web.
Invite your children if possible to the bookstore so that they can have the option to leaf through the book, see its color, theme or content and can make a free and not obligatory choice of the book so that it takes its interest in reading it.
For selecting epic books for kids, we recommend topics that, with the emotion of the characters' experience in the text, enrich the values ​​and principles of responsibility, love of others, nature, animals, among others, issues that can strengthen values ​​and principles in children of equity and commitment to the entire environment that surrounds them.